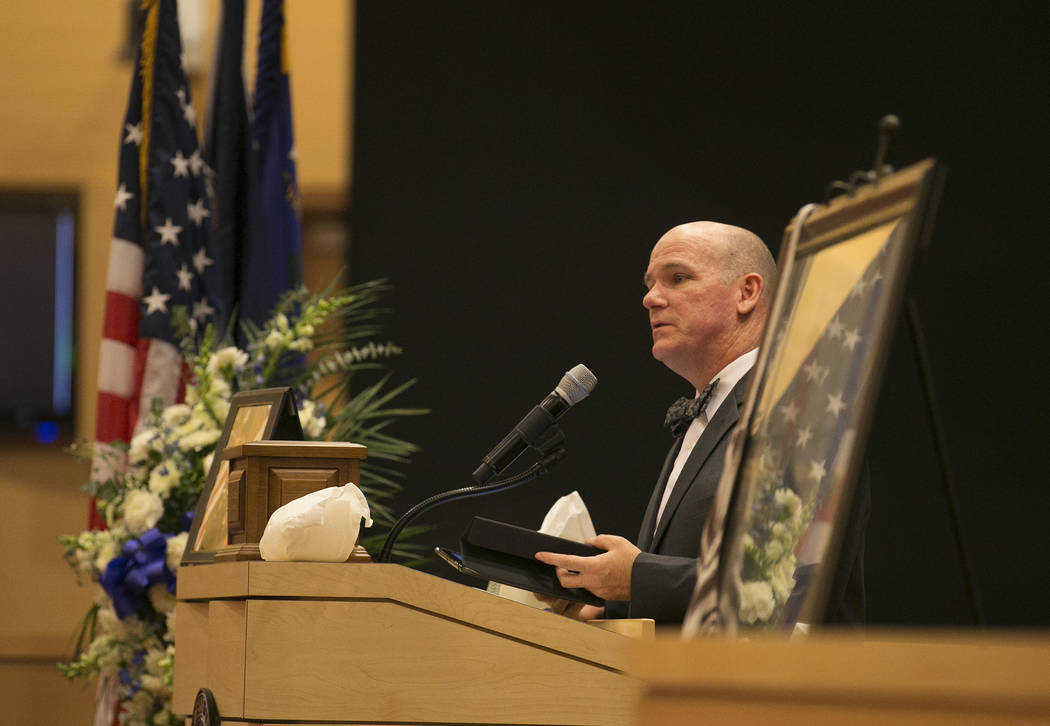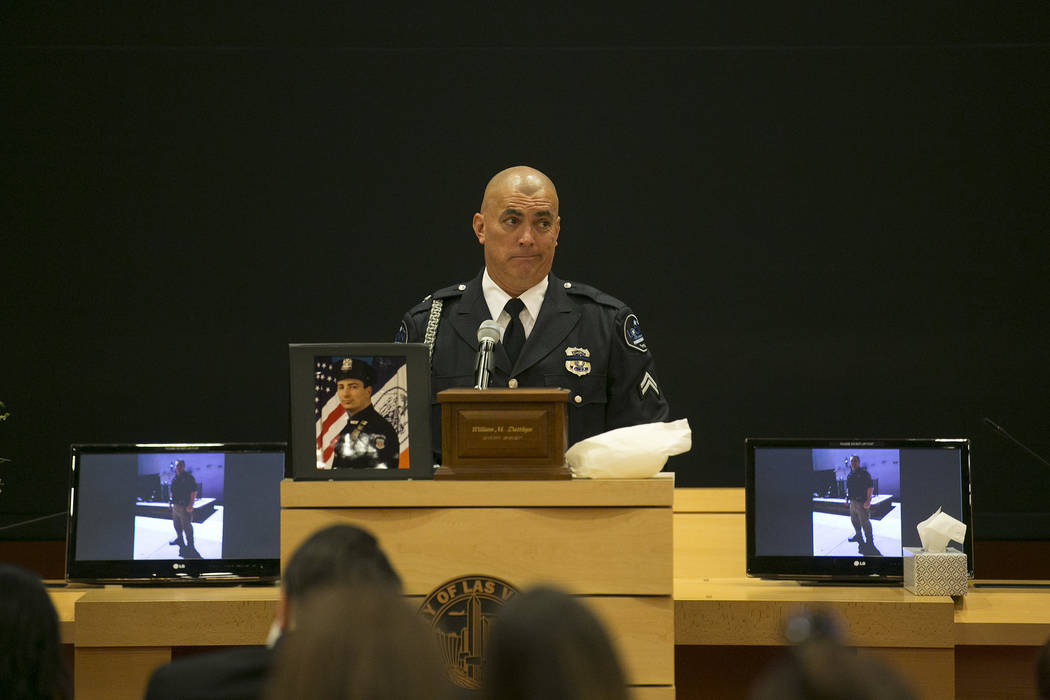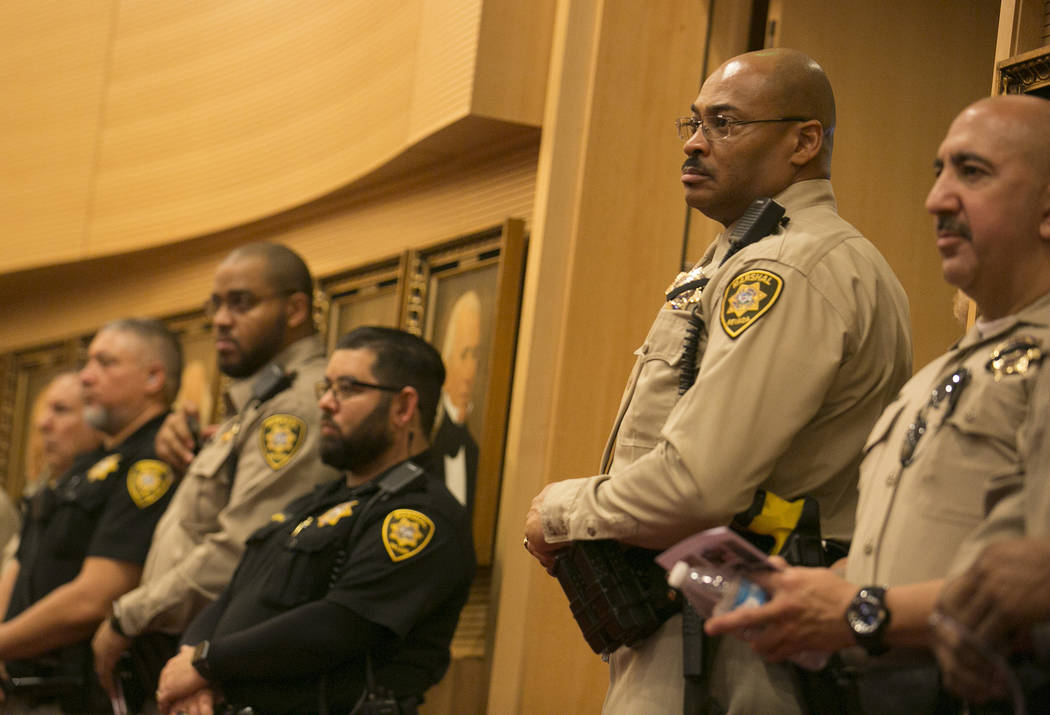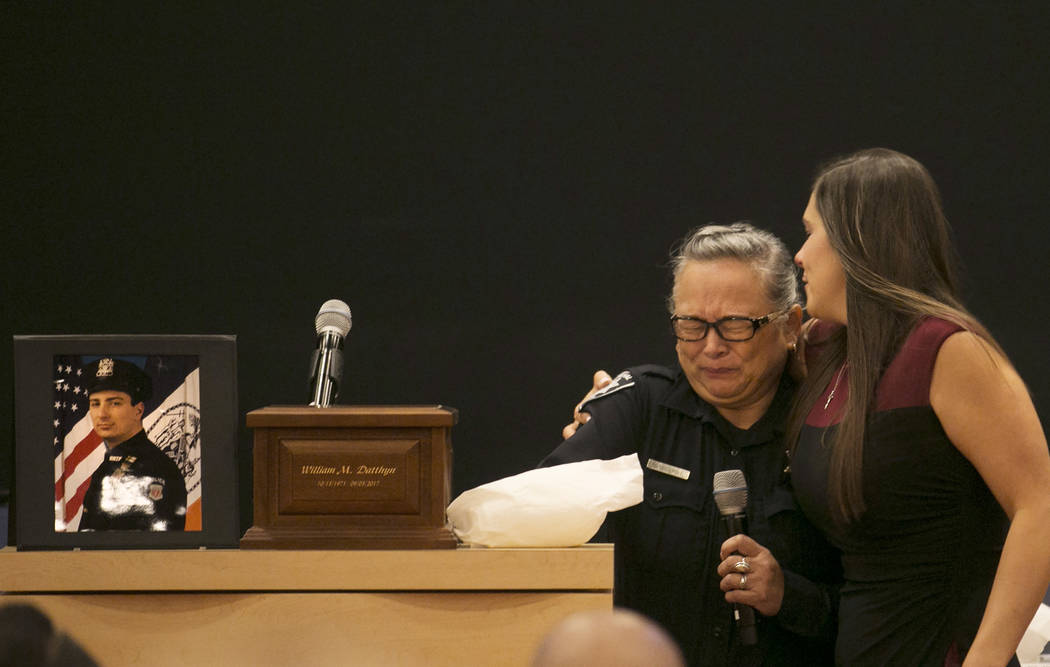 To family, he was William. To many others, he was Marshal Bill.
And everybody knew who you were talking about when you mentioned Marshal Bill, Family Court Judge Charles Hoskin said.
Dozens of friends and family members joined coworkers in a celebration of William "Marshal Bill" Datthyn's life Friday afternoon. They gathered inside the council chambers at Las Vegas City Hall, 495 S. Main St., and remembered the man many referred to as the Clark County Family Court mascot. He had been employed as a deputy marshal since December 2006.
Datthyn, 45, was on the Bear River in Idaho on Sept. 3 when his tube deflated and he was pulled into rapids, witnesses told the Franklin County Sheriff's Office. He hit some rocks, and his family pulled him from the river, the department said in a statement. Attempts at CPR were unsuccessful.
Loved ones painted a picture of a man who adored his job as much as he adored his three families: his relatives, Family Court regulars and his friends.
Datthyn ran monthly barbecues for his Family Court friends, often paying out-of-pocket. He had a photographic memory and personal greetings for people around Family Court, Judge Mathew Harter said. Shortly after he was hired, Datthyn greeted Harter in a hallway by pelting him with marshmallows from a marshmallow gun.
The two had a special bond, Datthyn's brother-in-law Bill Barber said. While family went through his belongings, they found old gear from a past Harter election campaign.
"I don't think Bill wanted to work for another judge," Barber said.
Datthyn protected Harter, inside and outside the courtroom. The man who Harter said he thought looked like a "pale-looking man-boy" during a job interview eventually became his best friend. In the last five years, Harter said, his family photographs often featured Datthyn more than they did his relatives.
"I know for certain he would've taken a bullet for me or my family," Harter said.
A Queens, New York City, native and a former New York City officer for more than a decade, Datthyn assisted with the cleanup effort after 9/11. His most prized possession was a piece of rubble from the World Trade Center wreckage, Harter said. Yet his sister, Desiree Barber, said he didn't brag while assisting at ground zero in 2001.
"He did call me from Olive Garden to tell me he was eating there for free," she quipped.
His mother, Lucille Datthyn, was a former New York City officer, as well. It meant a lot to him to follow in his mom's footsteps, Bill Barber said, particularly because his badge number was the same as hers — 891.
Women attending his celebration received roses at the front entrance, in honor of Datthyn's Valentine's Day tradition of giving roses to women at work.
During the celebration, a marshal walked up to the lectern microphone and sang, "Amazing Grace" a cappella. Partway through a latter verse, she stopped singing and cried. As she cried, his sister left her front-row seat and hugged the singer.
Attempting to regain her composure, the woman returned to the first verse. Voices in the audience carried hers as people from all three of his families finished singing for Marshal Bill.
Contact Mike Shoro at mshoro@reviewjournal.com or 702-387-5290. Follow @mike_shoro on Twitter.