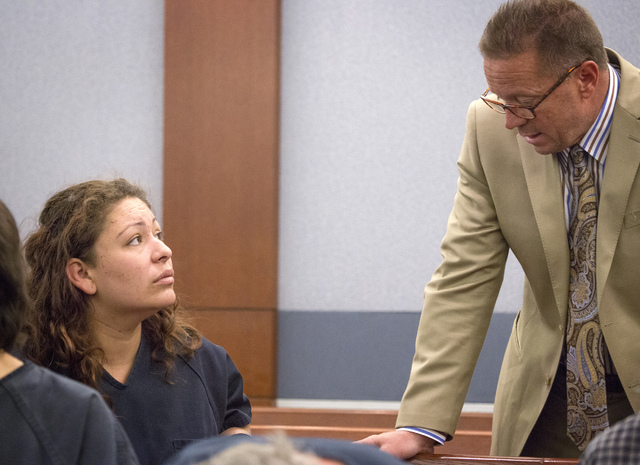 A Las Vegas mother charged with shooting her son in the head was indicted Friday by a Clark County grand jury.
Shavon Carrillo, 31, who also goes by Shavon Aguilar, faces a charge of attempted murder and three charges of child abuse.
In the early morning hours of May 26, Carrillo was lying next to her then 11-year-old son, Israel, in his sleeping bag and told him "I love you" before she pulled the trigger.
Carrillo told police she fired a .22-caliber rifle after she saw headlights outside the apartment where she was staying on Pebble Beach Boulevard, near Vegas Drive and Decatur Boulevard, and heard a car door slam, according to a police report.
Carrillo believed she was being followed by people associated with her husband. On the morning of the shooting, Carrillo said, a man named "Bobby" came to her apartment to pick up money she owed him. She kept the rifle in a closet and took it out when he arrived, according to the arrest report.
Afterward, she tried to build "enough courage to kill her children and herself," the report said, because she wanted them all to be in a "better place."
Chief Deputy District Attorney Pamela Weckerly said Carrillo had financial troubles at the time of the shooting and was "feeling suicidal." Carrillo also admitted using methamphetamine, according to police.
Moments after the shooting, Carrillo's brother-in-law rushed in to see what happened and wrestled the gun away from Carrillo before she could shoot herself, the report said. Carrillo's two daughters also were in bed in the same room as her son at the time of the shooting, police said.
Senior District Judge Joseph Bonaventure reduced Carrillo's bail to $750,000 from $1 million. Carrillo was slated to appear in court September 8.
Initially, Israel, who is now 12, was not expected to live, but Weckerly said he is being treated at a care facility and responding to pain stimuli and makes involuntary muscular movement.
"I think he'll survive," Weckerly said. "He just won't improve."
Contact reporter David Ferrara at dferrara@reviewjournal.com or 702-380-1039. Find him on Twitter: @randompoker.
RELATED:
Police report: Woman told son 'I love you' before shooting him
Mom charged in son's shooting not 'monster'