Helicopters search for missing Las Vegas hiker in Colorado park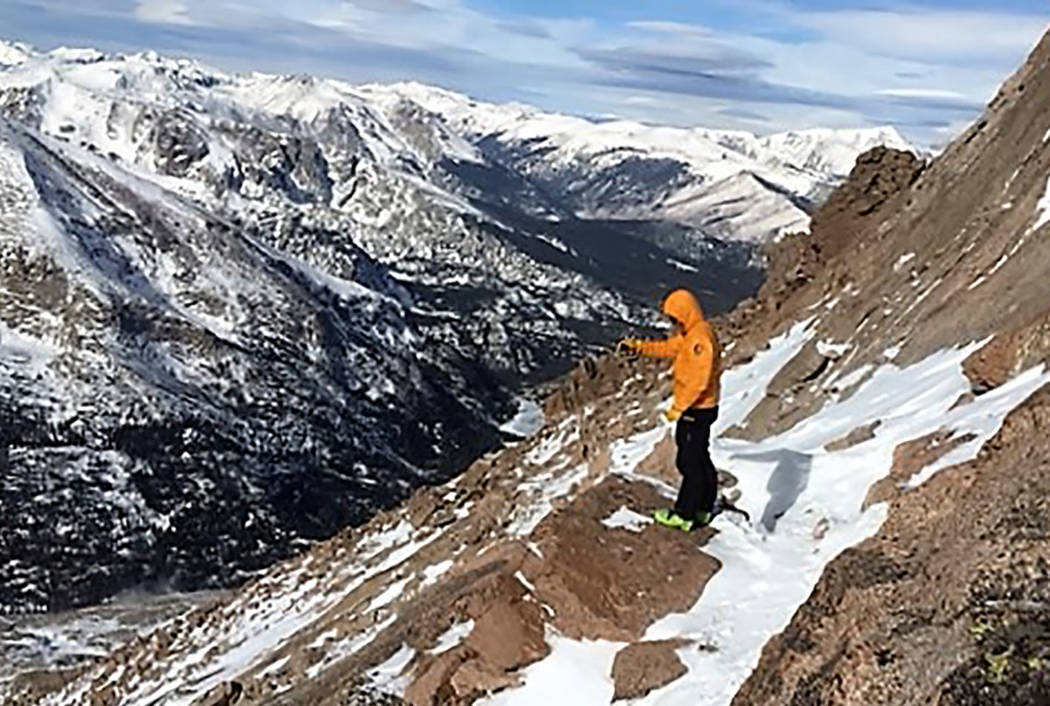 The weather in Rocky Mountain National Park improved enough Saturday for helicopter operations in the continuing search for a 20-year-old hiker from Las Vegas who was last seen a week ago.
Search and rescue teams have encountered deep snow and high winds since Tuesday while searching for Micah Tice, a cadet candidate from Las Vegas at the Air Force Academy Prepatory School, who was last seen in the Colorado national park on Nov. 24. For the first time since Tuesday, weather conditions cleared enough for two Colorado National Guard helicopters to search for the 20-year-old from the air in the Longs Peak section of the park.
The company FLIR Systems Inc., which develops thermal-imaging technology, also volunteered services and used fixed wing aircraft to conduct thermal imaging of the search area Saturday, the park said. The company also conducted a flight Thursday night.
Wind gusts this week have prevented helicopters from launching or searching over Longs Peak, the highest mountain in the park at more than 14,000 feet. Tice's vehicle was found at the Longs Peak Trailhead on Monday, and the park learned earlier this week that hikers encountered Tice on the trail the morning of Nov. 24.
Despite the respite from wind, helicopter crews encountered strong gusts and cloud cover that lowered visibility on Longs Peak, the park said Saturday.
Park officials previously though Tice was last heard from Nov. 23. The Air Force Academy notified the park on Monday that Tice was missing after he did not return to the school after its Thanksgiving break.
The trail to the top of Longs Peak is a difficult mountaineering route with many accidents, according to the park's website. Hikers who briefly walked with Tice last saw him along the trail near the Battle Mountain area as "visibility and weather conditions continued to deteriorate," according to a Thursday news release.
Search and rescue efforts have spanned about 10 square miles this week in the Longs Peak area. Saturday's ground search efforts were focused in the Boulder Brook drainage and Storm Pass area, the park said.
Along with the Rocky Mountain National Park search and rescue team, search efforts Saturday included members of Rocky Mountain Rescue, Diamond Peaks Ski Patrol, Air Force Academy Mountaineering Club, Alpine Rescue Team, Larimer County search and rescue, and Front Range Rescue Dogs, the park said.
Weather conditions Saturday included deep snow, high winds and freezing temperatures while crews were "mitigating avalanche danger," the park said.
Tice's mother, Janice Tice, has posted updates about the search on her Facebook page and through text messages to the Las Vegas Review-Journal. On Wednesday, she said that her son "has all the tools necessary to survive," and that he was prepared for the trail that he's travelled through with groups several times.
On Friday, Janice Tice asked for more skilled volunteers through a Facebook video.
"I believe with all your encouraging words he's still alive," she said in the video. "He is a survivor, that's who he is."
Park rangers asked anyone who has been in the Longs Peak area since Nov. 24, or who may have had contact with Tice regarding his planned route, to call the Rocky Mountain National Park at 970-586-1204.
Contact Katelyn Newberg at knewberg@reviewjournal.com or 702-383-0240. Follow @k_newberg on Twitter.