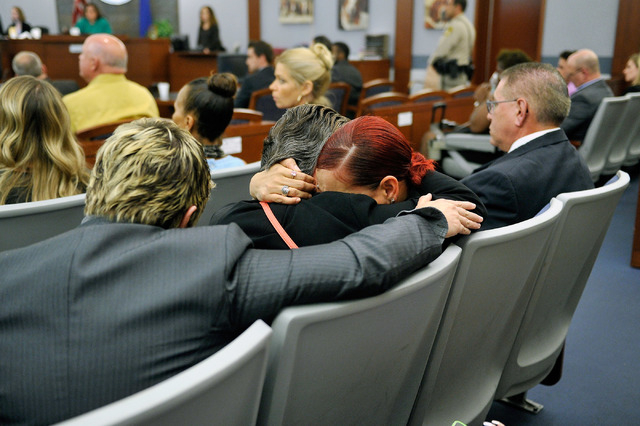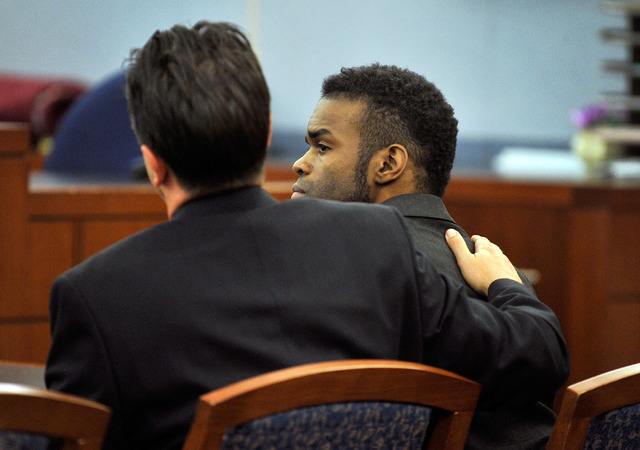 Jason "Blu" Griffith was convicted of second-degree murder for choking to death "Fantasy" dancer Debbie Flores Narvaez on Dec. 12, 2010, after their year-long on-again, off-again tumultuous relationship.
The jury reached a verdict Thursday in its second day of deliberations following nine days of testimony and arguments by prosecutors and defense lawyers.
Flores Narvaez's mother and sister broke down and tearfully hugged after the verdict came down.
Griffith, who claimed he killed her in self-defense, sat stoically next to his defense lawyers. His mother, who had been praying with her hands clasped while she awaited the jury's decision, sped away in a motorized wheelchair afterward and held up her hand when asked for comment.
Griffith faces either 10 years to life or 10 to 25 years in prison. District Judge Kathleen Delaney, who will decide his prison term, set a sentencing hearing for July 23.
Tension filled Delaney's packed courtroom before the verdict was reached.
When it was finally read, relief washed over Celeste Flores Narvaez, who had feared the jury might choose a lesser charge or return a not guilty verdict.
With tears streaming down her face, Celeste Flores Narvaez told the Review-Journal, "All I could think of when they were reading it was me getting that first phone call from my parents. Literally, everything from the start. Me flying out here. Dealing with the media. Looking for her. Sleeping in her bed. Every single thing. Every single minute that I had to deal with this. Getting the phone call from the detective that she was found. Her funeral arrangements. Flying back with her. Seeing her in a casket. Picking out a casket. Just every single minute just flashed before my eyes.
"It's just so surreal that it is finally done. This has been hell. There are no words to describe that it is over and I can actually start to move on," Celeste Flores Narvaez said.
During the disappearance of her sister, Celeste Flores Narvaez refused to quit looking for her and sought help through local and national media outlets to continue the search. She also testified in the trial that she believed Griffith was lying to her when he said he didn't know where Debbie Flores Narvaez was.
Celeste Flores Narvaez said she wished it had been a first-degree murder conviction, which carries a potential life prison term without parole, but was respectful of the jury's decision.
The sisters' parents Elsie Narvaez and Carlos Flores, who are from Atlanta, said they will be there for Griffith's sentencing hearing and any future parole hearings to make sure Griffith never gets out of prison.
Jurors declined to comment following the verdict.
Griffith last week tearfully testified that he acted in self-defense when he wrapped his forearms around Flores Narvaez's neck and restrained her from reaching her purse, where he believed she had a gun. He said Flores Narvaez had threatened to kill him and herself during an ongoing fight over him trying to end their relationship.
There was never any evidence, including in Griffith's own testimony, that Flores Narvaez ever owned a gun. There was no gun in the purse, Griffith said.
Griffith's roommate Louis Colombo testified earlier in the trial that Griffith, believing Flores Narvaez was about to call authorities after he grabbed her by the base of her throat, approached her from behind and choked her to death.
Although Flores Narvaez was killed Dec. 12, her body was not found until Jan. 7, 2011. Griffith and Colombo both testified that they worked to hide the body from her family, friends and authorities. They eventually dismembered it and hid it in two concrete-filled tubs in an empty downtown Las Vegas home. Colombo cooperated with police in a bid for leniency.
The trial had several twists as jurors listened to 14 911 calls Griffith made to police after domestic incidents with Debbie Flores Narvaez, which defense lawyers said showed her volatile personality. She was never arrested after those incidents and Griffith was arrested once for coercion, though the case was later dropped.
Prosecutors then caught Griffith lying to the jury about several key elements in the case, including that he knew in 2010 that Flores Narvaez did not write a threatening note that Griffith found on his car. His roommate, Louis Colombo, admitted to Griffith he wrote the note as a joke, text messages in 2010 between the two men showed.
Prosecutors argued that Griffith was a philanderer with no empathy. They said he killed Debbie Flores Narvaez because he feared a second domestic violence arrest over a fight with her could hurt his career as a Cirque du Soleil dancer and end his relationship with "Zumanity" dancer Agnes Roux.
Griffith's lawyers portrayed him as a man who feared for his life because of Flores Narvaez's violent tendencies.
Prosecutors Marc DiGiacomo and Michelle Fleck said they respected the jury's verdict.
"There's no question this was a domestic dispute. But whenever there is a question of premeditation … if a jury can't agree on first-degree murder or second-degree murder the jury is instructed to then come back with a second-degree murder verdict," DiGiacomo said. "We certainly respect that decision."
Defense lawyers Abel Yanez and Jeff Banks said the verdict was a little disappointing, but still satisfying.
"Everyone thought this would be a death penalty case and it's satisfying that we got a verdict of second-degree murder," Yanez said.
Yanez, a private lawyer, said he thought there was enough evidence to show that Griffith was only guilty of voluntary manslaughter.
Griffith has several issues to appeal on, Yanez said, including that Delaney didn't allow several pieces of evidence to be admitted at trial. One piece of evidence was a two-minute video of Flores Narvaez admitting she egged Griffith's car, slashed his tires and committed other property crimes against him.
"We had hoped to represent a clearer picture of the relationship, which was even stormier than what the jury was allowed to hear," Yanez said.
Banks, a deputy public defender, added, "That's trial work. Truth at trial is always seen by a jury through the goggles of evidentiary admissibility."
Both Griffith and Flores Narvaez were up-and-coming dancers in the Las Vegas performance community in 2010 when she was killed.
At the time of his arrest, Griffith had a major role in the Cirque du Soleil show "Love" at The Mirage.
Flores Narvaez was considered an ambitious and hardworking backup dancer for "Fantasy" at Luxor, who was developing a special segment for the show with pop singer Sisqó.
Contact reporter Francis McCabe at fmccabe@reviewjournal.com or 702-380-1039. Find him on Twitter: @fjmccabe