Jury convicts former Las Vegas pastor in sex assault case
January 21, 2016 - 12:27 pm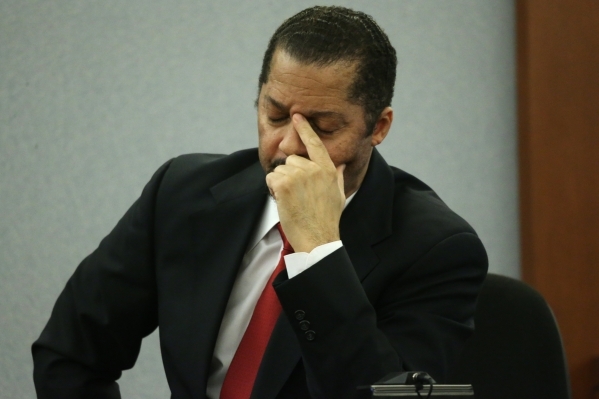 A former Las Vegas pastor, who prosecutors said created a church as an outlet to rape several minor girls, was convicted on 15 counts Thursday of sexual assault with a minor and lewdness with a child.
Otis Holland, 59, faces 25 years to life in prison on each of the 14 counts of sexual assault, along with 10 years to life in prison on the lewdness charge.
A Clark County jury of nine women and three men took a little less than three hours to convict Holland of the charges related to three girls younger than 16.
A day earlier, prosecutors filed 22 new charges against Holland to account for five more alleged victims who were not represented in the trial.
Holland was the pastor for United Faith Church, which held services in a storefront on Hacienda Avenue, near Tropicana and Eastern avenues. He met privately with the girls under the guise of "counseling" them about sexual issues, and then performed sex acts on them, special prosecutor Robert Langford said.
Mexican police arrested Holland in Tijuana in 2012 after Holland's case was profiled on the "America's Most Wanted" television program.
Holland was originally arrested in December 2010 on three counts of sexually assaulting a victim younger than 16. A subsequent investigation led detectives to believe there were other victims.
Holland was arrested again in January 2011 on a charge of lewdness with a minor younger than 14 years.
Two more girls came forward late in the spring of 2011, authorities said at the time.
The incidents occurred at locations in Las Vegas and Henderson, authorities said.
According to an arrest report, one molestation case began in spring 2008.
Holland's defense attorney Carmine Colucci said he planned to appeal Thursday's verdict.
"Pastor Holland was very disappointed in the outcome," Colucci said.
This is a developing story. Check back for updates.
Contact David Ferrara at dferrara@reviewjournal.com or 702-380-1039. Find him on Twitter: @randompoker