Jury deliberates case of couple charged in 2009 beating death
October 23, 2015 - 5:06 pm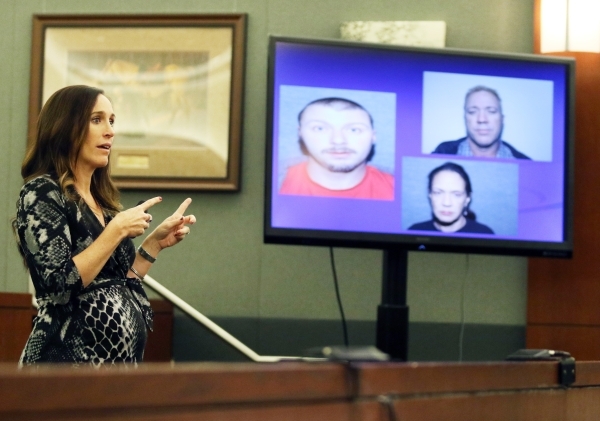 With the help of his brother, Will Sitton viciously beat a 68-year-old man at his Las Vegas home, rendering him unconscious at least twice.
Sitton then stomped on Brian Haskell's back "and knocked him out for the last time," prosecutor Jacqueline Bluth told jurors as Sitton's capital murder trial came to a close Friday.
Sitton's younger brother, Robert, admitted to beating Brian Haskell and became the prosecution's star witness. Will Sitton's girlfriend, Jacquie Schafer, is also on trial in the killing.
Jurors began deliberating the case late Friday afternoon and are expected to resume Monday morning.
In addition to murder charges, Will Sitton and Jacquie Schafer face several counts including robbery, burglary, conspiracy and forgery.
Prosecutors said that after the Oct. 29, 2009, beating, the couple stole Haskell's laptop and television, cashed several checks from his account, accessed his bank information and used his cellphone.
Schafer had been living with Haskell before he asked her to move out. She accused him of groping her in front of her daughter and physically attacked Haskell before the brothers beat him, prosecutors said.
Robert Sitton testified that Haskell was unconscious but still breathing when the trio left the northwest valley apartment.
Haskell's bedroom was the scene of the "bloodbath," the prosecutor said. A medical examiner said he could have lived for at least three days longer. His body was found Nov. 14, 2009, with at least two different types of shoe prints on his back. Bones were broken in his nose, ribs and spine.
Police found Haskell's black Cadillac less than 2 miles from Schafer's mother's home.
Defense lawyers tried to pin the slaying on Robert Sitton, saying he acted alone in the beating. Haskell became upset after seeing Robert Sitton drink alcohol from the apartment and the two started to quarrel, the attorneys said. After the beating, the younger Sitton changed out of his bloody shoes and stepped into Haskell's.
"Robert Sitton committed this crime alone in an unconsidered, rash, drunken impulse," said Christopher Oram, who represents Will Sutton. "It's really quite simple."
Prosecutor Lisa Luzaich tried to discredit that theory.
"How can alcohol be a motive?" she said. "Brian never left his room. Brian had no idea that anybody was drinking his alcohol that day."
Robert Sitton pleaded guilty to second-degree murder and could be eligible for parole in about five years. District Judge Douglas Smith, who is presiding over the trial, is slated to determine his sentence.
Oram called the younger brother "a habitual liar" and a "miserable human being."
Josh Tomsheck, who represents Schafer, said there was no evidence that tied his client to Haskell's death.
"This case is fraught with mistakes and oversights based on assumptions by the Las Vegas Metropolitan Police Department," Tomsheck said. "And it's filled with lies out of the mouth of Robert Sitton. … How many brothers are going to say that my brother did this? Who's going to do that, unless they're trying to minimize their involvement."
If Will Sitton and Schafer are convicted of first-degree murder, the same jury will decide their sentences. Sitton faces the death penalty, in part for his violent past. He has a history of sex-related convictions in Clark County. Schafer faces life in prison without parole.
Contact reporter David Ferrara at dferrara@reviewjournal.com or 702-380-1039. Find him on Twitter: @randompoker