Las Vegas dentist provides forensic services
September 24, 2011 - 12:59 am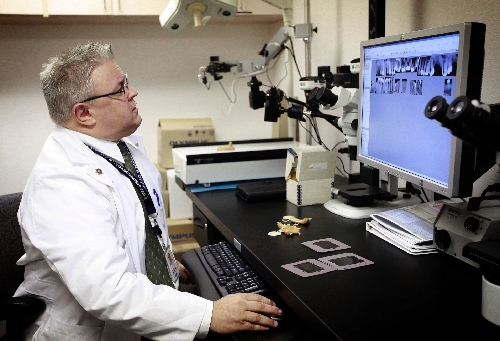 The 3-year-old's blanket-draped body was tossed in a trash bin alongside bags filled with garbage.
Police dubbed her "Jane Cordova Doe," and the investigation into her death five years ago spanned North America. Six weeks would pass before detectives learned the girl's identity and what happened in the last hours of her life.
By comparing dental records with post-mortem X-rays, Dr. David Ord found restorations — fillings or crowns, he wouldn't be specific — that matched a name. He identified her as Crystal Figueroa.
Ord, a Las Vegas dentist, provides free forensic dentistry to the Clark County coroner's office through a decade-long partnership with UNLV's School of Dental Medicine.
In the confines of the county coroner's office, across the hall from where bodies are refrigerated and examined daily, Ord spends time capturing computer images of jaw and tooth samples and poring over post-mortem X-rays to match them with dental records in hopes of finding a person's identity.
Filling to filling. Root canal to root canal. Young or old.
Coroner Mike Murphy estimates the unique partnership saves the county about $250,000 annually by not having to hire a full-time forensic odontologist.
"We're very grateful for this process," Murphy said. "We don't have the dollars in these economic times. The service provided is well worth it and saves the taxpayers of Clark County."
RESPONDING STATEWIDE
But Ord's public service doesn't end with free forensic work. The 53-year-old University of Southern California graduate is helping to create a Nevada-based version of the federal Disaster Mortuary Operational Response Teams, known as DMORT, which provides mortuary help nationwide in the case of a mass-fatality incident or cemetery-related incident, such as flood damage and exhumations. The statewide team would be known as NMORT.
Ord said such local responders would have better and quicker access to more resources and could respond more quickly than national teams that cover broader areas including Arizona and California.
NMORT, as he envisions it, would respond to situations such as last week's crash at the Reno air races, which killed the pilot and 10 spectators.
Ord is on call with law enforcement agencies in a mass casualty situation, but he wasn't asked to help with the Reno crash. There weren't enough victims needing dental identification that warranted him to go, he said. A spokeswoman with the Washoe County coroner's office said three air show victims were identified through the use of forensic dentistry.
But a team of six Clark County coroner staff members — including pathologists, investigators and technicians — headed north last weekend to help with the incident and have since returned. Murphy added that he had no details about their work.
GIVING BACK
Ord, the coroner's chief odontologist who teaches forensic dentistry at UNLV, educates his students by using case studies for real-life experience. Soon, he hopes, students will be able to join in on the work.
Once Ord and his team — which includes Dr. Edward Herschaft and Dr. Ray Rawson, a former state senator — make an identification, forensic pathologists at the coroner's office cross-check the results with other resources for accuracy, Murphy said.
Ord handles anywhere from one to six cases per week, volunteers two to four hours per day for one to two days per week, depending on the caseload.
The process can be challenging if dental records are old or don't exist, he said.
"A lot of times, teeth and X-rays are about all we have to go on in some of these cases," Ord said. "Usually, they're not facially recognizable."
He then charts his results and reports to Murphy.
Ord also examines bite marks on victims' bodies — whether dead or alive. He investigates about five or six of those 20-hour cases each year free of charge.
"It's important to help somebody who has a missing loved one come to some kind of closure, to at least know that loved one is there," Ord said. "It's important for me to give back to the Las Vegas community."
It's a service he has helped provide since 1998.
Now, Ord is working to bring fourth-year dental students who have taken his courses into the coroner's office to gauge their reaction to the work they're pursuing, "so they have some idea of what they're getting into."
"This is really different than that sanitized CSI stuff," he said, referring to crime scene investigation shows on television.
Contact reporter Kristi Jourdan at kjourdan@reviewjournal.com or 702-455-4519.