Las Vegas football program wants kids to elude drugs, gangs
November 4, 2017 - 11:27 pm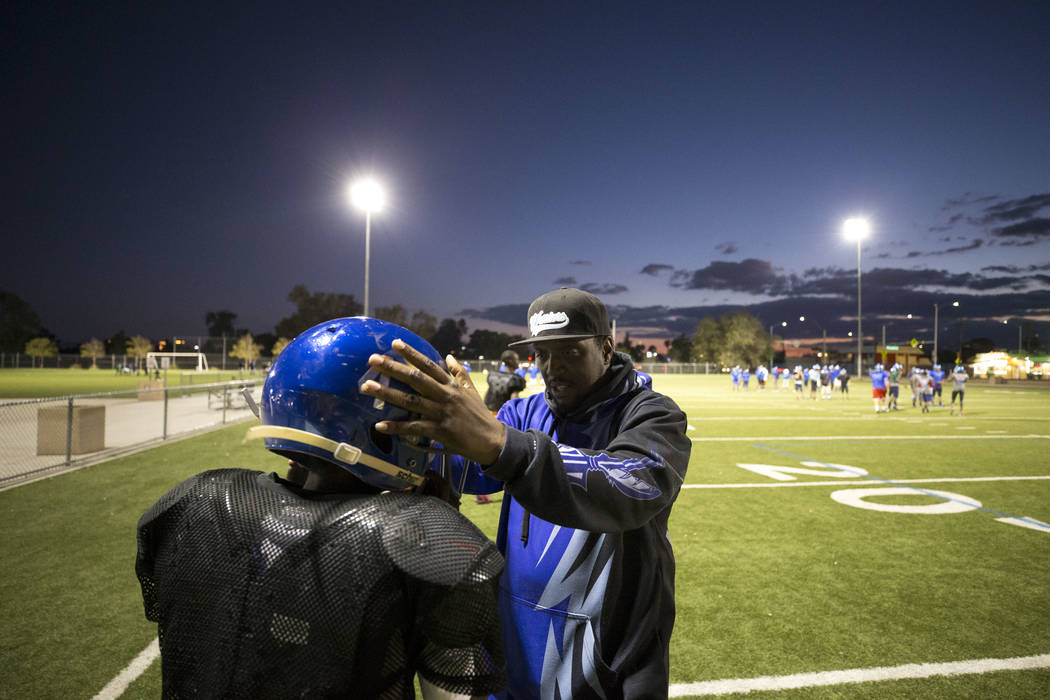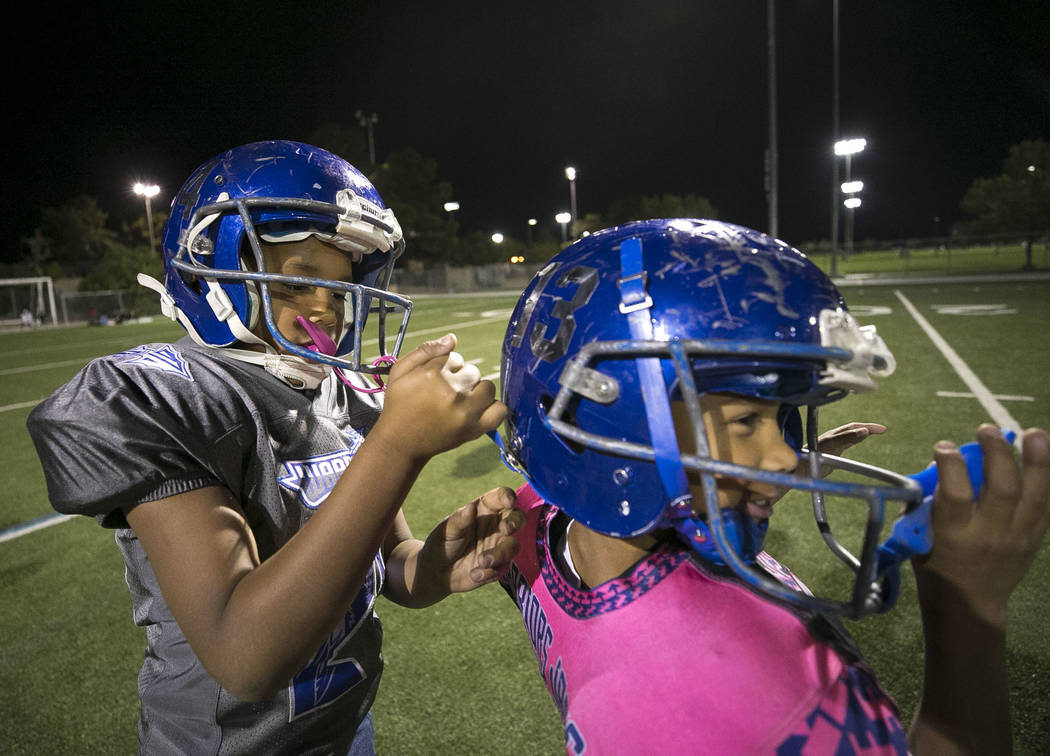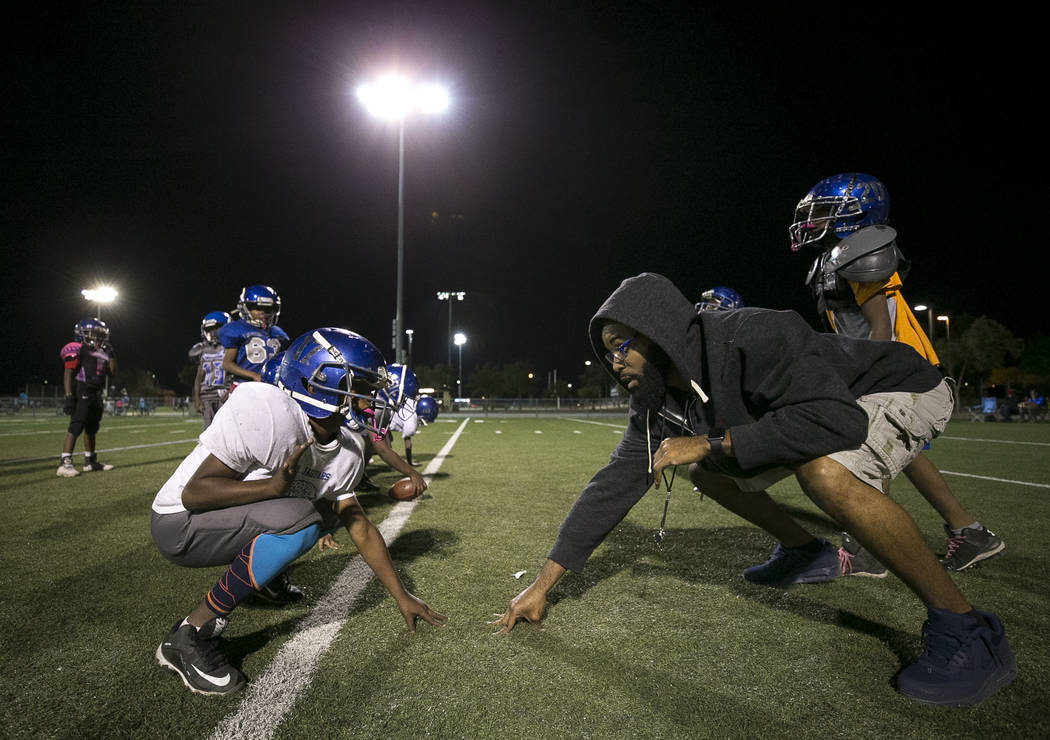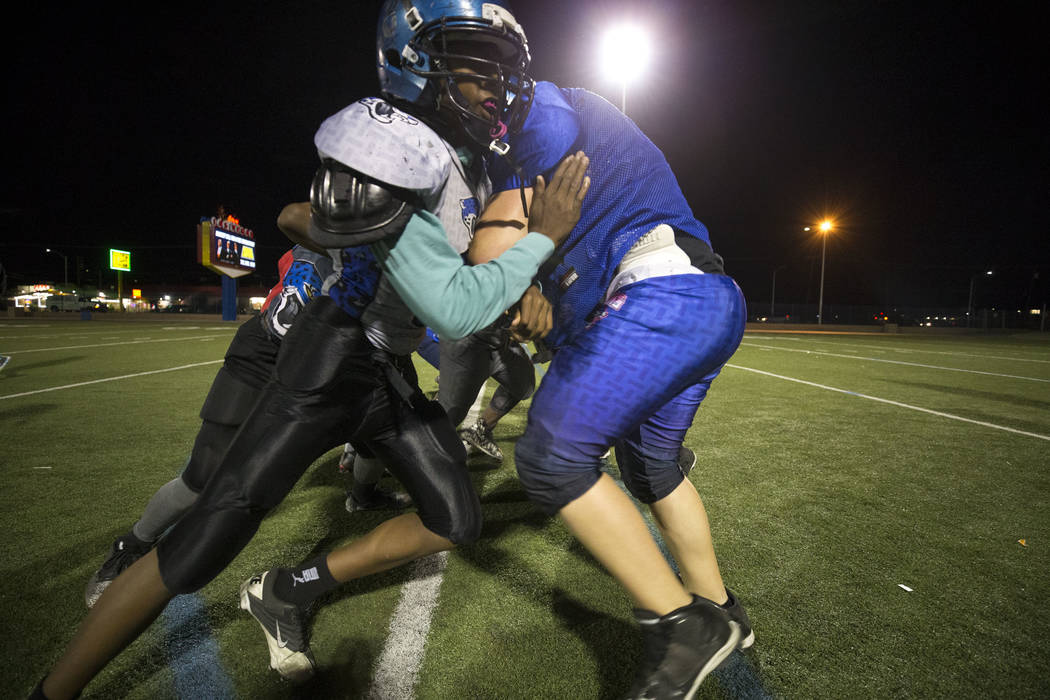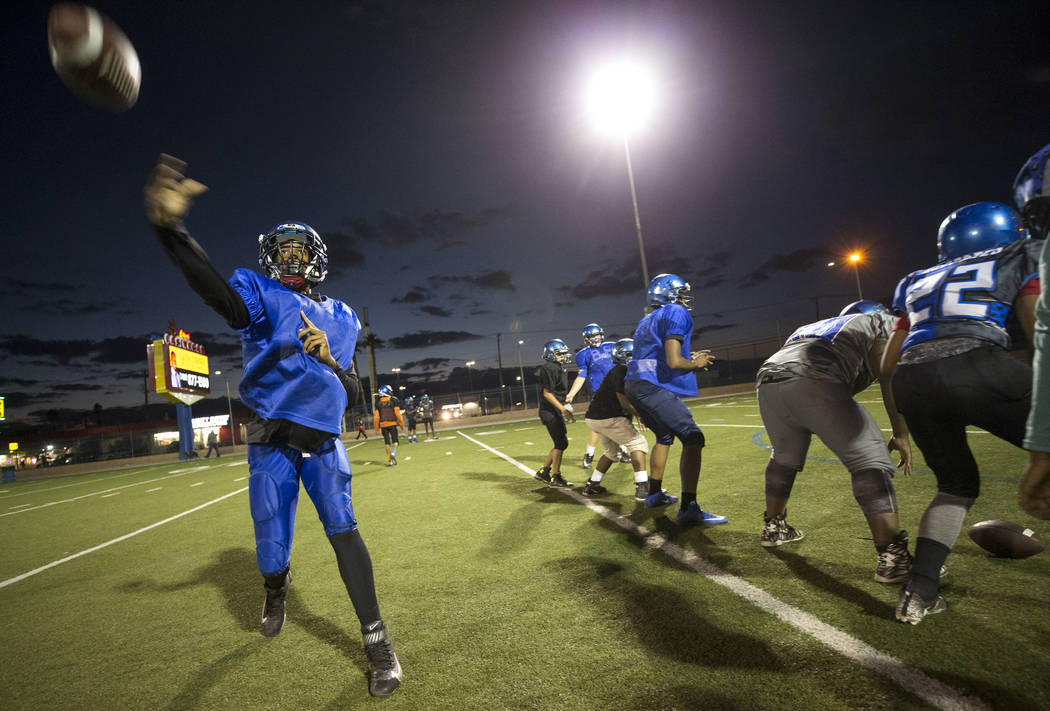 Dina Lee's middle school classmate offered her marijuana last month.
It could have been easy to succumb to peer pressure, but 14-year-old Lee said no. She didn't want to let her teammates down.
"The captain can't do stupid stuff like that at all," she said.
This year Lee leads a mixed-gender tackle-football team, and she doesn't want her fellow Warriors thinking it's OK to do drugs.
"Once you let one person down, the whole thing falls down," she said.
Her attitude mirrors the lessons taught at the Warriors youth football and cheerleading camp.
Camp representative and coach Milton Burns said the program aims to steer children away from becoming involved in illegal activity while promoting athleticism, teamwork and education. More than half the players live in government-owned or subsidized housing.
"I go after a lot of unfortunate kids, because I don't want to see them gangbanging or selling drugs. None of that," Burns said.
Not about wins and losses
A football coach for the past 16 years, Burns launched the Warriors team under the Southern Nevada Youth Sports Association in 2012.
Today, his volunteer staff coaches almost 150 children ages 4 to 14 from across the Las Vegas Valley. Three nights a week during the fall, the camp's six teams don their shiny blue helmets for practice at Ed Fountain Park in Las Vegas.
The teams played their final games of the regular season on Oct. 28. Each finished with a winning season.
Burns said he's proud of the teams' records, but the Warriors care about more than putting points on the board.
"A lot of coaches are just about wins and losses," he said. "Not us. We're about the kids."
Players aren't allowed on the field if they don't show coaches their report cards. Getting a failing grade will put them on the bench, but the Warriors also offer free tutoring during practice.
Burns said it's imperative to keep children in school and off the streets. The 45-year-old lifelong North Las Vegas resident is no stranger to the tragedies of gang life.
At age 19 he lost a close friend to a gang-related shooting. Six years ago his cousin was shot to death the day of the team's championship game. Burns said it was a gang-ordered hit.
"I would never want to see one of my kids or their parents go through what I've been through," he said.
The Warriors camp has the support of Jennifer Travis, a single mother of five living in North Las Vegas.
She's kept her youngest son involved in football since he was 5. This year 11-year-old Nacole Zone played middle linebacker for the Warriors.
"For a lot of these kids, even if it's just an hour or two, it's a way out of the ghetto, and they need this," Travis said. "These men are mentors to these young boys. They learn discipline and self-respect out on the field."
Shouldering the costs
The most difficult part of running the Warriors football program is the cost, said Naquita Fox, the teams' business manager and Burns' wife.
The camp costs about $13,000 a year to run. For each child they have in the football program, parents are asked to pay close to $400 in combined league and team fees.
To help shoulder the costs, the teams and parents host barbecue dinners, sell concessions and conduct popcorn fundraisers throughout the year. This year the Southern Nevada Regional Housing Authority also donated $5,000.
Fox said the team is always seeking sponsorships. During the toughest times, the coaches will open their own wallets to get children on the field.
"In my heart, I can't turn a kid away," Fox said. "I would take my last dollar to help a child, even if he wasn't mine."
As long as the camp continues, it will continue to have an impact on the lives of children like Lee.
"I learned not to give up. Whatever you try, you keep going until you succeed," she said. "If we don't get a play right, then keep going. If you don't get a test right, you keep going and keep going until you get the grades you want."
Contact Michael Scott Davidson at sdavidson@reviewjournal.com or 702-477-3861. Follow @davidsonlvrj on Twitter.