Las Vegas gas prices hit all-time high after overnight spike
Updated March 4, 2022 - 7:51 pm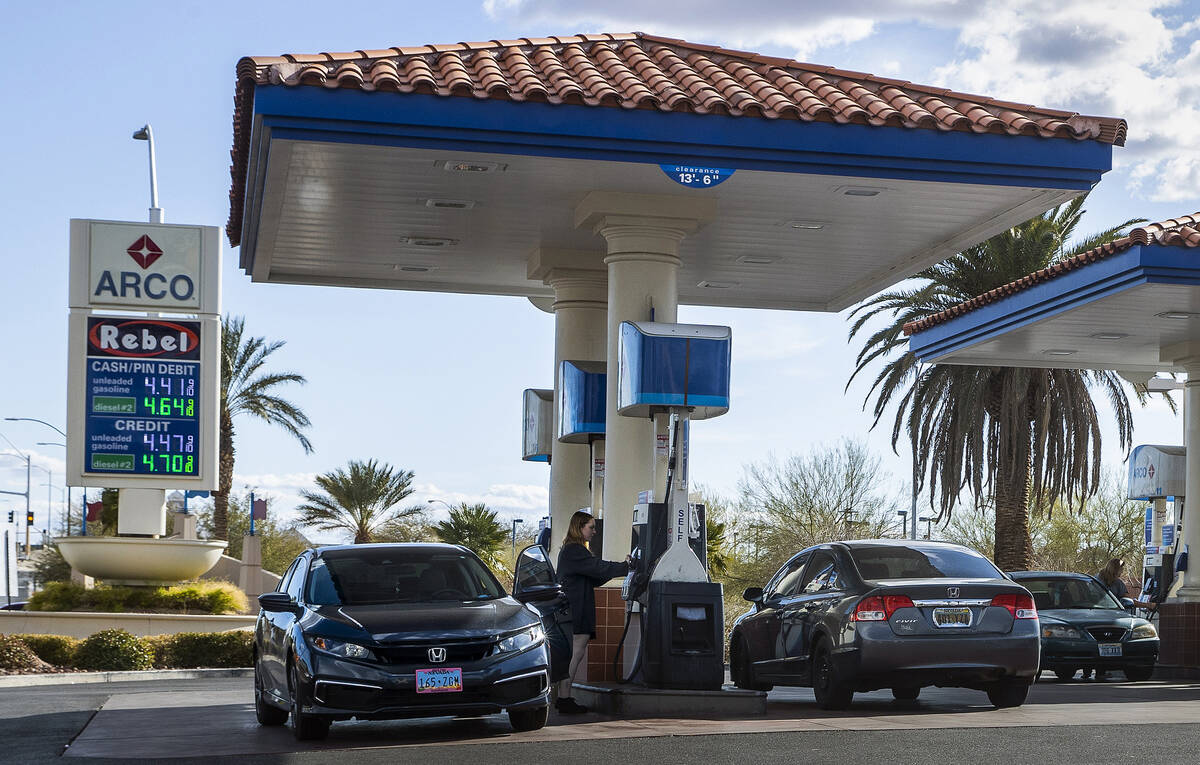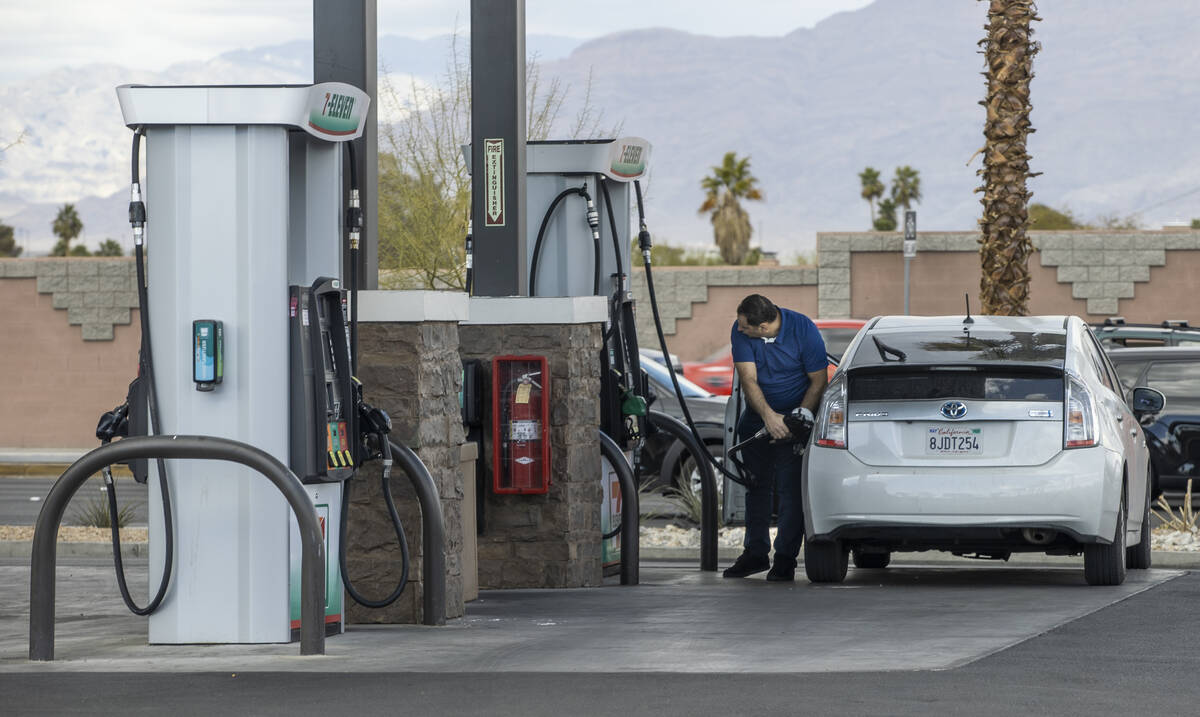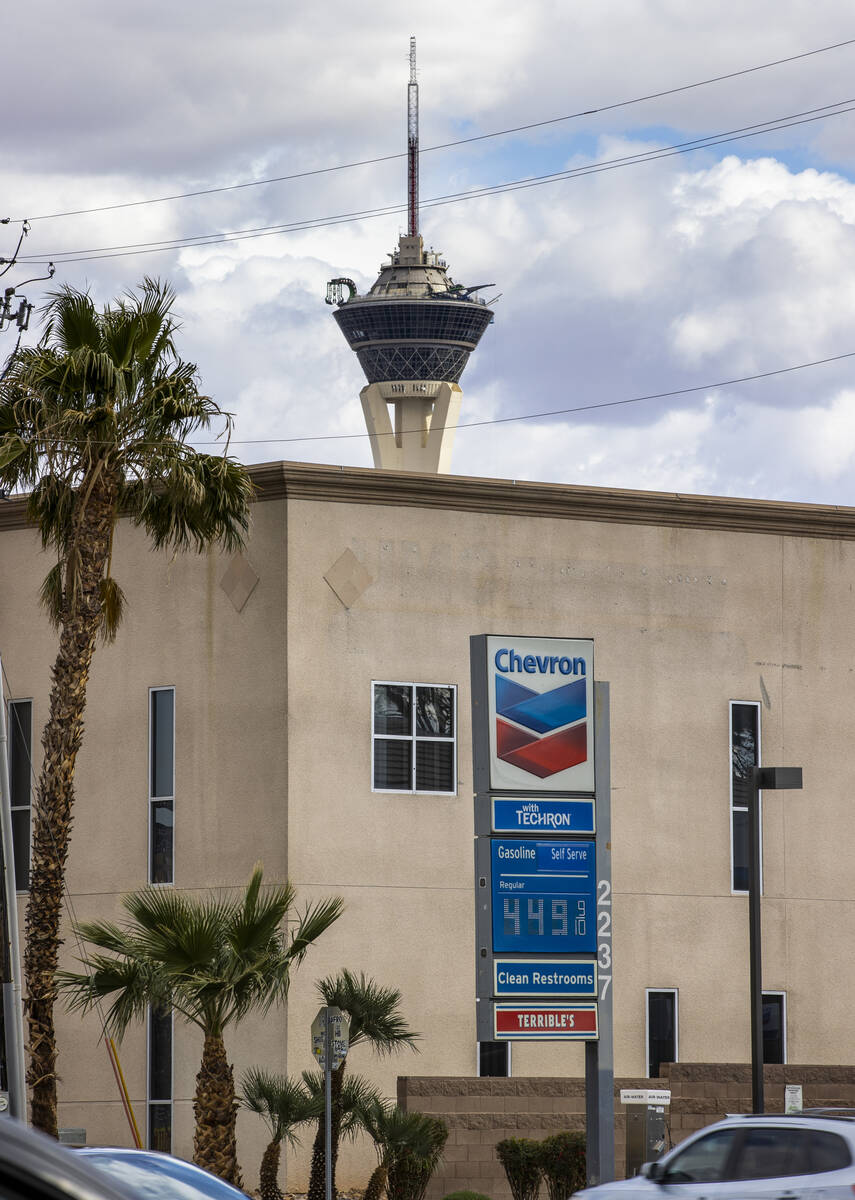 Gas prices hit an all-time high in Las Vegas of $4.29 per gallon for regular unleaded fuel Friday after a 17-cent spike overnight, according to AAA data.
Friday's record surpasses the mark of $4.27 set in 2008, and prices appear to be headed even higher, with one analyst saying they could hit $4.75 a gallon.
The statewide average also set a record high at $4.28 per gallon. The national average stands at $3.83 per gallon. The national record for the average price for a gallon of regular unleaded gas is $4.11 set in 2008, according to AAA.
Reno surpassed its previous record high of $4.27 a gallon Wednesday when gas prices hit $4.30. In the two days since, the price has jumped 19 cents more, with Friday's average price for regular unleaded gas sitting at $4.49 per gallon.
In neighboring California, gas prices have exceeded $5 a gallon. According to AAA, the average price in California on Friday was $5.07 per gallon of regular gas.
The rise in gas prices nationwide is largely tied to unrest in the market as Russia attacks Ukraine. With the U.S. and its allies imposing sanctions on Russia, the nation is withholding its oil exports, according to Patrick De Haan, head petroleum analyst for fuel-savings app GasBuddy.
Another factor for some parts of the U.S. is the annual switch from winter blend to summer gasoline to reduce evaporation, De Haan said.
He expects the average prices in the state to continue climbing.
"Vegas and Nevada very closely follow Western markets, and my concern with Western markets is one refinery issue can certainly have a profound impact," De Haan said Friday via Facebook Live. "Keeping that in mind, there is a risk that Nevada, and Las Vegas specifically, could hit $4.75."
Could prices here top $5 a gallon as they have in California?
"At this point I think that is improbable," DeHaan said, "but I would say we're only one refinery issue away on the West Coast from Las Vegas getting to some of those somewhat apocalyptic numbers."
AAA spokesman Aldo Vazquez agreed that the cost of crude oil is a key factor in rising prices at the pump.
"Fluctuations in gas prices truly depend on the price of crude oil, which is under several stressors right now, most notably the Russian invasion of Ukraine," Vazquez said. "Beyond the Russian-Ukraine conflict, an increase in gas demand alongside a reduction of supply is also driving the increases we're seeing this week."
Data released Thursday from the Energy Information Administration showed that the domestic gasoline supply has decreased while demand has gone up.
On Friday, the price of U.S. oil jumped 7.4 percent to $115.68 per barrel, the highest since August 2008. In July of that year, the price per barrel of U.S. crude climbed to an all-time high $145.29, pushing up the average price for gasoline above $4 a gallon.
"I don't think the elevated commodity prices are behind us by any means," said Megan Horneman, chief investment officer at Verdence Capital Advisors. "As energy prices continue to rise, eventually there could be some demand destruction that will result in some peaking in the price and possibly some decline in the price of oil."
De Haan recommends drivers fill their tanks up early in the week, when they are more likely to catch a cheaper price amid the volatile fuel market.
"Sooner there's more likelihood that prices will be lower than later," De Haan said. "We expect prices to continue advancing."
As of Friday morning, the cheapest price for a gallon of regular unleaded gas in the Las Vegas Valley was noted as $3.53 per gallon at the Sinclair station at 6115 S. Pecos Road, according to GasBuddy.
De Haan said he doesn't envision current gas prices deterring travelers as the busy spring and summer travel seasons approach. But if prices keep increasing rapidly, that could change.
"At this point, given the economic strength with the wage increases, I'm not sure that $4 a gallon has the same cachet that it did back in 2008," De Haan said. "I don't think $4 will squeeze as many Americans as it did back in 2008."
He noted that "Americans still have pent-up demand for getting out," and COVID-19 restrictions have been relaxed in many parts of the country.
"Things are wide open, the economy is open and people feel safer," De Haan said. "Until the national average hits $4.50 or $5, I don't know if people will really slow down consumption."
Contact Mick Akers at makers@reviewjournal.com or 702-387-2920. Follow @mickakers on Twitter. The Associated Press contributed to this story.