Las Vegas homeless courtyard now open 24/7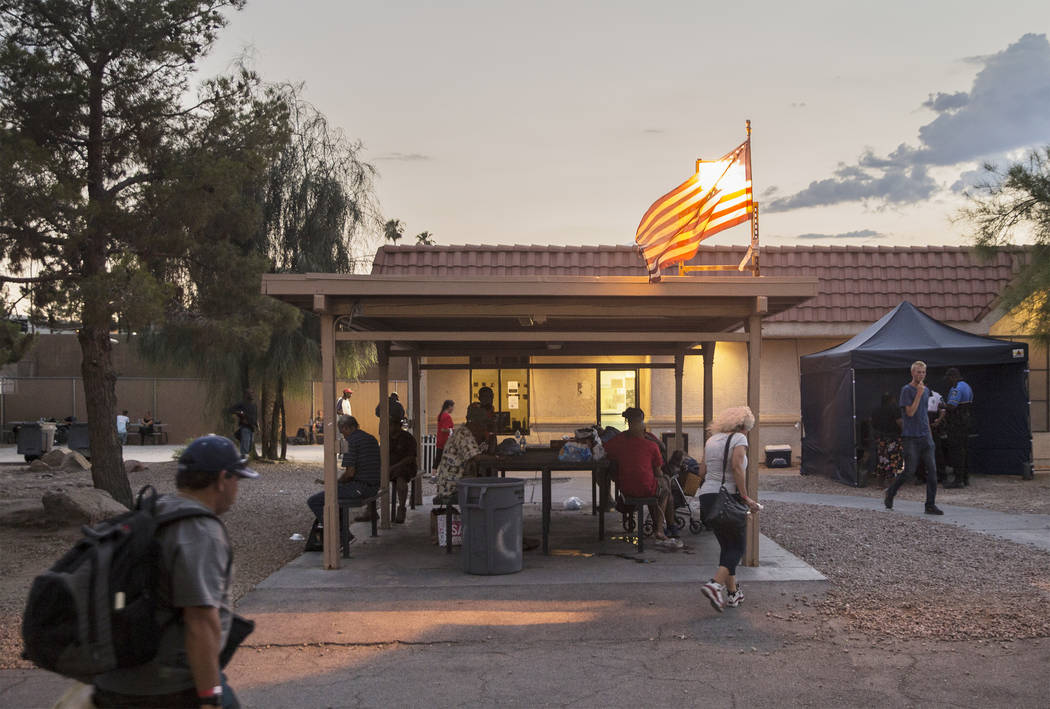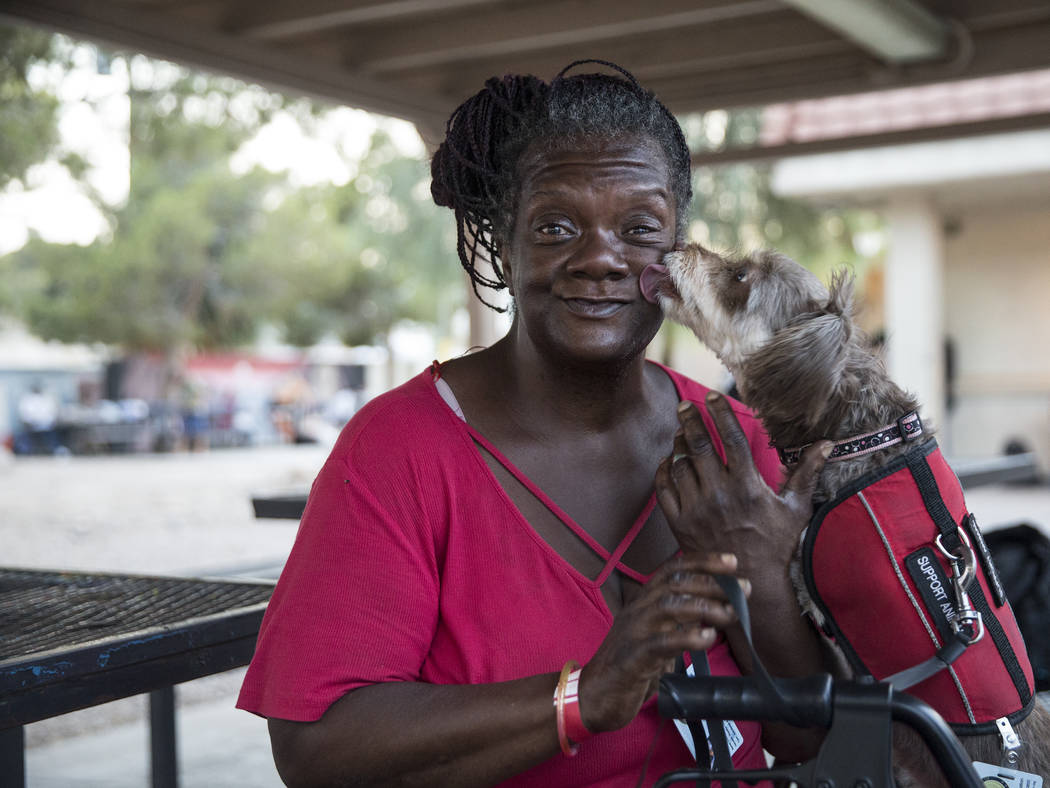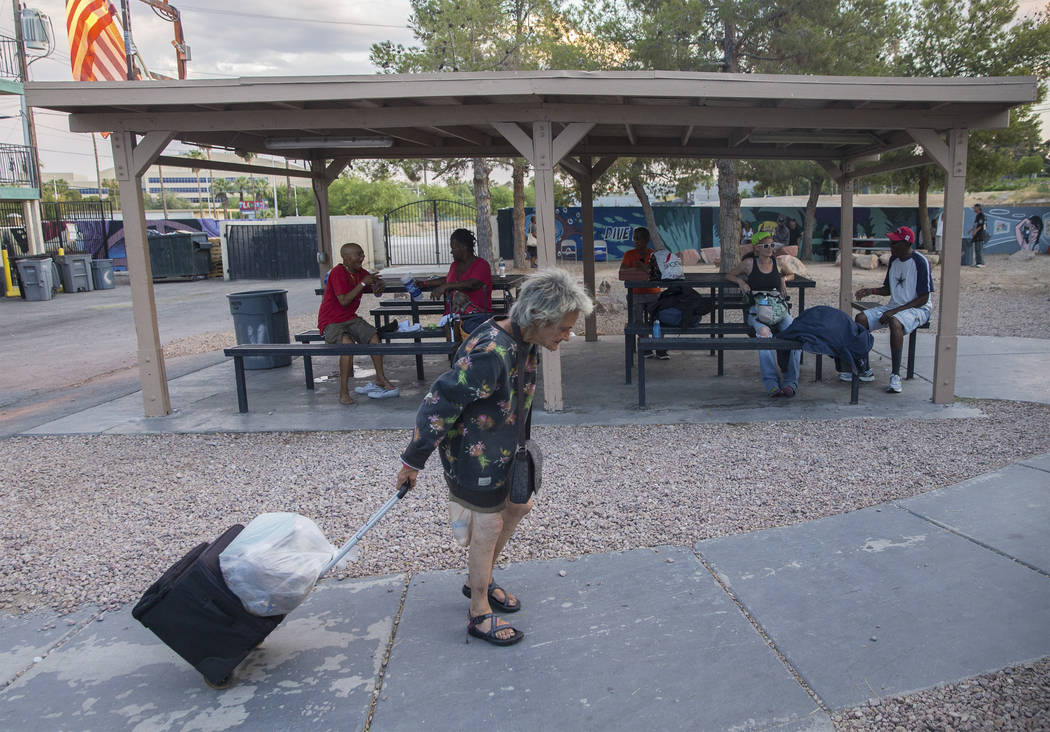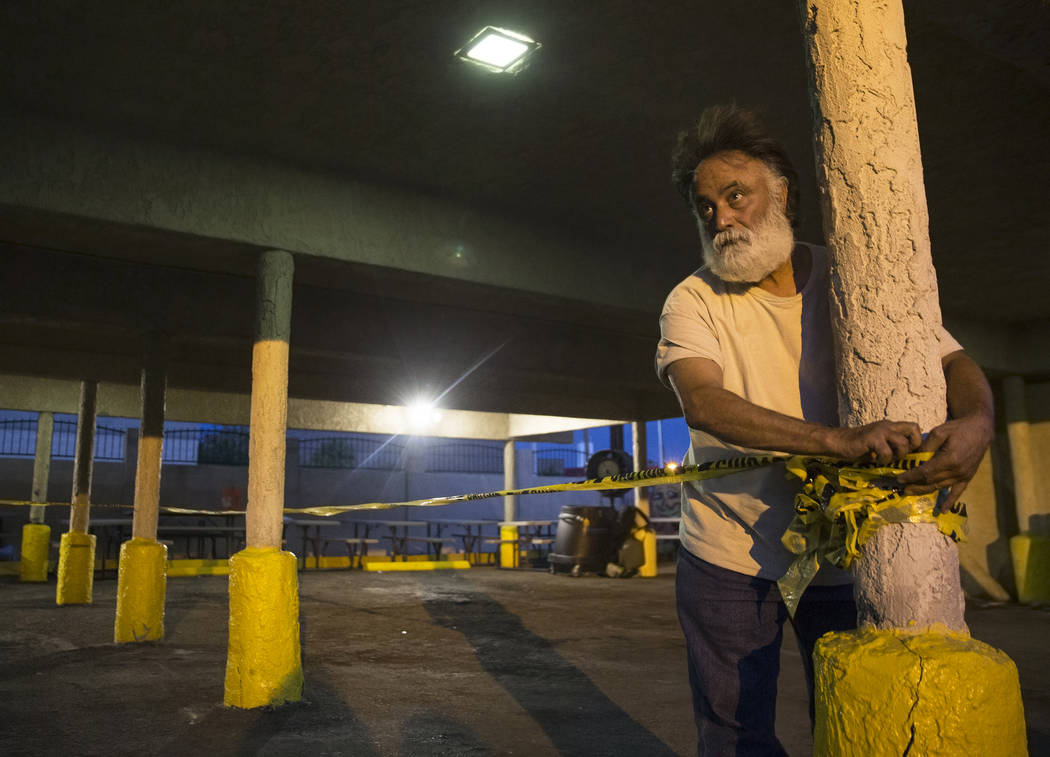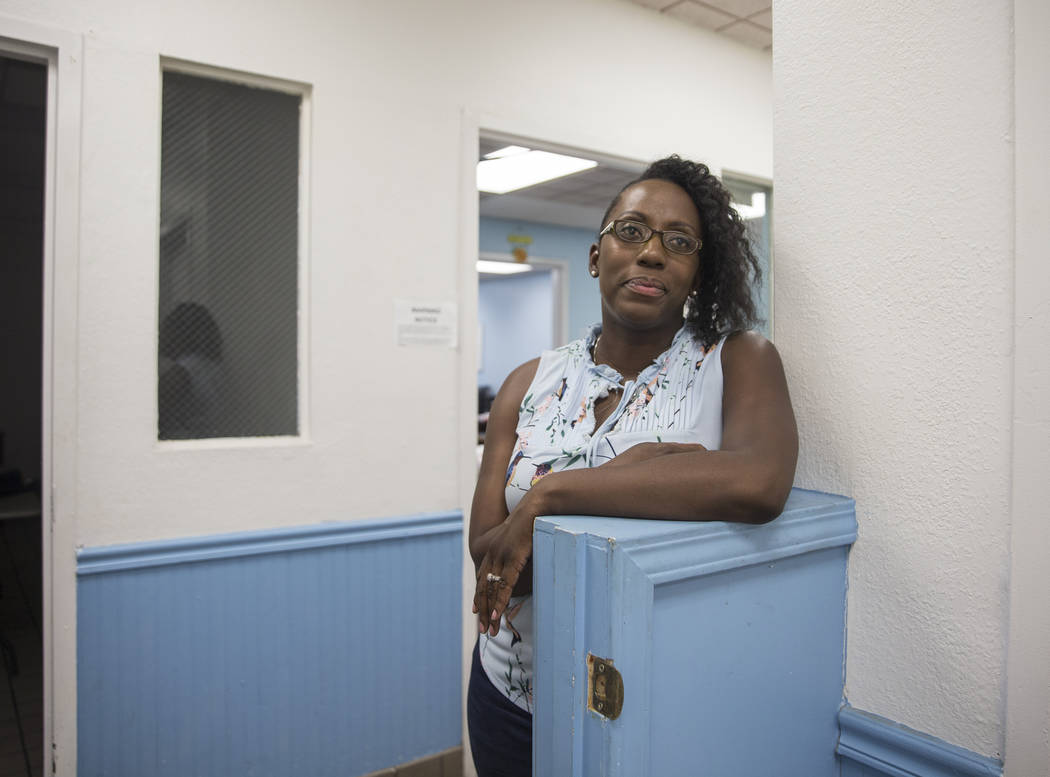 The nights Rosslyn Hubbard spent on Main Street didn't involve much sleep.
She would spend nights on the street where many homeless people stay north of downtown Las Vegas, on top of her belongings, only really able to nod off for short periods of time.
That changed last week. Thursday night marked her third stay at the city of Las Vegas' courtyard, where homeless people can now sleep in a secure, open-air area.
"I'm really comfortable, and I feel safe," Hubbard said. "Safety is the biggest thing, especially as a female. I don't know how the females do it."
The city of Las Vegas has been operating the courtyard, at Foremaster Lane and Las Vegas Boulevard, in a pilot phase for more than a year. City officials envision it as a single location where homeless people can go for a range of services: a restroom and a shower, medical and mental health services, housing and employment help.
On Tuesday night, the courtyard transitioned to a 24-hour operation, where people are able to sleep on mattress pads nearly the size of a twin bed, under the overhang of the former Shannon West Center for Homeless Youth building. The city has a contract with the Southern Nevada Community Health Improvement Program, or CHIPs, to handle the courtyard operations.
"You made this bearable," Hubbard said through tears to CHIPs executive director Alexandria Anderson. "This was a godsend."
Hubbard's small emotional support dog, Da Brat, licked away her tears.
"When my money comes in, I'm going to come back and volunteer," Hubbard said.
Around 8 p.m. Thursday, the temperature was still hovering near 110 degrees, and courtyard staff and volunteers began clearing picnic tables to make room for mattresses. Large fans and misters are aimed toward the sleeping area, and people start to lie down around 9 p.m. By 11 p.m., it's supposed to be quiet on campus, Anderson said.
During its first three nights of operation, the number of people who stayed overnight ticked up — 58 on Tuesday, 66 Wednesday and by about 8:30 p.m. Thursday, 72 people had checked in to stay overnight. The overnight capacity is 113 now, but as the permanent courtyard is built out over the next 18 months, the goal is to quadruple that capacity, Anderson said.
Animals are allowed at the courtyard, but they're required to be leashed and in crates when their owners are sleeping. The entry area where a handful of portable toilets and a hand-washing station sit remain open, but after 11, to access the courtyard beyond that point, people must check in and wear a wristband.
Armed security guards are on the site 24/7. Security guards broke up a fight between two men at the courtyard Thursday as 9 p.m. neared.
Men and women can both stay, though there's space between them in the sleeping area. Courtyard staff don't administer Breathalyzers to people entering, as some local shelters do.
"As long as they're not a danger to themselves or anyone else" people can stay, Anderson said.
The courtyard project is modeled after the Haven for Hope campus in San Antonio, Texas, where officials from the Las Vegas Valley traveled early last year. According to annual U.S. Department of Housing and Urban Development homelessness reports, Las Vegas/Clark County is among the top 10 cities with the largest homeless populations in the country, flanked by larger cities like Los Angeles, San Francisco and Seattle/King County.
Until last week, the courtyard had been operating from 6 a.m. to 6 p.m. A more formal dedication of the courtyard will likely happen sometime next month, said Kathi Thomas-Gibson, acting director of the city's Office of Community Services.
Vulnerable population
The courtyard offers relief from the summer's sweltering heat, a place where people receive water and find shade, and where courtyard staff monitor them for signs of heat-related health issues, Thomas-Gibson said.
Three people living on the streets of Las Vegas were found dead last week; their deaths were likely due, at least in part, to the high July temperatures, officials said.
"Obviously, hydration is huge — this time of year, it's even more critical," she said.
Five to eight CHIPs staff members will be on-site at the courtyard overnight, along with the armed security guards. Earlier this year, multiple attacks on homeless people in Las Vegas underscored how vulnerable they can be living on the street.
"At least half a dozen people said to me they hadn't gotten a good night's sleep in years," Thomas-Gibson said. "They know no one is going to run up on them, steal their stuff, harass, molest, stab or beat them. It's an opportunity for them to feel completely safe and get some respite."
Thursday evening, dozens of people set up tents or splayed belongings on the sidewalk along Foremaster Lane, outside the courtyard. Street homelessness in this corridor, where homeless shelters and other service providers are clustered, is widespread.
Construction on the roughly $10 million courtyard will go on around its inhabitants over the next year-and-a-half. The Las Vegas City Council is slated to vote on Wednesday to close off Foremaster Lane at Las Vegas Boulevard with a gate, as part of the ongoing development of the courtyard.
Architects designing the permanent courtyard are planning for cooling shade structures with power outlets, so people can charge their phones, Anderson said.
Courtyard staff are still working on the plan for dealing with colder temperatures at night in the winter months with an open-air sleeping space, Anderson said.
MORE help
The city introduced a related homeless initiative a year ago — a multi-agency outreach resource engagement, or MORE teams, with mental health specialists and law enforcement to reach out to homeless people living on the streets.
Encouraging people to seek services at the courtyard is part of the city's outreach efforts.
The first team, created about a year ago, concentrates on the downtown area. Two other teams will start this year, with one focusing on a geographic area east of Fremont and in the Huntridge area, and the third in the city's medical district and farther out from downtown where needed, Thomas-Gibson said.
By providing a range of services through the courtyard — whether it's obtaining a birth certificate to seeing a therapist, the goal is to help transition as many people as possible out of homelessness. But there's no deadline on how long people can spend at the courtyard.
"We want to get as many families and individuals off the streets as possible," Anderson said. "We're shooting for zero."
Contact Jamie Munks at jmunks@reviewjournal.com or 702-383-0340. Follow @Journo_Jamie_ on Twitter.