Las Vegas judge handcuffs public defender in courtroom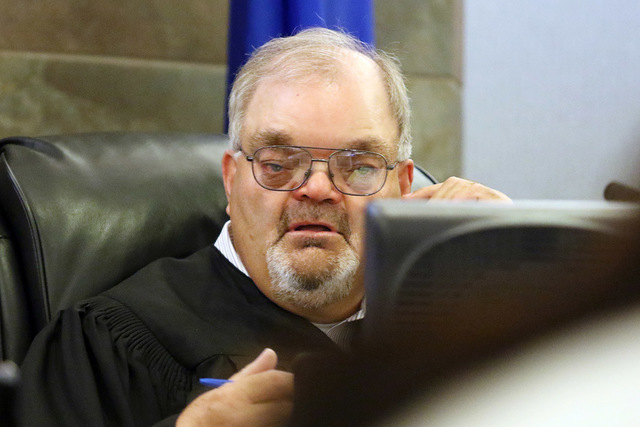 A deputy public defender found herself in handcuffs Monday as she tried to keep a client out of jail.
Las Vegas Justice of the Peace Conrad Hafen said he wanted to teach the lawyer about courtroom etiquette.
"You need to have order in a courtroom," Hafen later told the Las Vegas Review-Journal. "And there needs to be proper decorum with attorneys."
Tension seemed to escalate quickly Monday morning inside the judge's courtroom, according to court transcripts.
Zohra Bakhtary, a deputy public defender for three years, has spent at least one day a week for the past year inside Hafen's courtroom on the sixth floor of the Regional Justice Center.
On Monday, she was arguing to keep a man who had violated probation on petit larceny charges out of jail when the judge told her to "be quiet."
Bakhtary tried to interject.
"Zohra," the judge said.
She spoke up again: "You're making —"
"Do you want to be found in contempt?"
"Judge, you're asking —"
The judge once more asked her to be quiet. "Now. Not another word."
Bakhtary then said, "Judge, you're," before being cut off.
Hafen turned to his marshal. "Travis, right now. I'm tired of it. Right now."
And Bakhtary was cuffed. She sat in the jury box, alongside inmates wearing jail clothing, while the judge finished hearing the case at hand.
Bakhtary's client, a man who was arrested on theft charges about five months after he was ordered to pay a fine and perform community service in a similar case, was ordered to spend the next six months in jail.
"And then, Travis, go ahead and un-cuff Zohra," Hafen said. "I think she's learned a lesson."
The judge later said in a phone interview that he's had difficulty with Bakhtary for the past six months.
"There's been a progression of steps in the courtroom where I've tried to let her know it's not proper decorum for her to continue to talk over me or interrupt me after she's already made her argument," he said. "Once an argument is made, then you have to allow the judge to respond, so there's a clear record, and you shouldn't be interrupting the judge as the judge is making a ruling. … I've been trying to work with her. And today it just spilled over to where I thought, 'Well, clearly she's not understanding what I'm trying to tell her.' "
Hafen recessed court briefly and met behind closed doors with Clark County Public Defender Phil Kohn, who said that in 12 years running his office none of his lawyers has been handcuffed in a courtroom.
Still, he emerged from the discussion with a positive outlook.
"I don't think there's going to be a hangover from this," Kohn said. "She's tenacious. It's probably why today happened. But I don't believe for one second that this will deter her from doing her job zealously. I know that she will continue to fight for her clients. As far as I'm concerned, it's behind us."
Kohn said he was concerned that cameras installed in the courtroom to capture audio and video had not been turned on, though that's not a requirement under state law.
"I would love to watch what happened," Kohn said, "not just what words were spoken, but how they were spoken."
Hafen, who is facing two opponents — attorneys Amy Chelini and Phung Horton Jefferson — in his re-election campaign this year, said he prefers transcripts recorded by an official court reporter. Though he has not used the camera system in his six years on the bench, he said he has received reports of technological malfunctions.
After Hafen and Kohn met, Bakhtary returned to cover the rest of her cases for the day without further setback. She could not be reached for comment Monday, but Kohn said he expected her to keep appearing before Hafen.
The judge said he thought handcuffing the lawyer may cure the problem. "And it did. We went on with the rest of the calendar, and everything was fine."
Contact David Ferrara at dferrara@reviewjournal.com or 702-380-1039. Find @randompoker on Twitter.
RELATED
Handcuffed public defender says she simply wanted judge to listen to her argument