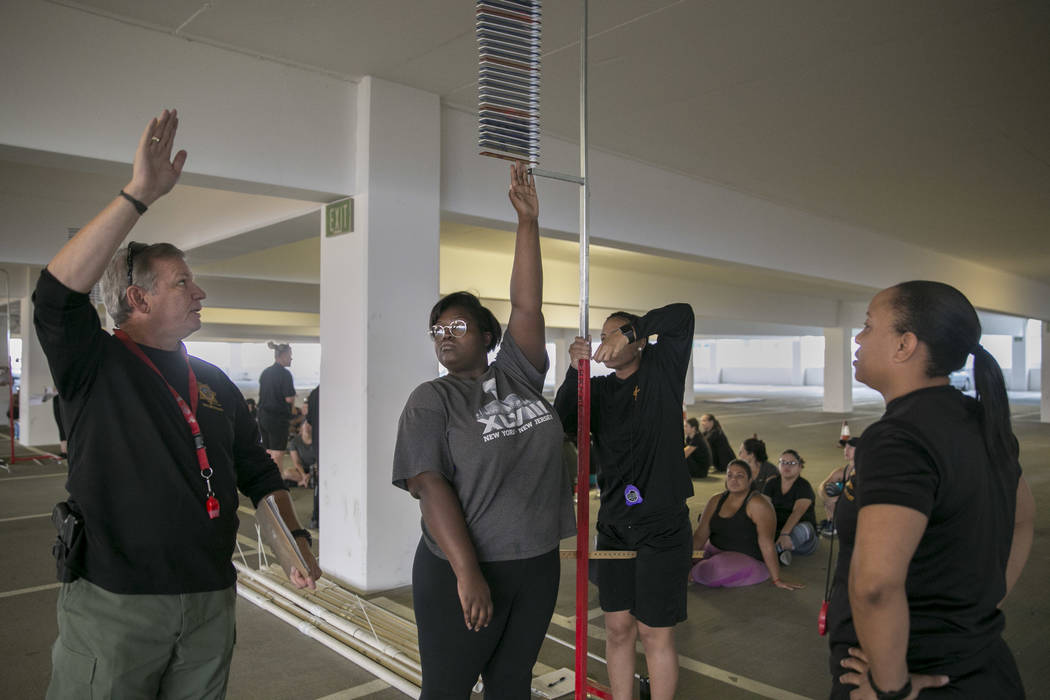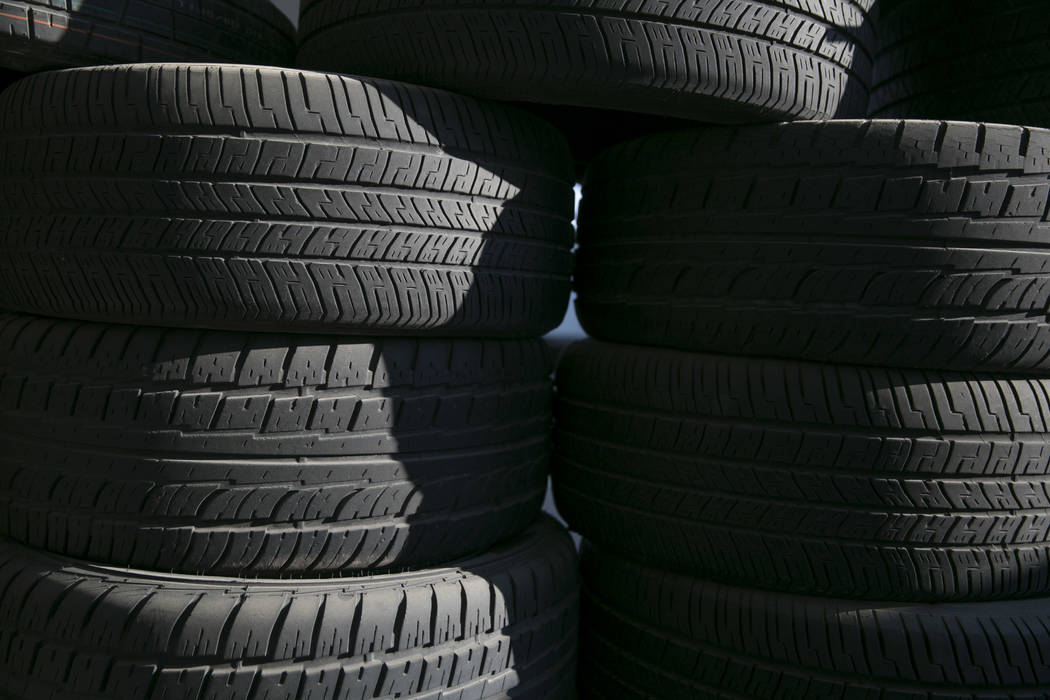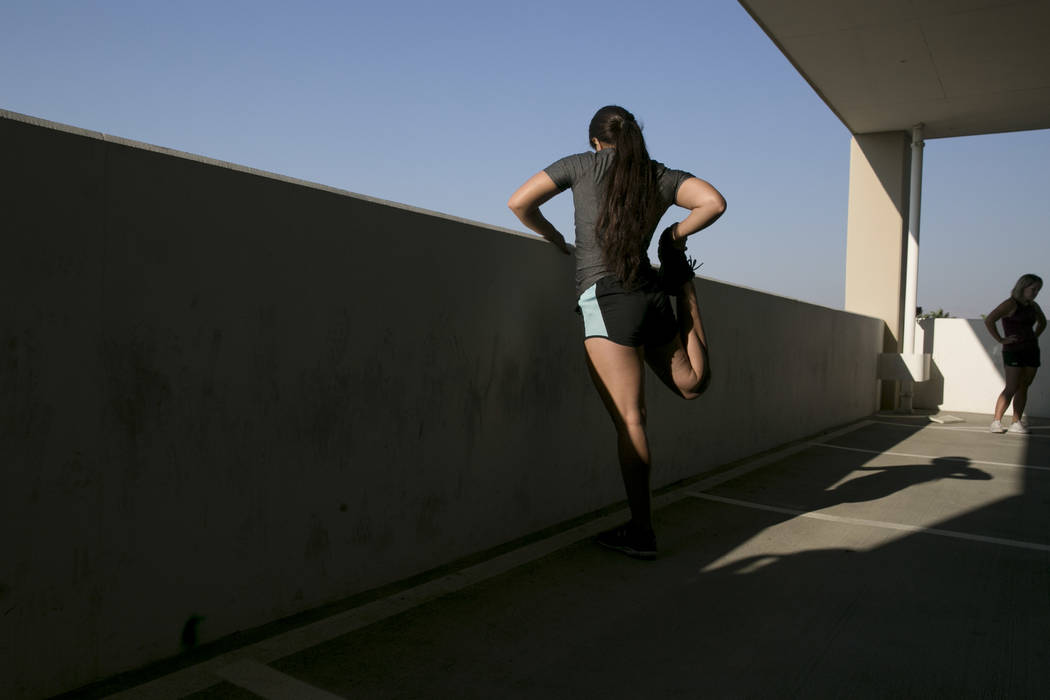 When the Strip erupted in gunfire a week ago, Jasmen Jackson hated that she couldn't suit up and respond to the scene of the deadliest mass shooting in modern history, where 58 people were gunned down and 489 were injured.
"I wish I'd had the power to go out there and help," the 33-year-old Metropolitan Police Department recruit told the Las Vegas Review-Journal.
But for as long as she can remember, her dream to patrol the streets was just a secret she kept from family and friends.
"They don't trust cops," she said.
A historically white male-dominated profession, the gender gap remains a defining factor for law enforcement in the Las Vegas Valley.
As of July, Metro records show women accounted for roughly 12 percent of the department's 3,706 commissioned officers, which include detectives, public information officers and corrections officers. This means, according to Metro's most recent demographic reports, the department is made up of 3,242 male officers and just 464 women officers.
For herself, and most women of color, she explained, she knew the odds were stacked against her as a black woman interested in law enforcement.
Hoping to bridge divide
Growing up in Los Angeles, Jackson was raised in a neighborhood saturated in violent gang-related crime.
"It's so easy to get pulled into that violent lifestyle," she explained.
Older now, Jackson said she has closely watched the growing tensions in the last few years between black communities and law enforcement over police brutality. Still, Jackson said she dreamed of one day putting on a uniform to help bridge that gap.
In 2014, she moved to Las Vegas, about the same time the Black Lives Matter movement started gaining both national recognition and the attention of her then-5-year-old son, Amir.
"He was scared of police officers," Jackson explained. "So I decided even though I'm a black woman who was raised seeing violent crimes, I can help change the stereotype that police can't be trusted."
More than three years later at Majestic Park in the northwestern Las Vegas Valley, the same park where Metro sometimes hosts its fitness boot camps, Amir told the Las Vegas Review-Journal that he isn't afraid anymore.
"My mom's gonna be a good cop," Amir, now 8, yelled, running in circles around Jackson as she sat with her legs sprawled, stretching. "Anyway, mom, are we gonna run or what?"
Since early May, Jackson has spent most of her weekend mornings at the park running, squatting and jumping. Most mornings, her energetic son tags along while she trains, she said. She needs to pass the fitness test before moving on to Metro's oral board exam and background checks.
"I'm so hungry for it," she said, fists clenched against her stomach.
Out on the street
Metro Sgt. Jose Hernandez, who assists with the Police Department's recruitment efforts, is just one of the many recruitment officers rooting for Jackson.
Early Sept. 16, an unusually cool September morning, the colors of a typical desert sunrise shattered the dark sky as Jackson and dozens of other women interested in law enforcement climbed four flights of stairs. On the fourth floor of Metro's parking garage, Hernandez and his team had set up several fitness stations for the recruits.
"Her determination is the absolute finest," Hernandez said, singling out Jackson in the crowd of more than 60 women recruits. "We're looking for women like her, and I tell you this, I can't wait to run into her out on the street one day."
Metro's records and the 2016 Clark County census report show the Police Department's demographics are not directly reflective of the county's population.
"There are gaps all across the board, but where we're really going to make an impact is right here," Hernandez said, looking over his shoulder at the crowd of recruits preparing for a minute straight of the dreaded pushup.
Last year, according to U.S. Census Bureau data, the black community made up 12.2 percent of Clark County's population, while the Hispanic and Latino community accounted for about 31 percent. But as of July 2017, only 10 percent of Metro's police force were black officers, and just 15 percent were Hispanic or Latino. And when broken down by gender, Hernandez said the gap "is far more evident."
Only 67 black commissioned women officers are now on Metro's police force while there are 309 black male officers. As for Hispanic or Latino representation in the department, there are only 100 women officers compared with 457 male officers, according to Metro's demographic report.
"What we're truly looking for is an increase in number of women applicants and a growth in ranks for our female officers, because that'll bump our demographics in more ways than one," he said. "Starting with women is key, because then more are going to come."
Jackson had just laid her body down onto the the thick, black mat when Hernandez spotted her. She had one minute to complete 18 pushups.
"Let's go Jackson. We wanna see you succeed," Hernandez said, watching as she worked to push her body away from the ground.
She collapsed onto the mat, just two push-ups shy of 18.
"I hear it all the time, that I can't do it or I'm not strong enough," Jackson said, out of breath. "I'm gonna be someone little girls can look up to. I wanna be out on the street."
Jackson will face the fitness test again in November when Metro reschedules its three-day testing, which was canceled in the wake of the Route 91 Harvest mass shooting.
Contact Rio Lacanlale at rlacanlale@reviewjournal.com at 702-383-0381. Follow @riolacanlale on Twitter.
Metropolitan Police Department by race and gender
• White: 2,169 male officers; 254 female officers
• Black: 309 male officers, 67 female officers
• Hispanic or Latino: 457 male officers, 100 female officers
• Asian: 159 male officers, 23 female officers
• Native Hawaiian or Pacific Islander: 23 male officers, 4 female officers
• American Indian or Alaskan Native: 21 male officers, 2 female officers
• Two or more races: 104 male officers, 14 female officers