Las Vegas shop selling signed OJ Simpson photo connected to robbery
September 7, 2017 - 6:28 pm
Updated September 7, 2017 - 9:08 pm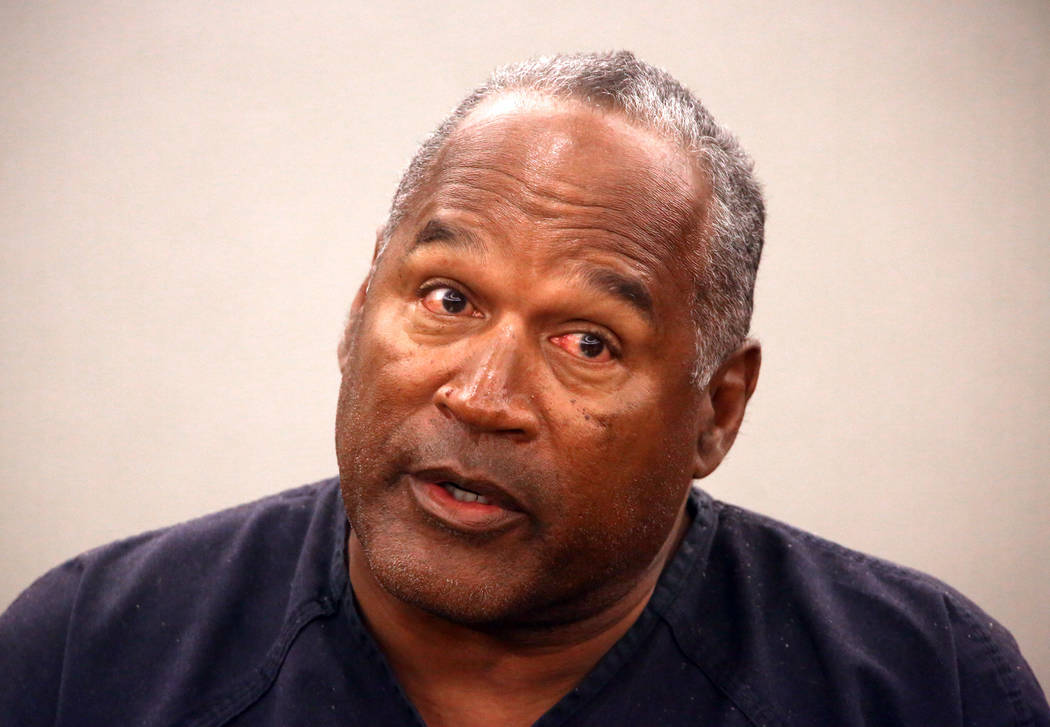 A sports memorabilia kiosk on the Strip seeks to sell a signed photo tied to the infamous robbery that landed O.J. Simpson in a Nevada state prison for nearly nine years.
Inscriptagraphs, located at the Planet Hollywood Resort, is offering the photo signed by Simpson and Bruce Fromong, one of two sports memorabilia collectors a group of men led by Simpson robbed inside a Palace Station hotel room in 2007, for $799.
The photo is one of 534 memorabilia items Simpson was trying to take back when he robbed Fromong in the hotel room.
Simpson has claimed he was trying to get personal items and family photos, not signed footballs or other merchandise.
The framed photo shows Simpson running track for the University of Southern California. It comes with a signed certificate of authenticity from Fromong and an evidence card from the police department, according to a news release.
Fromong wrote the room number where the incident occurred — 1203 — on the photo.
The Nevada Parole Commission voted unanimously in July to grant Simpson parole. He could be released as early as Oct. 1. He has been serving a sentence of nine to 33 years for the robbery.
Inscriptagraphs CEO Tyler Feldman said in a news release that his company has seen a spike in interest in Simpson items since his July parole hearing.
He told the Las Vegas Review-Journal he's had the piece about three weeks, and expects it to sell within the next five days.
A portion of the proceeds will be donated to the National Coalition against Domestic Violence, the release said.
Simpson was acquitted of murder charges in the 1994 deaths of his ex-wife, Nicole Brown Simpson, and Ron Goldman. Their families filed a wrongful death lawsuit in civil court and received a $33.5 million judgment in their favor in 1997.
Contact Blake Apgar at bapgar@reviewjournal.com or 702-387-5298. Follow @blakeapgar on Twitter.
The photo can be purchased on Inscriptagraphs' website: inscriptagraphs.com