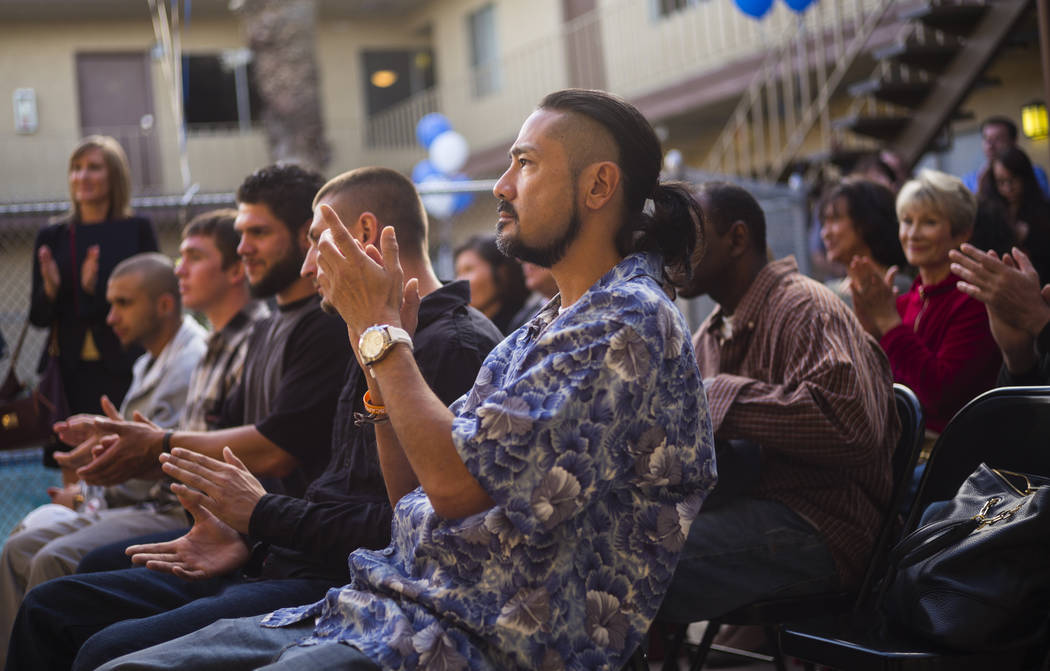 Jeff Iverson's life changed when he woke up in a jail cell in Las Vegas on March 28, 2006.
It's the date he'll never forget, one that represents his first day of sobriety after more than a decade battling his methamphetamine addiction.
Iverson had been homeless, living on the streets of Las Vegas.
"At my best, I was couch-surfing," he said.
To him, jail was the only chance to break free from the drug's grasp.
"The day I woke up in jail was the day I made the decision," Iverson said. "This was going to be the new chapter of my life."
Fast-forward to December 2017. Iverson, now 43, clean and sober since that 2006 arrest, is sitting in an office at Freedom House Sober Living, which he founded in 2010 to help others find their path to addiction recovery. The organization is getting ready to celebrate its eighth year in operation.
The twin buildings are converted apartment complexes with 149 beds, and each has an interior courtyard with a pool, giving it a feel more like normal apartment living rather than addiction recovery. Residents must abide by the rules: no drugs or alcohol; go to recovery meetings, such as anger management or behavior modification; find a job, with staff help; follow the curfew.
The sober-living complex and its sister facility, Freedom Behavioral Health, sit in the shadow of the Strip in an impoverished neighborhood near Twain Avenue and Swenson Street.
Overcoming skepticism
Back when the facility was just an idea, Iverson said Clark County officials and even Las Vegas police were skeptical of the location, worried that inviting drug addicts to the area would bring only more problems to the troubled neighborhood.
But since then, Iverson said, more than 2,000 people have come through the doors of the Freedom House buildings.
Some residents are sent to Iverson by specialty courts, such as the drug or veterans courts. Others, including 48-year-old Curtis Arakawa, a current Freedom House resident, found their way to Iverson through homeless outreach programs.
Before coming to Freedom House in October, Arakawa had been living in the storm tunnel across from the Welcome to Fabulous Las Vegas sign on the south end of the Strip.
The shelter of the tunnel offered a respite from sleeping in the open air on the streets, bouncing from park benches to restaurant patios between being strung out on methamphetamine and alcohol, he said.
Arakawa said he was skeptical when a homeless outreach advocate approached him about moving into Freedom House.
"I didn't believe him," he said. "But I was at the end of my rope. I was tired of riding that stupid carousel around and around with no progress. My life wasn't getting any better."
'People here actually care'
Arakawa was nervous when he got to Freedom House's sober living center. But his two-month stint is already paying dividends.
He's been sober since he arrived at the end of October. And for the first time in three years, the former sushi chef has a full-time job, working for a company that recycles and repurposes cooking oil.
He credits the workers and his fellow residents for getting him on the clean path and said that for the first time in years, he's found people who listen.
"They give a damn about what I'm saying instead of writing me off like other people in society," Arakawa said. "People here actually care."
By all accounts, Iverson had a normal childhood growing up in Las Vegas with his four brothers. But in junior high, he smoked cigarettes for the first time. Then he tried marijuana and alcohol.
By high school, he added cocaine to the mix. Nothing he tried killed him. He felt invincible. So with each new drug he tried, the next one with the stronger high became easier to jump to.
He never considered college, but he landed a gig at a financial services company that paid well and let him keep the drug-fueled lifestyle.
But by his early 20s, life was getting in the way of the party for Iverson.
He got fired, which led to him getting into a fistfight with a partner at the firm. The downward spiral continued, and he found himself cooking meth.
"Before I knew it, I was 25, completely strung out, completely unemployable," he said.
Back then, he said, he wore his lifestyle like a badge of honor.
Getting a life back
Now, it's part of his story, one he shares with Freedom House residents as a way to relate to their plights and their pitfalls and show them that recovery is always an option.
Those personal stories helped Joshua Markle break free of his addiction while at Freedom House years ago.
Markle, now 37, was an early client of Freedom House, coming to Iverson about six months after Freedom House opened, he recalled.
"I wanted to get sober. I just didn't know how," Markle said.
He'd known Iverson before coming to Freedom House and watched his path to sobriety. So he went, and Iverson persuaded Markle to move with his then-10-year-old daughter from their 3,000-square-foot house to a 500-square-foot apartment in Freedom House. Markle gave his old friend a full year's commitment.
He would spend the next 18 months at Freedom House, and like rebuilding his life from the ground up.
Markle, like many others who have come through the doors of Freedom House, credits Iverson and his staff not only for helping him break his own 15-year addiction to drugs but also for giving him his life back, including his two daughters.
"It's given me everything," Markle said.
Contact Colton Lochhead at clochhead@reviewjournal.com or 702-383-4638. Follow @ColtonLochhead on Twitter.