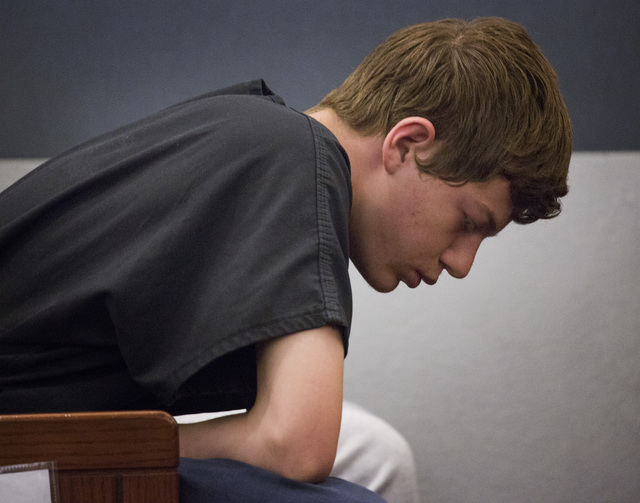 A Las Vegas teenager will spend his 16th birthday in jail this weekend, while family and friends bury the older brother authorities say he shot and killed in front of their mother.
Turner Bronson, who is being held without bail, made his first appearance in Clark County court Friday, facing one count of murder in the death of 18-year-old Clayton Bronson, who suffered gunshot wounds to the stomach and head from point-blank range.
Clayton died three weeks before his scheduled graduation from Sierra Vista High School. He had been accepted to UNLV, where he planned to study computer science and robotics.
"He had the unique ability to include everyone, especially those who were shy and would have otherwise been on the sidelines," an obituary in the Review-Journal said. "It was important to Clay to make sure no one felt left out … Clay had a contagious enthusiasm for life that influenced and touched the lives of all who had the privilege to know him."
As a student ambassador, Clayton traveled to France, Greece and Italy.
He played baseball, ran with his high school track team, liked to snowboard, earned a second-degree black belt in taekwondo, and he was an avid cyclist.
His Facebook cover photo showed three bicycles at the Los Angeles County line. During an Easter break, Clayton and two friends completed a six-day, 500-mile bicycle trip from Las Vegas to the Santa Monica Pier.
Less than a month later, in one of his last posts before he died, Clayton uploaded a picture of a page from his high school yearbook on Facebook.
"I want to go on an adventerous bike ride to LA," the caption next to a photo of him in the yearbook read.
In his own Facebook comment, Clayton wrote: "Ah yes! The yearbook just reminded me that I accomplished my goal!"
The brothers were quarreling inside their southwest valley home on May 22 before their mother, Wendy Herron Bronson, heard a gunshot, according to a police report.
She rose from her bed, saw Clayton in the upstairs hallway holding his stomach, and searched for her cell phone to call 911, the report stated.
Clayton said Turner had shot him.
Their mother told police she did not know there was a gun in the house, and as of Friday authorities were still investigating how Turner acquired the weapon.
Clayton walked downstairs into the dining room, bleeding.
Wendy Bronson stood with her dying son before Turner approached again with a black revolver in his hand.
The teen aimed at the side of Clayton's head and fired a single shot, the report said. Turner then slipped the gun behind couch pillows and paced around the house until police arrived.
In the moments leading up to the court hearing Friday, Turner sat quietly in the courtroom gallery, occasionally speaking with his attorney, Amy Feliciano, with the Clark County Public Defender's Office.
He waited in shackles, elbows dug into his thighs and his head facing down.
Turner's voice was barely audible, his eyes tired, as he answered affirmatively to questions from Justice of the Peace Pro-Tem Kurt Harris.
Turner faces the murder charge as an adult, but because of his age, prosecutors are not expected to seek the death penalty.
Anyone 15 or older who is charged with murder in Nevada is automatically processed in the adult court system, but Wolfson said the law is scheduled to change Oct. 1, when teens facing criminal charges who are between the ages of 13 and 15 would first be sent to juvenile court.
Turner turns 16 on Sunday, according to Feliciano, who declined to comment on the teen's condition during the hearing.
Clayton's obituary stated that he was devoted to his church, school, family and community.
He taught Sunday school at Good Samaritan Lutheran Church, volunteered at the church's coffee shop and a sandwich ministry.
Memorial services are scheduled for 11 a.m. to noon Saturday at the church.
From the opposite side of the courtroom gallery, Clark County's lead prosecutor Steve Wolfson observed Friday's hearing.
In the hallway, while taking questions from reporters, Wolfson referred to the death notice.
"This was a great kid," he said of Clayton. "It's so troubling, and it's so sad that his own brother took his life, because it's such a waste."
Their mother, who did not appear in court, told police her sons had engaged in altercations for the past several months as Clayton urged his brother to "get his life together."
Family members had planned to send Turner to a wilderness camp in Texas.
On the day of the shooting, Turner wanted to sneak out to his girlfriend's house, but was not allowed, the arrest report stated.
In police custody, Turner "had difficulties answering questions," and he "would smile and chuckle at inappropriate times."
Contact reporter David Ferrara at dferrara@reviewjournal.com or 702-380-1039. Find him on Twitter: @randompoker.