Las Vegas votes to ban some dog, cat, pig sales — VIDEO
January 6, 2016 - 8:33 pm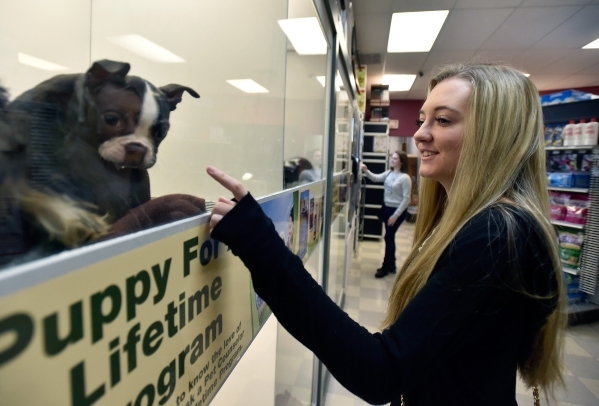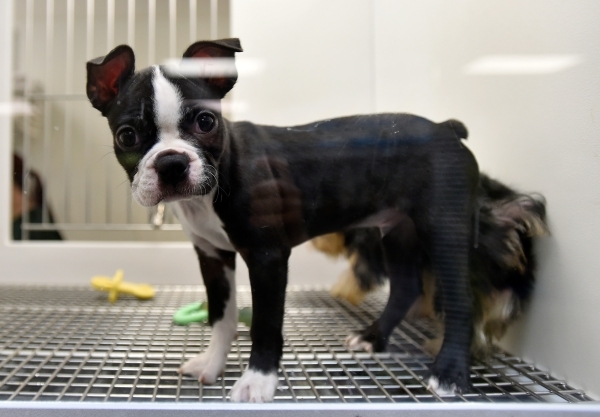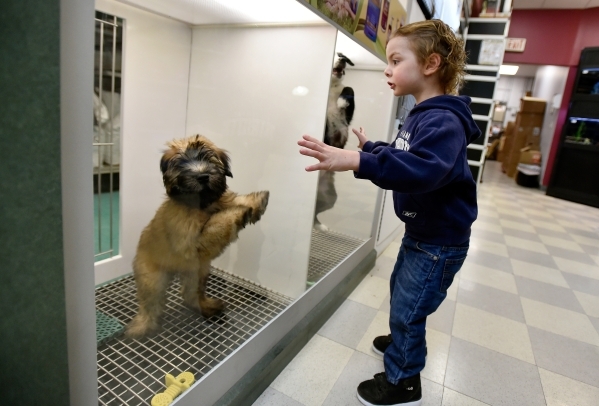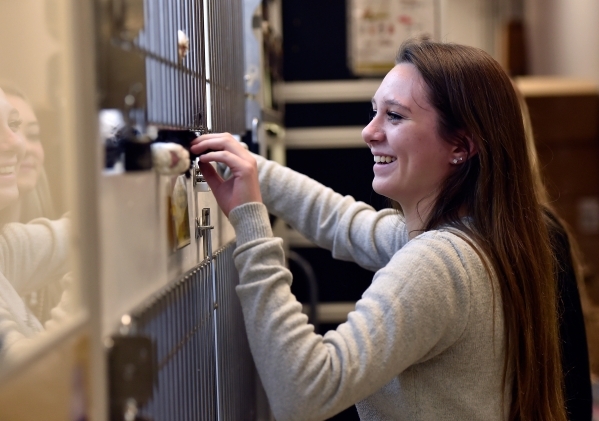 Some pet stores in Las Vegas will need a serious makeover to comply with a new law passed by the city council that will shake up the traditional sales of dogs, cats and even potbellied pigs.
The City Council voted to ban the retail sale of any pets not obtained from animal shelters, nonprofit humane societies or nonprofit animal rescue organizations. Most pet stores buy animals from breeders across the U.S.
The council listened to public comment for nearly 90 minutes Wednesday before passing the bill, 4-3.
The new law, however, only affects two stores: Petland, 8800 W. Charleston Blvd., and the Puppy Boutique, 4343 N. Rancho Drive. It will not affect stores such as Petco or Petsmart because they do not sell the now-prohibited animals.
The stores will have two years to comply by either switching to an adoption model or stop selling the animals.
The majority of the nearly 70 speakers — including representatives from the Animal Foundation, humane societies, rescue organizations and state Sen. Mark Manendo — spoke passionately in favor of the bill. Many felt it would stop puppy mills — places that intensively breed animals for commercial retail sale — from selling to Las Vegas pet stores. Many also said it would help curb Animal Foundation overcrowding. It takes in about 2,500 cats and dogs each month, according to statistics on its website.
But the dozen people who spoke against the bill, including Petland owners and workers, Retail Association of Nevada members and dog breeders from Missouri, argued the bill is too far reaching and will deprive the freedom of choice for potential buyers.
Jeffrey Fausett, who purchased the Petland in July, said he does not buy from puppy mills, and met breeders in Missouri, Indiana and Oklahoma to ensure the businesses operate humanely.
The bill "takes away free choice" from pet buyers and will make it more difficult for those who want purebreds, he said.
Each council member agreed on the goals of shutting down puppy mills and reducing the number of homeless pets in the valley, but some felt the bill wasn't addressing those problems directly.
"We all know these puppy mills are absolutely abhorrent and need to stop," Mayor Carolyn Goodman said. "Let's just not make a Band-Aid here. You're talking about two pet shops. We're 600,000 people."
Councilmen Steven Ross and Ricki Barlow echoed her comments, saying the bill was too "broad stroke" and it didn't address the bigger problems of overbreeding and puppy mills.
The vote hinged on Councilwoman Lois Tarkanian, who said she was on the fence before the meeting. But she said it came down to saving animal lives and finding homes for the thousands of cats and dogs that go through the Animal Foundation each year.
"We're still killing so many animals every day, and I think we need to find a way to be able to stop that. That's one of the things (the bill) might do," Tarkanian said after the meeting.
Tarkanian said an amendment that gave stores two years to comply instead of one was the best "win-win situation."
"Two years is enough time. That way (Faussett) can look how they're doing it at Petsmart and see if he would want to go there," Tarkanian said. "I was trying to balance the problem, and I know the business owner probably isn't happy."
Contact reporter Colton Lochhead at clochhead@reviewjournal.com or 702-383-4638. Find him on Twitter: @ColtonLochhead