Lawyers pack courtroom in support of 'Black Lives Matter' movement
September 22, 2016 - 6:30 pm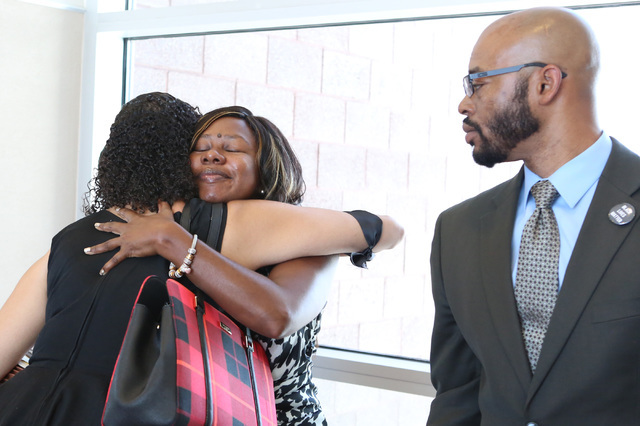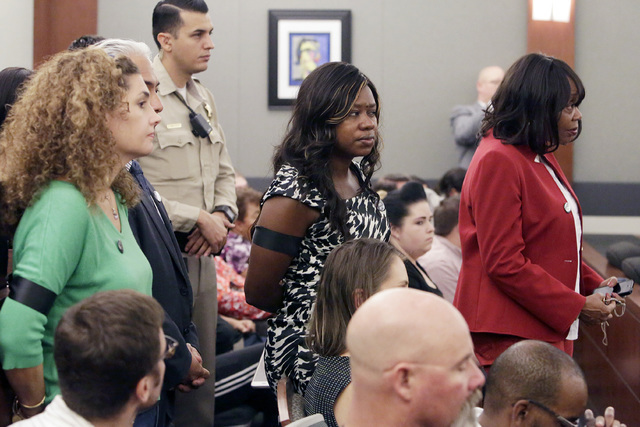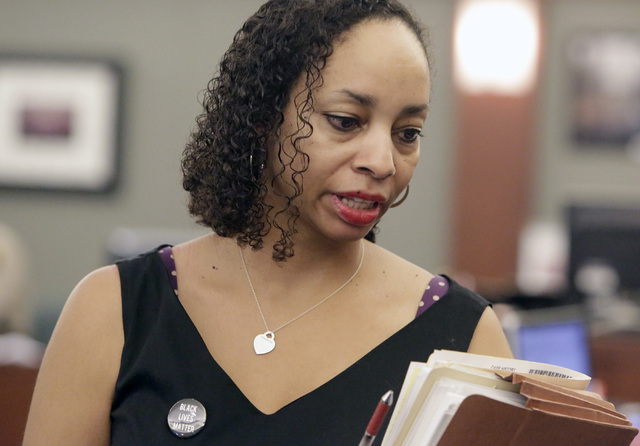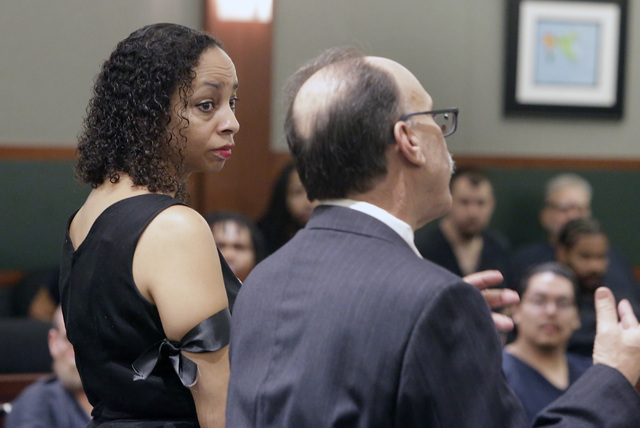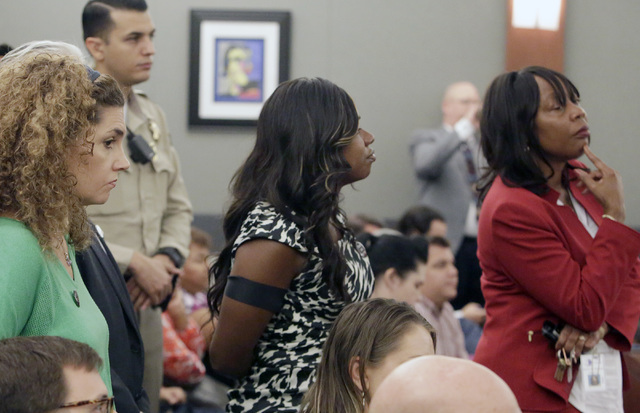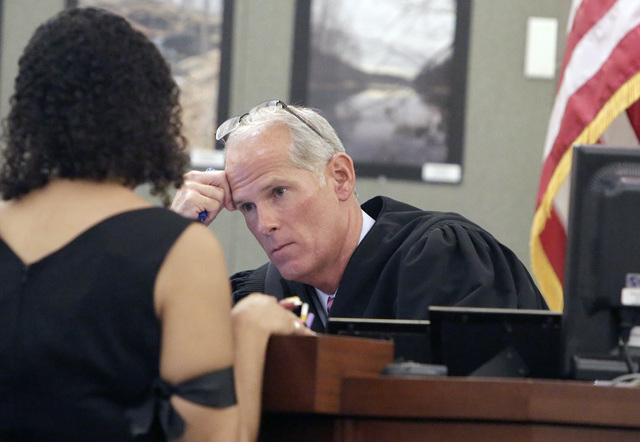 Deputy Public Defender Erika Ballou removed a "Black Lives Matter" pin from the lapel of her black dress Thursday after a judge said he would prohibit attorneys from wearing such items in his courtroom.
District Judge Douglas Herndon said anything that might disrupt proceedings would not be allowed.
"It's about remaining neutral and impartial in the courtroom," Herndon said.
Behind Ballou, however, nearly two dozen lawyers wearing the black-and-white button and black arm bands packed the gallery of courtroom 16C at the Regional Justice Center to support their colleague.
After a 15-minute speech from the judge and another 20 minutes of discussion with Clark County Public Defender Phil Kohn, Ballou and defense lawyer Jonathan MacArthur, many of the observing attorneys filed out of the courtroom.
MacArthur noted that court marshals often wear black stripes across their badges after police officers are slain.
"If that's allowed in this court, and BLM pins are not, then you've taken a side," MacArthur told the judge.
Herndon argued that some who wear the pins are making "a comment on government actions," or political statements.
"You're going to have to trust me moving forward that I'm viewpoint-neutral," the judge said. "And whatever comes up in court, we're going to address it."
Kohn said that as long as the judge remained "content-neutral," he would ask his lawyers not to wear the pins.
Before the discussion, a separate group of about eight people walked into the courtroom wearing black leather vests with patches that read "Bikers Against Child Abuse." A marshal asked them to turn the vests inside out. Instead, members of the group removed the vests and placed them outside the courtroom.
MacArthur later said he was disappointed with the way Herndon reacted to the show of support for the Black Lives Matter movement in his courtroom. MacArthur acknowledged that the judge "has the jurisdiction" to prohibit the buttons but said, "He has to do that in a content-neutral way."
Herndon has said wearing the pins in court was "inappropriate," referencing U.S. Supreme Court decisions that allow judges to prohibit political symbols in the courtroom.
"You advocate for reform where you believe it's needed," he said Thursday. "You advocate on behalf of social injustice, just like you're doing here. But it has to be done when and where it's appropriate."
The judge postponed a sentencing on Tuesday after noticing Ballou's button. That decision came a week after the Las Vegas Police Protective Association, the union for rank-and-file members of the Metropolitan Police Department, sent a letter to Chief District Judge David Barker expressing concern about several public defenders who had been wearing Black Lives Matter lapel pins in court.
A black ribbon remained tied around Ballou's arm Thursday as she argued at the sentencing of a 61-year-old Hispanic man in a battery case.
In the hallway outside Herndon's courtroom, Ballou's fellow public defenders said they would continue to wear the Black Lives Matter pins in other courtrooms.
"We argue black lives matter every day in court," said Deputy Public Defender Belinda Harris, who regularly sees courtrooms filled with black inmates. "They're treated differently because of the color of their skin. It's just that simple."
Harris said she was "saddened" and "disheartened" after the letter from the police union called the Black Lives Matter buttons "propaganda."
"It's been a continuous struggle," she added. "I just don't understand why the pin is so threatening."
Contact David Ferrara at dferrara@reviewjournal.com or 702-380-1039. Follow @randompoker on Twitter.
RELATED
'Black Lives Matter' support swells among Las Vegas defense attorneys
Controversy over defense lawyer's Black Lives Matter pin delays hearing