Light-rail line could spur development along Maryland Parkway
Updated June 19, 2018 - 12:08 am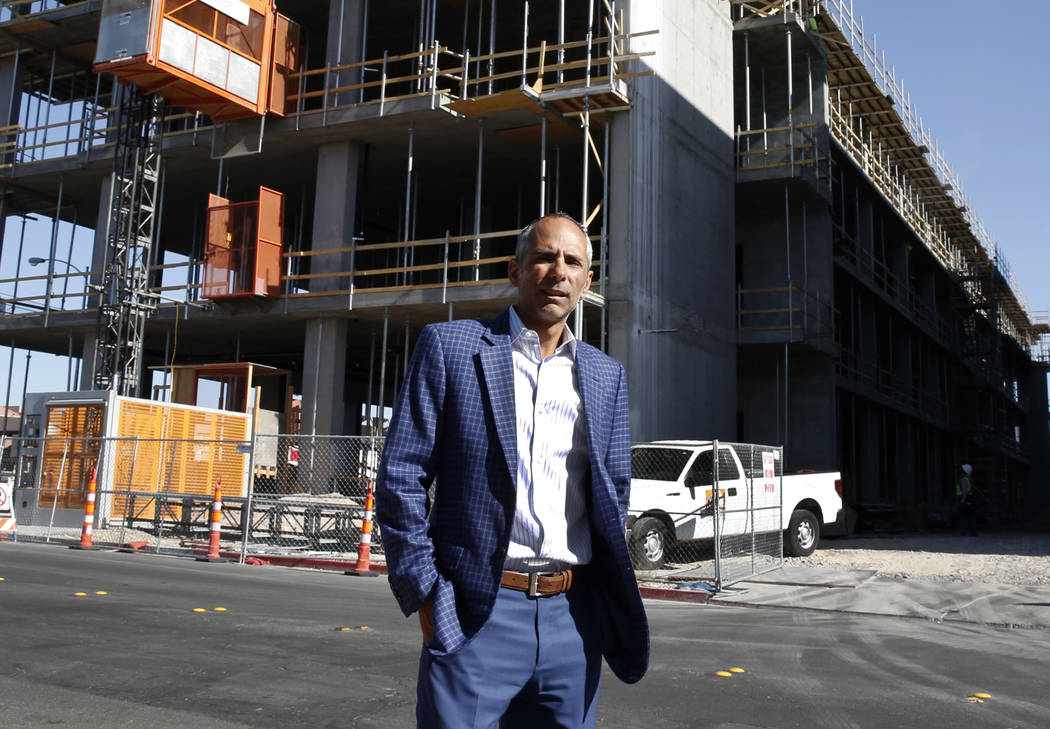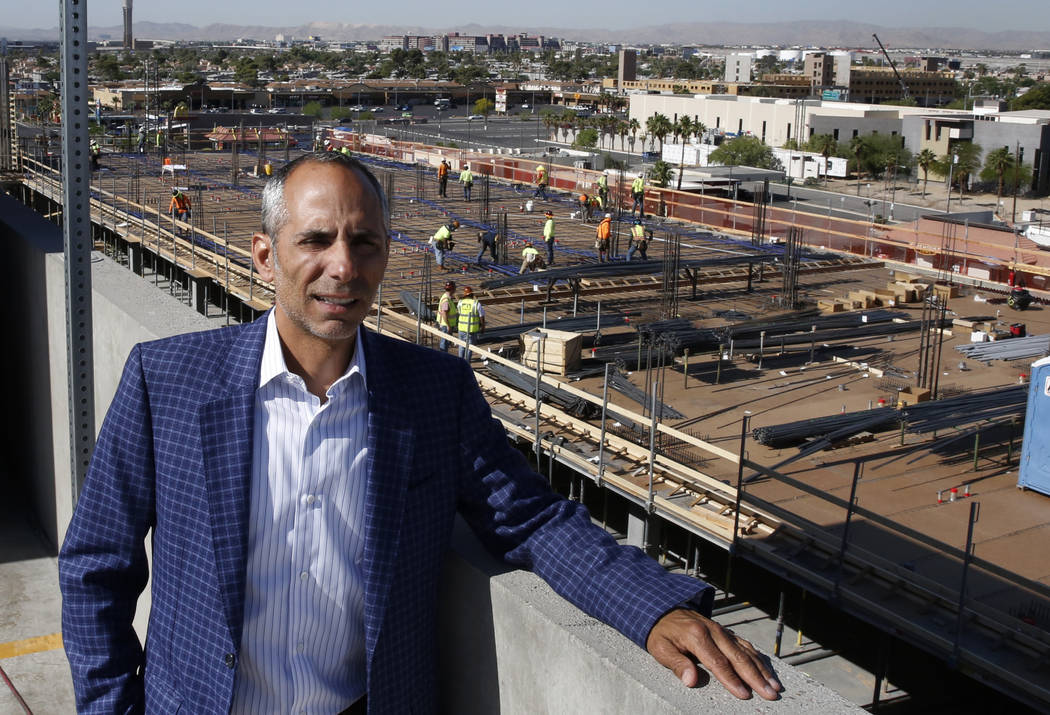 Last in a three-part series.
Las Vegas developer Frank Marretti has big dreams for his Maryland Parkway properties near UNLV.
Construction is underway on Marretti's $60 million development known as University Gateway, which promises to deliver shops, offices and luxury apartments within an 8-story structure he boasts as "the tallest building on the east side of Maryland Parkway."
Similar towering, high-density projects could follow if a light-rail line is built along the bustling east valley roadway, Marretti said.
"Our city is built on horizontal sprawl, but the transition to rail would make Maryland Parkway a very attractive place to go vertical as a place for people to live, work and visit," said Marretti, founder and owner of G2 Capital Development.
"Light rail has spurred real estate development in almost any city I know of," he said. "I would anticipate that to be the same here."
The Regional Transportation Commission will consider in September whether to spend $750 million for an 8.7-mile light-rail line that would run primarily along Maryland by 2025.
Less costly options include a $29 million road improvement project and a set of bus rapid transit lanes that could cost up to $335 million.
While RTC officials have emphasized they don't advocate a particular project, they also point to a windfall of private development in new housing and businesses that have materialized in tandem with light-rail lines built in other cities.
"If there was ever a corridor in our transit system that's ripe for economic investment, then Maryland Parkway is the place," RTC spokeswoman Angela Castro said. "There is so much potential because you have the airport, the front door to UNLV, a renovated Boulevard Mall and Sunrise Hospital all within a few miles of each other."
Private investment to follow
Preliminary appraisals show that $2.8 billion in new housing, dining, retail and office development could be built around three of the proposed light-rail stops near UNLV, Sunrise Hospital and Medical Center and the Las Vegas Medical District, said Mike Saltman, a longtime Maryland Parkway landowner who is also president of the Vista Group real estate company.
Part of the appeal, Saltman said, is that the permanence of rail in the ground "shows a commitment to improving and maintaining the neighborhood" when compared to bus routes that can be changed based on demand.
Saltman has sold much of the land he's owned along Maryland since the 1970s, except for a 10-acre parcel where he plans to build a shopping center that would be within walking distance from a proposed light-rail stop at Sahara Avenue.
"Wherever there's public infrastructure activity, the private-sector development almost always follows along," Saltman said. "It's a worldwide phenomenon that we haven't seen our share of yet, but we will."
Advocates say that, despite the high costs to build light rail, such publicly funded infrastructure projects often result in even greater private investment for the surrounding neighborhoods.
Transit agencies from so-called "peer regions" to Southern Nevada have reported increases in jobs, retail sales, development and property values.
The prospect of spending money on public transit projects while reaping the benefits of private-investor development helped sell the idea of light rail for Don Snyder, a former UNLV president who serves as chairman of a 36-member community advisory panel for the RTC.
"That probably swayed my decision the most," Snyder said after his group recommended this month that the RTC move ahead with light rail.
"Certainly, light rail helps to move people," he said. "But as a business person, I really like the return on investment that I see with light rail."
Other cities' experiences
Phoenix has reported a $10.1 billion development boom surrounding the initial 20-mile light-rail line that opened nearly a decade ago, resulting in 17 million square feet of commercial space, 22,000 residential units and 3,600 hotel rooms, said Pat Dillon, a spokeswoman for Valley Metro Rail.
Roughly $3 billion in private development was built around the Denver Union Station transit center since that city built the first 5-mile leg of a light-rail line that opened in October 1994.
"Light rail was relatively new at the time, especially in the West, and there was a lot of misunderstanding and unfamiliarity with how it operated and how effective a transportation tool it can be," said Scott Reid, a spokesman for the Denver Regional Transportation District. "Light rail and commuter rail now carries about 30 percent of our 100 million annual passenger trips."
Although no hard figures were available, transit officials in San Diego reported increases in high-density housing, business development and property values since light rail was introduced 36 years ago to the Southern California city. And, just as Las Vegas is planning, the light-rail line in San Diego connects existing origination and destination points that attract high ridership, said Rob Schupp, a spokesman for the San Diego Metropolitan Transit System.
RTC General Manager Tina Quigley said she sees similar success for Maryland Parkway, with light-rail lines eventually crisscrossing other neighborhoods across the Las Vegas Valley.
"When I do travel, I would go to these places and see that they do have an investment in significant transit and transportation alternatives, and you're seeing the very strong economic activity and you're seeing them create communities," Quigley said during the RTC's board meeting last Thursday.
"I'm committed, and I will push to make sure that we do not compromise the future of Southern Nevada for our needs right now, that we continue to push and keep the vision and believe in it," she said. "That's the best gift we can give to future generations."
Contact Art Marroquin at amarroquin@reviewjournal.com or 702-383-0336. Find @AMarroquin_LV on Twitter.