Lingerie football player sues league over pay
August 13, 2014 - 5:01 pm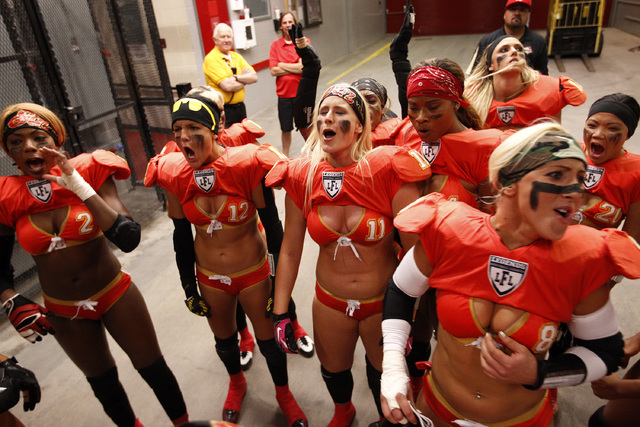 A former Las Vegas Sin player has filed a class-action lawsuit accusing the Legends Football League, formerly the Lingerie Football League, of failing to pay the required minimum wage and overtime to hundreds of employees.
Robin Johnson, who lives in Las Vegas, filed the lawsuit Tuesday in U.S. District Court as a type of class action known as a "collective action." She played for the Las Vegas Sin from September 2011 to September 2013.
The lawsuit claims the professional football league and Mitchell Mortaza, its owner and founder, have wrongfully classified Johnson "and hundreds of similarly situated employees" as independent contractors who are exempt from minimum wage and overtime compensation under the Fair Labor Standards Act.
"It is difficult to imagine how players in a team sports league could ever qualify as independent contractors," the document states. "The nature of team sports demands that players follow league and team rules or face discipline or termination."
No one could be reached Wednesday at the league's Las Vegas office.
According to the complaint, the league began as a halftime show during the Super Bowl and has grown into a 10-team league in the United States, a five-team league in Australia, and a four-team league in Canada. It features female players who wear little clothing.
Johnson's lawsuit alleges that she and other football players "were not paid the required minimum wage on a weekly basis and were not paid the overtime premium for work in excess of 40 hours per week."
The defendants determined how much Johnson and other players were paid, according to the lawsuit.
"The amount was purportedly tied to such factors as ticket sales and whether the team won or lost," the complaint states.
However, according to the document, there were entire seasons where Johnson and other players received no income.
"This idea that they can try to shift the cost of running that league onto the players — it's just trying to cheat them, and it's trying to save itself some money," said California attorney Michael Morrison, who represents Johnson.
Morrison also represents Melissa Margulies, a former Los Angeles Temptation player who has filed a similar lawsuit in Los Angeles Superior Court.
Contact reporter Carri Geer Thevenot at cgeer@reviewjournal.com or 702-384-8710. Find her on Twitter: @CarriGeer.