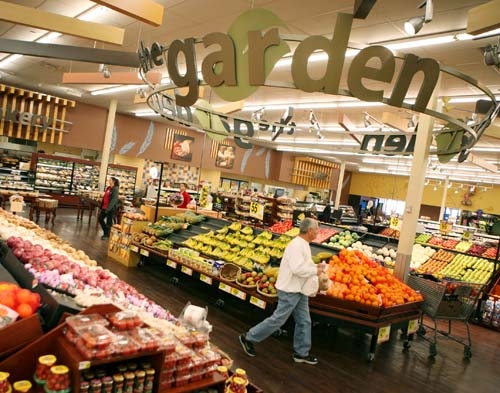 Pete and Tricia Schade of North Las Vegas were surprised by the variety and selection of name-brand products they found at WinCo Foods, a discount grocer that opened two stores in the Las Vegas Valley in March.
The store carries Newman's Own salad dressing and Sargento cheese, Tricia Schade said.
She'd heard good things about WinCo from her daughter in California and friends in Boise, Idaho, where the employee-owned grocery chain is headquartered.
"We came in to check it out ourselves," Pete Schade said at the WinCo at 6160 N. Decatur Blvd. "Overall, the prices are lower than Smith's and Walmart."
And what about WinCo's method of cutting costs by having shoppers bag their own groceries?
"Hell, we're not lazy," he said.
The typical WinCo store is about 95,0000 square feet, roughly the same size as a traditional supermarket. They have a no-frills warehouse feel, much like Food 4 Less with wide aisles, cement floors and high ceilings.
WinCo, founded by Ralph Ward and Bud Williams in 1967, has rapidly expanded in recent years and now has 82 stores and more than 13,000 employees in Washington, Idaho, California, Nevada, Oregon and Utah. Today it adds Arizona to the list, opening two stores in Phoenix, said Mike Read, the company's vice president of public affairs.
WinCo built a 700,000-square-foot grocery distribution center in Modesto, Calif., in 2004, and another one in Boise in 2009 that supported expansion into Utah and Nevada, Read said.
"It was natural to begin looking at the Southern Nevada market and we determined this was the right time to enter the market," he said. "I think it's an area to look at for natural growth. It's fair to say we're looking at opening other stores in Las Vegas, but we have not identified when or where."
Read said it's more coincidence than strategy that WinCo placed its first two Las Vegas stores within a half-mile of Walmart Supercenters. Store locations are based less on who else is in the area than on population density and demographics of customers, he said.
"It's just a very competitive industry, always has been and always will be," Read said. "It's tough competition everyday. Everybody that sells food is our competition."
And some competitors are feeling the heat.
WHO'S THE BOSS?
Walmart has been in Las Vegas for more than 20 years, and has 10 of its 200,000-square-foot Supercenters and seven smaller Neighborhood Markets in the region.
"Our strategy is to remain relevant to our customers," Walmart media director Delia Garcia said. "Now more than ever, customers appreciate Walmart's commitment to everyday low price. They also value the convenience of one-stop shopping for general merchandise, groceries, pharmacy and other services at their local Walmart Supercenter."
The view from the Walmart Supercenter at 6464 N. Decatur Blvd. includes a Costco across the street and a big new Target off Decatur just south of Las Vegas Beltway. Last month the low-cost landscape changed again with the opening of a WinCo on Decatur near the Target store.
In addition to a chipper elderly greeter, Walmart's entrance now features two shopping carts. One holds 46 items bought at the store; the other 46 items identical items purchased at WinCo. The massive international retailer with more than 10,000 stores in 27 nations would like its customers to know that the new guy's cart cost $25.43 more.
Call it a grocer's version of pickup basketball trash talk: You wanna call yourself the everyday low-cost leader, you best bring your A game.
"Well, they've got balls doing that," said David Livingston, a grocery industry analyst from Milwaukee. "I would guess they had to specifically pick 46 items that are cheaper. I'd like to see them do 246 items. The results would be different."
And, he said, the in-your-face response is probably unnecessary.
Week to week, the difference in pricing between WinCo and Walmart will be tiny, Livingston said.
Read, the WinCo spokesman, agreed that item-by-item pricing is less critical to a shopper than being reliably cheaper.
"Our format lends itself to being good for a tight economy," Read said. "We try to focus on an area as the low-price leader. Everybody markets themselves with some version of that, but I think we deliver on that promise. We're not the lowest price on every product every day."
Other discounters such as Food 4 Less, which has 14 stores in Las Vegas Valley, may feel less impact from WinCo because they've already established themselves with a base of customers who are comfortable with the store's style and prices.
"We have a strong market share and a strong business base," Food 4 Less spokeswoman Kendra Doyel said from Los Angeles. "It really is a customer-first strategy, making sure we have a great shopping experience and making sure we have the products people want in that neighborhood."
United Kingdom-based Tesco came into Las Vegas with 15 Fresh & Easy stores in 2007, taking most of the vacated Rite-Aid drugstore locations. The company quickly expanded to 27 stores, but closed six because of the recession in October 2010.
Last month, Fresh & Easy went back into expansion mode, however, opening a new store in the Southern Highlands community.
WHO'S AT RISK?
Conventional grocery stores such as Smith's, Vons and Albertsons should be feeling the heat, Livingston said.
"I think WinCo smells blood. They know that Albertsons isn't doing well at all. They know that Vons is being shorted by investors who think they're going down the tubes," he said.
Gilbert Gonzales, public affairs and government relations director for Vons in Los Angeles, said he couldn't comment on that.
"Those are baited questions," he said.
Vons operates 13 stores in the Las Vegas Valley. Most have a full-service pharmacy, which WinCo doesn't offer. That's a convenience that saves customers time, Gonzales said.
LOW PRICES?
Vons' "Just for U" individual pricing program guarantees shoppers the lowest prices on items they buy most often, he said. Vons also offers more than 300 organic products.
"Most importantly, our community giving efforts in Las Vegas are in the hundreds of thousands of dollars each year and our employees volunteer at nonprofits throughout the city." Gonzales said.
For Smith's Food and Drug, which has 32 stores in Southern Nevada, WinCo is a familiar adversary.
"We compete with WinCo in Utah and Northern Nevada and other markets. We're familiar with WinCo and we know how to prepare for WinCo," said Marsha Gilford, spokeswoman for Salt Lake City-based Smith's. "They have their unique niche, but people still have their preferences in where they want to shop. At Smith's, we focus on great products, good value and exceptional customer service. It's expensive to get a new shopper to come into your store, so it's important to keep the customers you have."
ODD STORE OUT?
Albertsons may suffer most from Winco's entry to Las Vegas, Singular Research financial analyst Robert Maltbie said. The company was already hurting when Eden Prairie, Minn.-based SuperValu bought 1,124 Albertsons stores for about $17.4 billion cash and debt in 2006, he said.
"Couple of negatives … lot of debt from buying out Albertsons and Shaw's in New England and Jewel in Chicago, so much debt it left them with less money to upgrade the stores," Maltbie said.
Albertsons stores are old and out of favor with today's shoppers; and the grocer hasn't responded to new trends such as offering a wider array of specialty foods, he said.
Grocers operate on "razor-thin" profit margins, about 1.4 percent on industry average, making their money on volume, Maltbie said. They need innovative marketing, not just low prices, to win and keep market share.
"For Albertsons, there is no clear advantage to hedge off the competition," he said. "This company was stuck between discounters like Walmart and high-end niches like Trader Joe's and Whole Foods."
Albertsons spokeswoman Lilia Rodriguez said the company has remodeled some of its 34 stores in Southern Nevada, although she could not specify what's been done at particular stores. She also declined to comment on Albertsons' customer promotions and marketing programs.
"That's proprietary," Rodriguez said. "There's a lot more that goes into it, our history with Southern Nevada. We're listening to our customers and we're focused on giving them good service."
She mentioned that Albertsons donates to local food banks such as Three Square and Catholic Charities of Southern Nevada, and buys fresh shrimp from Blue Oasis shrimp farm in North Las Vegas.
Will that be enough to thrive in a grocery market that suddenly just got that much tougher, and to bring back shoppers like Pete and Tricia Schade who like what they see in the new store on the block? Not likely, Livingston said.
"You're going to see good stores become average, average stores become poor and poor stores become closed," Livingston said. "WinCo knows they're the big boy getting on the bus and somebody's going to have to get off."
Contact reporter Hubble Smith at hsmith@reviewjournal.com or 702-383-0491.