Longtime Review-Journal reporter, editor Lisa Kim Bach dies at 49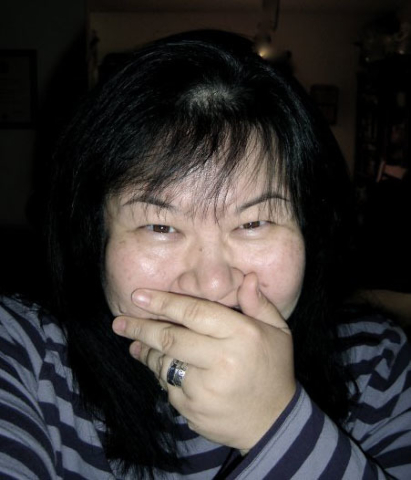 Lisa Kim Bach, a longtime reporter and editor at the Las Vegas Review-Journal, died Wednesday. She was 49.
She loved words and she knew how to use them: both to tell the story and to get it. Tenacious and trustworthy, the education reporter continued to get scoops even after she was promoted to assistant city editor in May 2008.
"She was one of the brightest stars in the universe and one of the great joys of my life," friend Judy Costa said. "It was a true privilege to be her friend. She loved her family, her friends, journalism, literature, laughter and Harry Potter, although not necessarily in that order."
Costa was the Clark County School District's testing director when she met Bach, then a reporter. Costa, who retired in 2003, said their professional relationship could have been adversarial, but Bach valued honesty "and was never out to do anything except to provide an accurate picture of the educational accomplishments of district students."
Sources, of which Bach had many, knew she cared deeply for her profession and wouldn't abandon a story that needed to come to light.
After all, Bach's arrival in Las Vegas put corruption from Indiana on the front pages of the Review-Journal. As a reporter at the The News Sentinel in Fort Wayne, Ind., she had learned of an investigation into whether a union treasurer had emptied the union's bank account. Stephen Confer moved amid the scandal, taking a job as executive director of the Clark County Classroom Teachers Association.
He didn't count on Bach also landing in Las Vegas. She joined the Review-Journal's ranks in 1997, and used her insight and inability to be spun to continue her pursuit of the story.
Bach's reporting drew criticism and a fair amount of fire at the time, but it ended predictably enough with Confer's resignation, eventual indictment and, finally, a plea of guilty.
Bach embodied a truism of her profession: "Journalism is printing what someone else does not want printed: Everything else is public relations."
In 2007, her deftness at dragging consequential stories out of bureaucratic darkness earned the Review-Journal the Nevada Press Association's coveted community service award.
"A series of stories that touched the heart of a community," judges said of Bach's coverage of the troubled Clark County Department of Family Services and its problems in protecting the community's most vulnerable children. "It shows why this is an issue that matters to the reader, on a broad number of stories that take us beyond the investigations of a blue-ribbon panel to the overcrowded emergency shelters for children victims of neglect and abuse. By getting her hands on censored material, reporter Lisa Kim Bach sheds light on how a system failed to protect those that needed it most."
Lisa read literature, relishing everything from poetry and philosophy to fantasy novels and mysteries. She also read people, an asset that extended beyond her own reporting. As an editor, Lisa saw reporters' strengths and helped them to take full advantage of their best abilities. In the newsroom, people counted on her wisdom, which was always delivered with her trademark wit. Friends throughout the Review-Journal, from those who wrote the news to those who handled the physical newsprint, knew her as a calming force.
The secret to the steadiness she instilled in others when they needed it likely lies in her laugh.
Bach was known for her laugh. A reporter could tell time by her laugh. It could be heard often from 3 p.m. until late into the night as she made sure Nevada's largest newspaper went to bed as it should. That first late afternoon laugh always triggered a line of reporters by her desk, eager to talk about the stories they were filing and the stories they were following on television and in books.
She knew hard news, and she knew that the hardest of stories required empathy and ability to keep a light heart. Her desk was never without a well-stocked jar of candy. She knew sometimes all someone needed to hear was an offer of chocolate and an understanding laugh.
"Lisa was a true renaissance person — a highly intelligent, voracious reader of poetry, literature and science fiction," said James G. Wright, who supervised Bach at the Review-Journal. "She was always available to mentor young journalists and had unparalleled knowledge of Clark County School District and social services. Often the RJ was able to break major stories on those beats only because of her sources and her depth of understanding of the topics."
Bach was diagnosed with cancer more than five months ago. Treatment pulled her out of the newsroom suddenly.
"She possessed a quick wit and an infectious laugh that helped brighten the newsroom," Wright said. "There's been a hole in our heart since she's been gone."
Beneath that well-known laugh was a person fiercely devoted to her readers, to her friends and to her family in equal measure.
Bach was born at a U.S. military facility outside Seoul and came to the United States as an infant. Her mother, Nam, and her father, Walter, met during his U.S. Army tours of duty during the Korean War.
She grew up in Augusta, Ky., where she graduated from high school. She was offered a scholarship to the University of Kentucky, but turned it down and followed her family west. Although she left Kentucky, she remained a die-hard Kentucky Wildcats fan. She graduated in 1989 from Fresno State University, majoring in journalism and English. She was named the journalism department's outstanding graduate and spent 27 years working for newspapers.
Bach is survived by her mother, Nam I Bach of Las Vegas; brothers Son Do Michael Bach of Clovis, Calif., and Daniel Bach of Monterey, Calif.; sister Monica Kay Weaver of Maysville, Ky.; nieces Korina Kim Bach and Serena Kim Bach, both of Clovis, Calif.; and nephew Adam Bach of Clovis. Her father, Walter Bach, died previously.
A private memorial for family and close friends will be held.
Contact Bethany Barnes at bbarnes@reviewjournal.com or 702-477-3861. Find @betsbarnes on Twitter.