Low primary turnout might set record; final tally delayed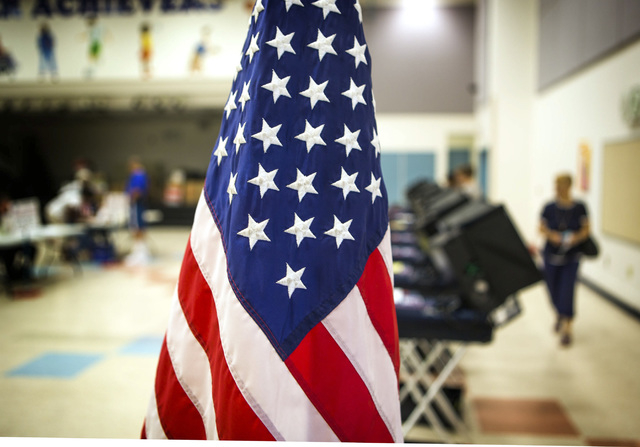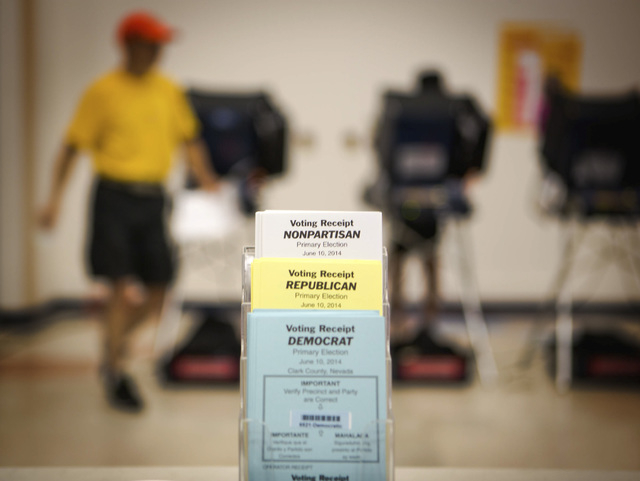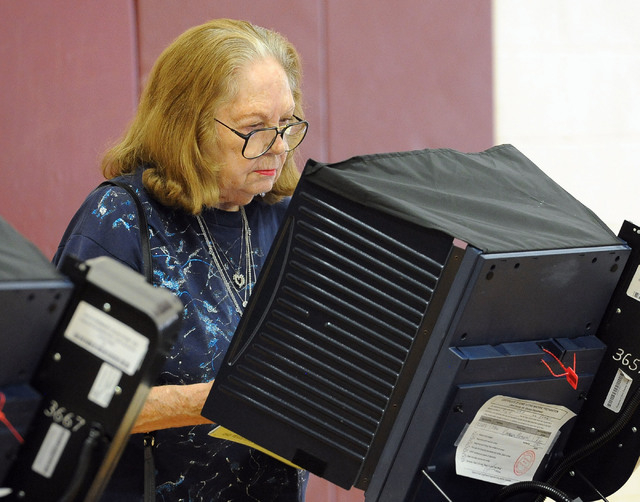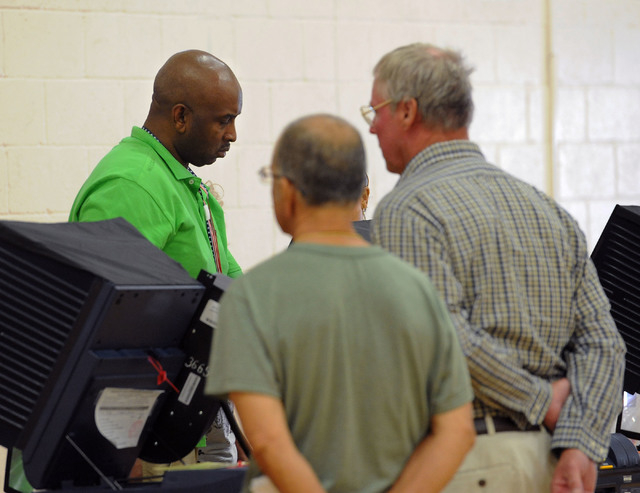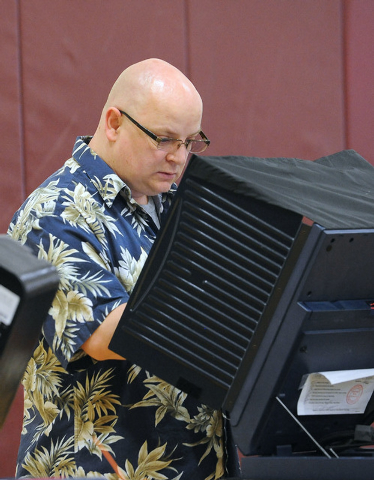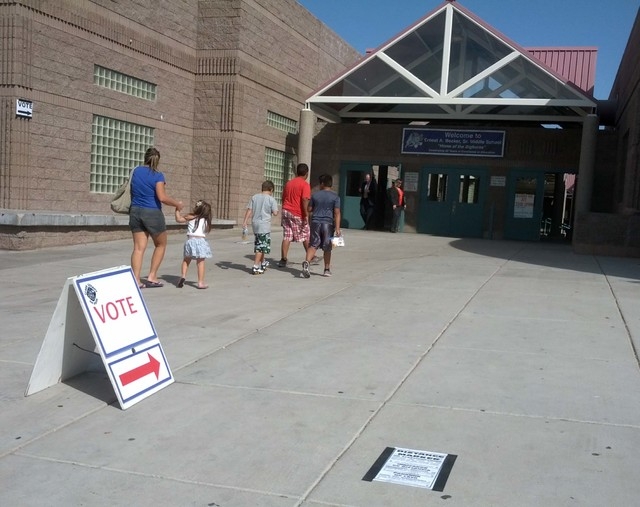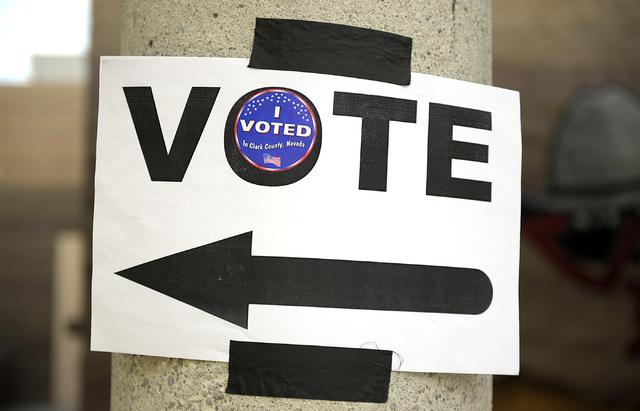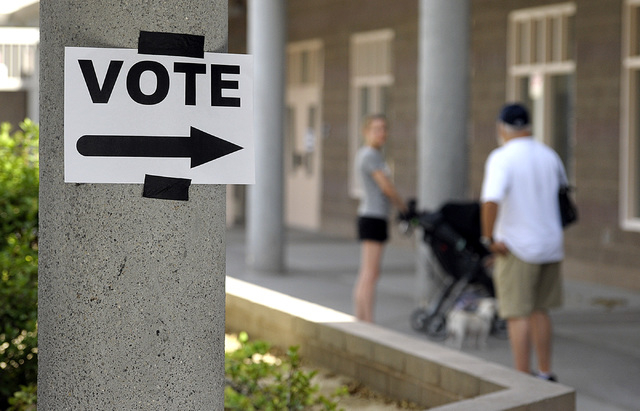 Meager voter turnout totals for the primary election might have broken Clark County's 2008 all-time low turnout record of 14.76 percent, but it was too soon to tell late Tuesday night because of an incomplete report from one polling site.
As of 9:27 p.m., only 33,856 county voters were tallied at valley polls, with about two-thirds of precincts reported, which accounts for 4.36 percent of county voters, Registrar of Voters Joe Gloria said. Based on reported numbers, the total percentage of voters stood at 14.26 percent, when added with the 9.9 percent turnout from early voting and absentee ballots.
The incomplete total stood at just a 0.5 percentage point shy of the county's 2008 all-time low turnout record, or about 4,000 votes.
An election official said total county voter turnout records could not be confirmed until a cartridge that was accidentally left behind at Las Vegas Academy, one of the valley's polling stations, was retrieved and the final numbers were analyzed.
Earlier, Gloria had said, "I think we'll see a 5 percent turnout (on Election Day), which will be close to shadowing what we did in 2012 as far as the number of voters," he said. He added that "everything opened on time" and there were no problems reported at the 275 valley polling locations.
The second-lowest Clark County turnout was during the 2012 primary, when only 16.19 percent of county voters cast their ballot. In the 2000 primary, voter turnout was 18.47 percent, the third-lowest county total, not including Tuesday's final count.
In 2012, the year of the last presidential election, there were roughly 650,000 registered voters in the county compared to 775,859 this year.
Democrats hold the edge in Nevada voting registration, UNLV associate professor of political science David Fott said. Because there was not a competitive Democratic primary race for lieutenant governor, he said a lot of voter interest was eliminated.
"The highest profile race is for sheriff, where there are more candidates," Fott said.
He added that judicial races hardly ever generate interest because it's difficult, even for people who follow politics, to make informed choices on candidates.
Though there was an after-work rush around 4:30 p.m. Tuesday, Cimarron-Memorial High School polling location team leader Charles Miller said voting traffic throughout the day was small.
"It's been extremely slow," Miller said.
Still, Las Vegas resident Sig Ortloff voted at the school just before polls closed Tuesday.
"I just became an American citizen four years ago after being in the country for 45 years," said Ortloff, who is originally from Germany. "I will not lose an opportunity to exercise my right to vote."
Ortloff said he also changed his party affiliation from independent to Republican, because there were "more choices."
In the 2008 primary, statewide, only 18 percent of those registered voted. Early voting and mail-ins for this year's primary account for slightly more than 11 percent of registered voters across Nevada.
At the Palo Verde High School polling place in the western Las Vegas Valley, only a few people showed up when the polls opened at 7 a.m.
Among them was Tom Letizia, 63. He was there because "No. 1, I'm a citizen. I also have a special interest in the lieutenant governor race," he said, noting that he is campaign manager for Republican candidate Sue Lowden, who lost to Mark Hutchison on Tuesday.
"We have a wonderful right in this country to vote. Unfortunately not enough people are exercising that right to vote. I would expect more people voting this time of day as they're going to work," Letizia said.
The pace was busier a few miles south at the Ober Elementary School polling place in The Willows community.
In two hours, 41 voters had cast ballots there and the pace was steady and "consistent," said Ken Tracht, team leader at the location.
"I've seen lower turnout in previous elections," Tracht said.
Angelique Williams, 43, a Democrat, was the lone voter there about 9 a.m.
"It definitely feels like a low turnout," she said, outside the polling place markers.
She said the sheriff's race drew her to the polls. She said she voted for Larry Burns.
"I enjoy participating in the voting process. It's my job to vote. I wish more people did," Williams said.
Contact Keith Rogers at krogers@reviewjournal.com or 702-383-0308. Find him on Twitter: @KeithRogers2. Contact Rachel Crosby at rcrosby@reviewjournal.com or 702-387-5290. Find her on Twitter: @rachelacrosby.