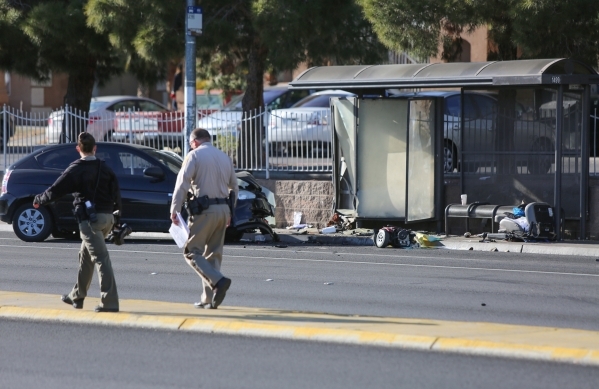 A man in a wheelchair died after a sedan crashed into a bus stop and hit him hard enough to knock his shoes off Thursday afternoon.
The crash happened at about 1:30 p.m. at a bus stop on West Lake Mead Boulevard just east of the North Rancho Drive intersection. The Las Vegas Fire Department took the man, 68, to University Medical Center, where he died. The coroner's office will name him once his family has been notified.
The wheelchair-bound man was on the bus stop's west side when he was hit and lost his shoes, witness Howard Greenspon, a Las Vegan, said.
Greenspon had just turned his car onto Lake Mead when he saw the black two-door hatchback hit the bus stop. He said he called 911 and enlisted people nearby to push the car back. Then he saw a man's feet under the vehicle.
"It didn't take long, maybe 10 seconds," he said of the collision. "If I had made that turn three seconds earlier, she would have hit me. Might have saved the guy's life."
The driver — Jessica Davison, 27, of North Las Vegas — stayed on the scene, Metropolitan Police Department spokesman Jesse Roybal said. Greenspon said she seemed to be in shock.
Lt. David Jacoby, from Metro's traffic section, said the woman was driving east when her Hyundai Accent struck the street's raised median, causing its left tires to deflate. The car then veered over the median and struck the man and the bus stop.
Detectives were working to determine the sedan's speed Thursday, but Jacoby said there were no signs that she was impaired by drugs or alcohol.
Lake Mead was closed to traffic for hours between Valley Drive and Rancho for the police investigation.
As police marked and measured the vehicle's path, the man's destroyed wheelchair lay shattered on the roadway.
There have been several deadly crashes at Regional Transportation Commission of Southern Nevada bus stops in recent years.
South Korean visitor Jooyoung Do, who was in town for the CES, the international consumer electronics show, was struck and killed Jan. 9 by a bus driver whom a witness said fell asleep behind the wheel. Do was walking east on Tropicana Avenue and had just passed Polaris Avenue when the bus veered off the road and onto the sidewalk "for unknown reasons," Las Vegas police said. The bus plowed through a bus shelter and hit Do.
That driver, Jamal Nichols, worked for Keolis Transit America, a company that contracts drivers with the Regional Transportation Commission in the southern valley. He hasn't been charged or cited in the case.
In December, Leonardo Ruesga pleaded guilty to charges that he was high on marijuana and methamphetamine on March 30, 2015, when he crashed into a bus stop near the intersection of Sahara Avenue and Maryland Parkway, killing 58-year-old Maria Garcia and her granddaughter, Alyssa Aisa.
In 2013, two pickups collided on Bonanza Road and Lamb Boulevard, causing one of the trucks to slam into a bus shelter on Lamb where a father and his children were waiting. Three children, then ages 2, 4 and 5, spent two weeks at UMC recovering from critical injuries.
In 2012, four people were killed and several were injured when Gary Lee Hosey Jr. crashed into a bus stop on Spring Mountain Road near Decatur Boulevard. Hosey later was sentenced to 24 to 80 years in prison after pleading guilty to four counts of DUI with death and one count of DUI with substantial bodily harm in connection with the crash.
There are 3,400 bus stops valleywide and about 2,000 have shelters. The RTC has invested more than $15 million since 2008 to upgrade some shelters with the intent of making them safer, but many — like the one in Thursday's crash — cant be moved away from the curb because of a brick wall or uncooperative property owner. An RTC official couldn't be reached for comment about Thursday's crash.
Construction crews worked to lift and removed the Lake Mead bus stop about 7:30 p.m, its big advertising panels smashed.
Greenspon said that, after what he saw today, there needs to be more safeguards in place to protect people at bus stops from errant vehicles.
"There's no protection. We've had this before," he said.
Contact Wesley Juhl at wjuhl@reviewjournal.com and 702-383-0391. Find him on Twitter: @WesJuhl.