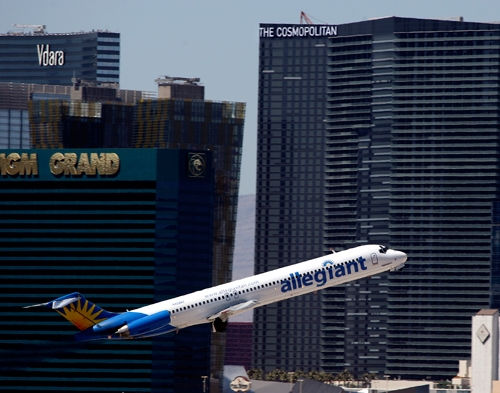 Easier comparisons and stronger traffic among several airlines contributed to the largest monthly passenger gain at McCarran International Airport in more than three years.
During January, 5 percent more people boarded or got off planes at the airport compared with the same month last year, a rate not seen since the 6 percent improvement in August 2007. This followed estimates by McCarran management that the almost uninterrupted string of declines since late 2007 would turn around this year.
US Airways' decision to dismantle the hub it once ran here has been a major contributor to the deteriorating results.
Because the last round of schedule cuts was mostly implemented in December 2009, the year-to-year comparisons are now made against a smaller base. US Airways' passenger count sank 50 percent for all of 2010 but only 13 percent in January, a rate that will continue to shrink or perhaps turn positive in the coming months.
Several other carriers have started to expand their schedules after reducing their flights during the recession. American, Allegiant, Alaska and Canadian discounter Westjet all posted double-digit percentage increases in passenger counts in January.
Southwest, by far the largest carrier into Las Vegas, was up 5.4 percent, while Continental and United, now under common ownership and management, were both off about 1 percent. The only other airline to see a passenger count decline was Frontier, which is locked in a battle for the Denver market with Southwest and United.
While the January improvement fell in line with other statistics that have that have shown the start of a visitor industry rebound, it also shows how the economy remains in a hole compared with the boom days.
The passenger count last month was 3.2 million, compared with 3.7 million in January 2007 and 4.3 million the following August.
Expanding flight schedules, which will add from 1.7 percent to 4.1 percent more seats a month to the market through July, "will clearly help produce more visitors and aid the spending recover," Hudson Securities analyst Daniel McKenzie wrote in a research report. "That being said, we view trends like these as the bare minimum developments required to ensure this recovery unfolds as currently expected."
International traffic, which has been a strong point at McCarran even during the recession, continued the declines of the past few months. The 180,000 passengers that arrived from cities outside the U.S. was down less than 1 percent, as the demise of Mexicana in September was only partially offset by others.
Aeromexico's passenger count rose 162 percent compared with a year ago, but some of the void left by Mexicana may prove permanent. During an earnings conference call in January, United executives said they had added flights to Mexico from several hubs, including Los Angeles and San Francisco, but not other cities.
Traffic for what are called commuter carriers, which fly regional jets with fewer than 100 seats, surged 28 percent in January, as United and Delta substituted them for larger jets or augmented service to nearby destinations. US Airways Express, another commuter, flew 45 percent fewer passengers.
Separately, Southwest Airlines Co. is raising fares by $10 a round trip, saying it needs the money to offset higher fuel costs.
The move Friday by McCarran's busiest carrier was the latest in a series of price increases from major U.S. airlines, most of which are making money after a two-year slump.
"In order to offset higher fuel costs that continue to face the industry, we implemented a modest systemwide fare increase of $5 one-way," Southwest spokeswoman Ashley Dillon said.
Contact reporter Tim O'Reiley at
toreiley@reviewjournal.com or 702-387-5290. The Associated Press contributed to this report.
3,165,368
McCarran passengers in January 2011
3,015,368
McCarran passengers in January 2010