Memorial honors Las Vegas officers, civilian killed in 2014 shooting rampage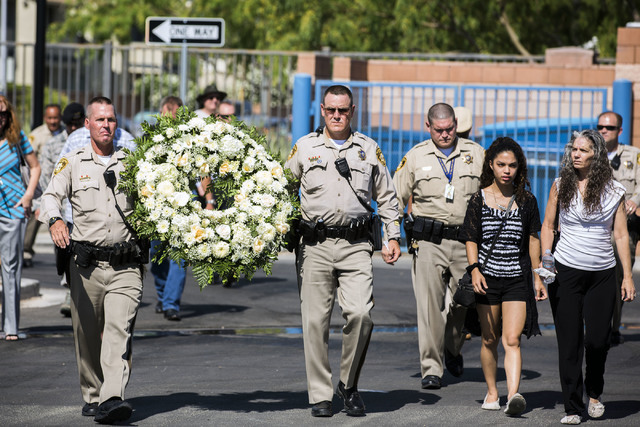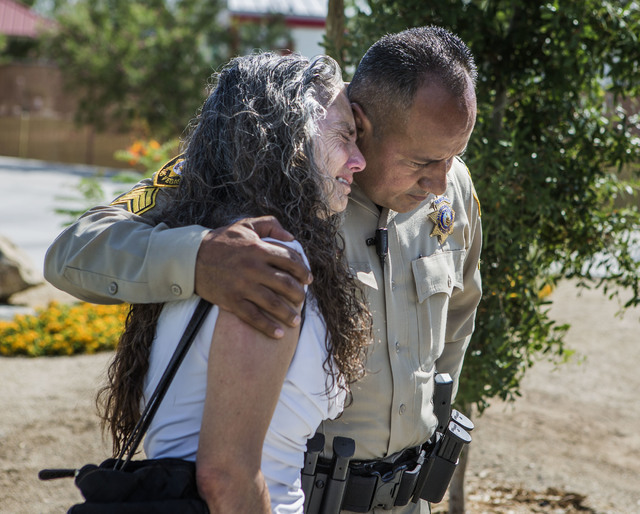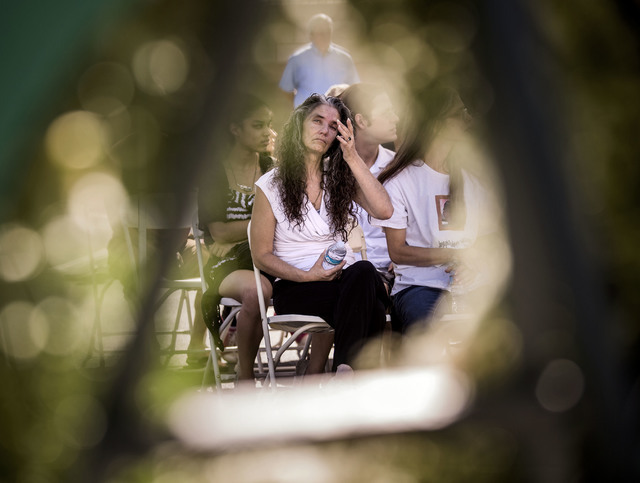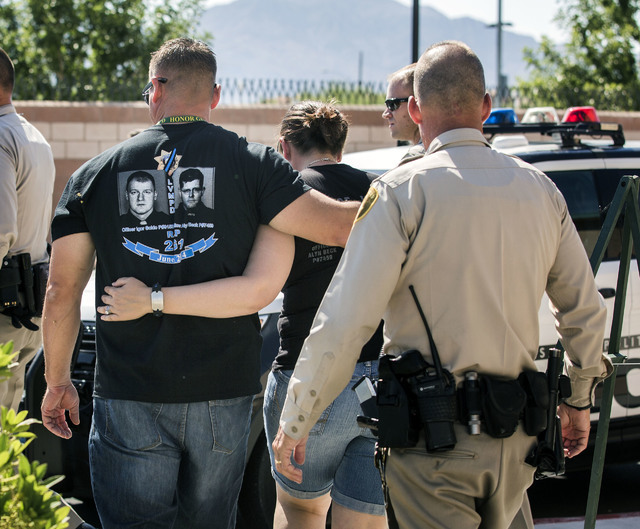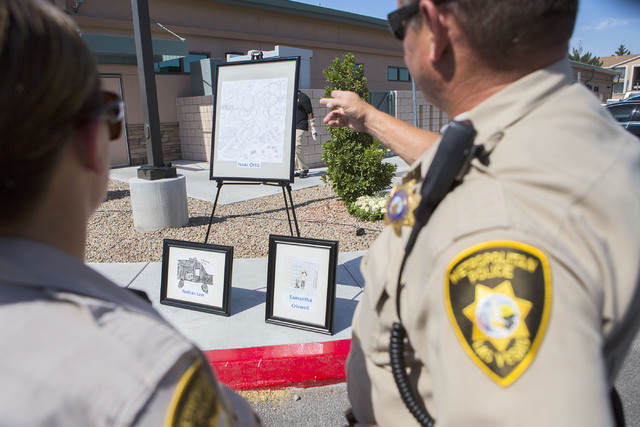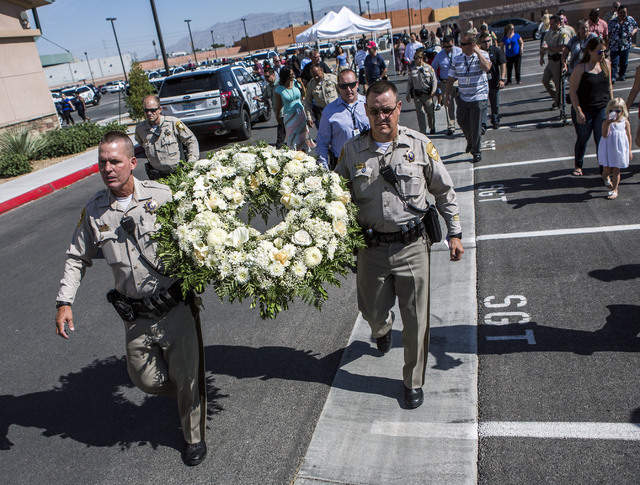 It's been two years since two Las Vegas police officers and a civilian were killed by shooters, but the pain for those who loved the men is still palpable.
The Metropolitan Police Department and the Police Protective Association held a memorial for officers Igor Soldo and Alyn Beck and civilian Joseph Wilcox on Wednesday morning at the department's northeast area substation.
The officers were ambushed and fatally shot at a pizzeria while on a lunch break on June 8, 2014. When the shooters, a husband and wife, entered an east valley Wal-Mart afterward, Wilcox was killed trying to confront them.
Uniformed officers hugged at the Wednesday ceremony. Burly cops wiped tears from their eyes, hidden beneath sunglasses.
Metro Sgt. Jose Hernandez said it's important to honor the men again this year, not only for their loved ones, but also to keep their legacies alive in the minds of the community's children. That's why the department held an art contest for local children who wanted to honor them.
The small ceremony was held behind the station, where memorial seedlings were planted for Soldo and Beck last year. About 30 people attended.
Lt. Sasha Larkin, with the department's office of community engagement, told the crowd that both officers were true warriors. She was the men's lieutenant when they were killed at a pizzeria near Stewart Avenue and Nellis Boulevard. Beck was 41; Soldo was 31.
"What most people that don't have police in their family, or they don't have a connectivity to this agency, don't know is that every day this uniform is donned, or that our civilians come to work to support us, they know … what the risk is. On June 8, that reality hit us stark in the face," she said. "Alyn and Igor did lay their lives down valiantly so we would know what evil was lurking out there, so we could prepare the rest of the community and our officers to understand the threat a little bit better."
Assistant Sheriff Tom Roberts knocked on the lectern's wood as he addressed the crowd.
"Thank God. It's been two years, we haven't lost any other police officers in our community, and we'd like to keep it that way," he said. "It's always good to remember the ones who have sacrificed their lives for you and our community."
From there the crowd migrated next door to Walnut Park, on North Walnut Road near East Cheyenne Avenue, where officers laid a wreath at the memorial tree planted the previous year for Wilcox, who was 31 when he was killed.
Although two years have passed, his mother, Debra Wilcox, still expects him to walk through the door sometimes.
Her voice cracked and her eyes welled with tears as she spoke to reporters.
"I'm not surprised he did it, but I don't like him for doing it," she said.
Joseph Wilcox believed that lives would be saved if more people intervened in active shooter situations, and that's what he tried to do.
Debra Wilcox wanted to warn the community Wednesday not to take friends and family for granted.
"Make sure you hug your children," she said.
A 5K run and community festival to honor fallen police officers will be held at 8 a.m. Sunday at Sunset Park, on East Sunset Road at South Eastern Avenue. There will also by a 1K walk and a kids' fun run.
Funds will go to the Las Vegas-based nonprofit OfficerDown.US, which raises money for police officers in need across the country. The crowdfunding site began as a way to raise money for the families of Beck and Soldo after their deaths.
Contact Wesley Juhl at wjuhl@reviewjournal.com and 702-383-0391. Find @WesJuhl on Twitter.
RELATED
Park renamed to honor fallen police officer
Slain cops came to Las Vegas to serve
Vigil pays tribute to those slain in shooting rampage