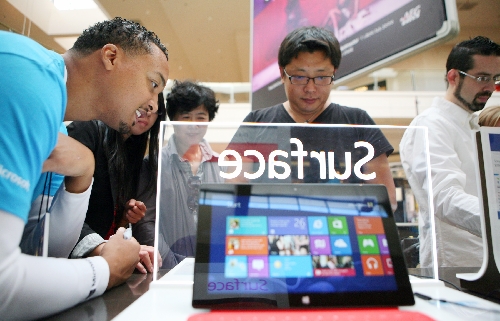 Grinning from ear to ear, Erica and Vincent Shaw left Microsoft with Erica clutching one of the tech company's newly printed shopping bags.
They knew this moment was coming for weeks.
The "happily married" couple moved to Las Vegas from Northern California two weeks ago, and Vincent heard a Microsoft store was opening in Vegas just after their move date. After researching the company's new Surface tablet, Vincent mentioned to Erica that he might want to come to the Microsoft store on the release day, Oct. 26.
Erica, looking at her husband, said, "I knew you were going to be one of those nerds," then shook her head and laughed.
But the Surface in the shopping bag is for Erica. Vincent's waiting until the professional version comes out, at an as yet unreleased date.
"I feel like this a nice all-in-one product," Erica said of her new toy.
One hour before its scheduled opening time Friday, the temporary Microsoft store opened for the first time at the Fashion Show Mall, 3200 Las Vegas Blvd. South. A line of about 20 people was let in to the carpeted area just across from Forever 21 on the first level. If you're looking for the store, it's not at an in-line location – it's a large kiosk. Look for the turquoise-blue Microsoft T-shirts.
The store is one of 34 pop-up shops that opened around the U.S. on Oct. 26, the same day Mircosoft's Surface and Windows 8 became available to the public. The Fashion Show location will be open throughout the holiday shopping season, but no close date has been released.
"We are excited to have Microsoft open a holiday store at Fashion Show, the only one in Nevada," said Jim McMichael, senior marketing manager for the Fashion Show. "Our goal is to meet the ever-changing demands, interests and needs of consumers. With technology at the top of nearly every holiday wish list, offering our shoppers access to a greater variety of tech products is a natural and a good fit with our marketing and leasing strategy."
The shop employs 14 people. Store manager Scott Gregory just moved to Las Vegas from California for the gig. After each purchase, Microsoft employees assist customers in setting up their tablet.
Two hours into the store's first day, and Microsoft already had sold 120 Surface tablets. Gregory said about 125 people had come through the store.
Now that's a capture rate.
"We hope we sell out every day," Gregory said.
Just down from Microsoft, is Apple's permanent location at the Fashion Show. Walking past the store, there was no shortage of customers in there either.
"We're not here to compete with Apple. We're here to really tell our story," Gregory said. "We feel we have an amazing product. The Surface is for work and play, and that's really what it's all about. Tech people are tech people, and they're interested in all kinds of stuff."
This year has been busy for the Fashion Show with new store openings.
In March, one of three U.S.-based TopShops opened at the mall, making it the chain's only location west of the Mississippi. May ushered in the Papyrus store, and in August, the center welcomed Henri Bendel. Two weeks ago Scotch & Soda opened.
Through the end of 2012, the Fashion Show also plans to welcome Dollheads, a blow-dry and extensions bar; Sylk; Coffee Bean & Tea Leaf; and Crocs. The center has consistently posted increases since 2009, with strong traffic patterns.
Closings this year include Ed Hardy and Betsey Johnson.
Contact reporter Laura Carroll at lcarroll@reviewjournal.com or 702-380-4588.