Miracle Flights, a charitable group, helps mass shooting victims, families
October 16, 2017 - 6:32 pm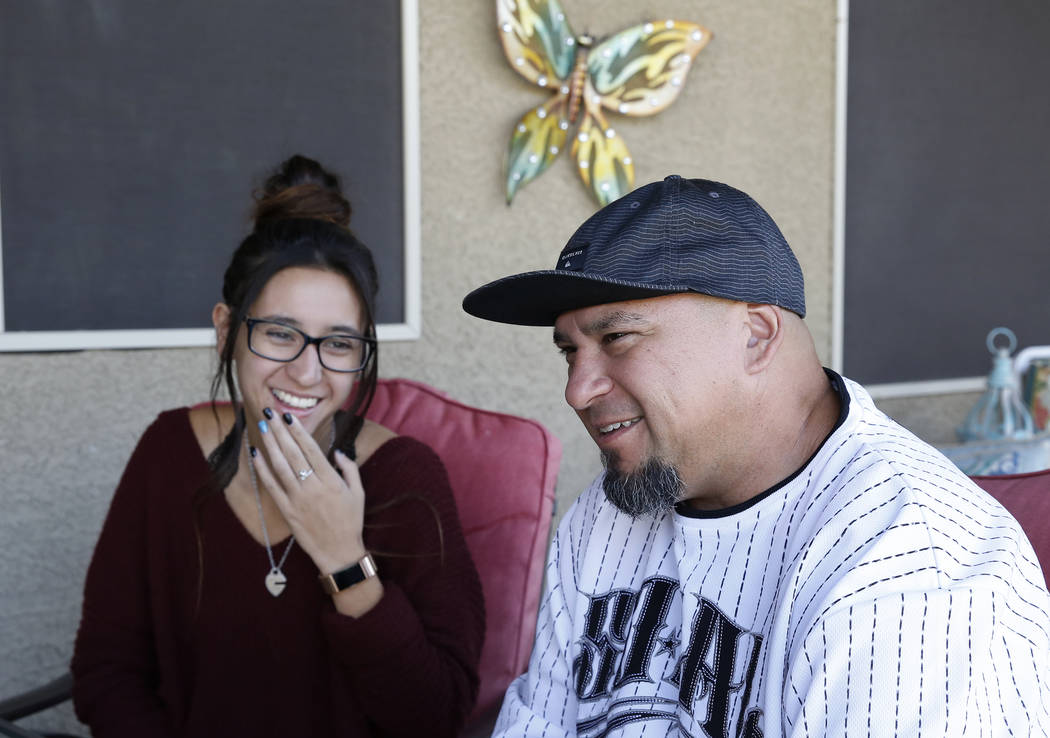 It was just coincidence when Gus Ronolo called his daughter, Nikita, as she ran from a hail of bullets at the Route 91 Harvest festival on Oct. 1.
She screamed into the phone, pleading for help from her father in Oahu, Hawaii.
"Being that far away, I didn't know what to do. I didn't know what was going on," Gus Ronolo, 47, said. "I was just in shock. I was just numb."
Nikita Ronolo managed to escape unscathed, except for some minor scrapes and bruises. But the emotional trauma packed a punch on the 20-year-old northwest Las Vegas woman, who wanted to see her father.
A call placed by her aunt to Miracle Flights resulted in a father-daughter reunion last week, helping to create a semblance of healing.
"Being around him helps me keep my mind off of it," Nikita Ronolo said.
Miracle Flights has spent the past 32 years providing free commercial flights to sick children and adults who require out-of-state medical care that might not be available in their hometowns. Since Oct. 1, the Las Vegas-based charity has expanded its scope of services to aid traumatized concertgoers, along with shooting victims and their families.
Miracle Flights provides 700 free plane trips each month to medical patients nationwide, operating on a $4 million annual budget funded by donations and special events.
Those coming into Las Vegas receive vouchers for free cab rides with Yellow Checker Star Transportation. A spokeswoman for the charity declined to saw how many shooting victims and family members have received assistance since Oct. 1.
"We're going to stick with these victims for as long as it takes by making sure they get the specialized care that they need," Miracle Flights CEO Mark Brown said.
"When the tragedy happened, it was an easy choice to do this, because Las Vegas is our hometown," Brown said. "Las Vegas is a very giving community, and we are a part of that."
The organization works with several air carriers and accepts donations of airline miles accumulated on credit cards. People seeking assistance or wishing to donate can visit miracleflights.org or call 800-359-1711.
Gus Ronolo said he first learned about Miracle Flights about one week before the shooting, when a cousin's baby was flown from Hawaii to Los Angeles for an emergency surgery.
"I thought it's outstanding thatthere is a company like that, not knowing that two weeks later I would be on one of their flights," he said.
During their weeklong visit that concludes Wednesday, the Ronolos have shared plenty of meals, watched movies and shared their thoughts about the shooting. The pair planned Monday to visit the victim memorials that have sprung up along the Strip.
Nikita Ronolo said she's returned to her job at Planet Nissan's service desk, but the shooting has made her sensitive to certain noises.
"I can't go to work without hearing a drill in the shop go off without me jumping, or hearing a car horn honk without me jumping," she said. "It's going to be a while before I can function normally."
Contact Art Marroquin at amarroquin@reviewjournal.com or 702-383-0336. Follow @AMarroquin_LV on Twitter.
Airlines offer help
Southwest Airlines and Allegiant Air offered free flights to victims and families of people who were fatally shot or wounded during the mass shooting at Mandalay Bay on Oct. 1.
Nearly 250 people were flown into Las Vegas by Allegiant to visit victims at the hospital or make funeral arrangements, company spokeswoman Hilarie Grey said.
The Las Vegas-based ultra low-cost carrier is still offering free flights on a case-by-case basis, Grey said. Those seeking assistance should send an email to communications@allegiantair.com.
"Allegiant is the hometown airline of Las Vegas, so there was no question our team would do everything we could to help the victims and families involved in this tragedy," Grey said.
Southwest is no longer offering complimentary flights for families, but the airline is working with them on a case-by-case basis "to ensure they're cared for during this trying time," company spokesman Dan Landson said. Southwest declined to say how many flights were provided, but Landson said "it's safe to say that it's in the hundreds."
— Art Marroquin