Mobile retardant station serves Carpenter 1 Fire crews; slight gain made in containment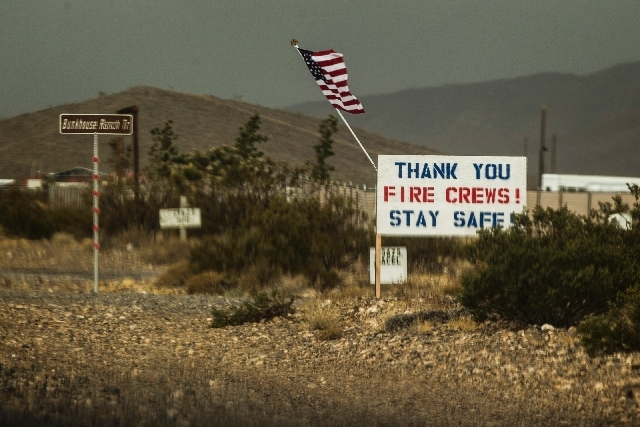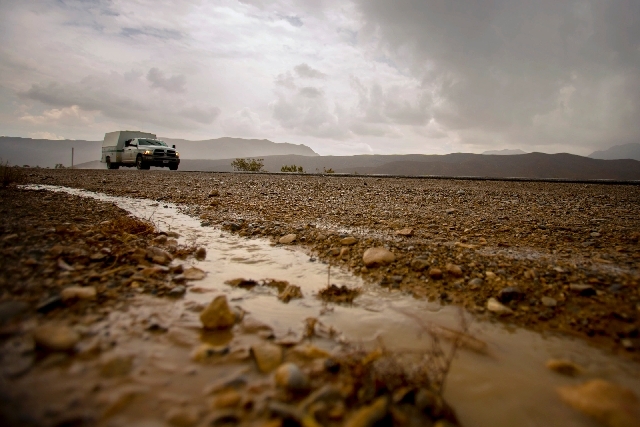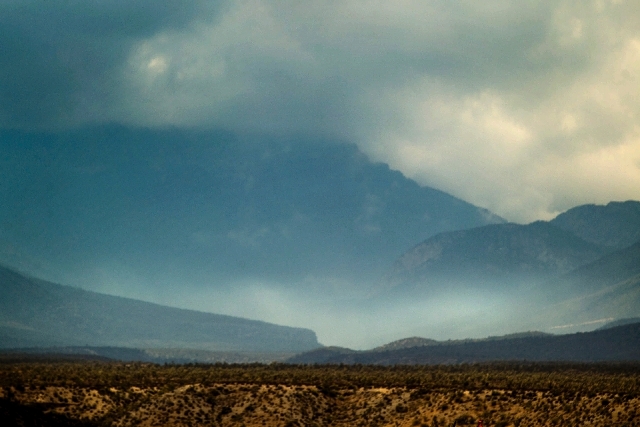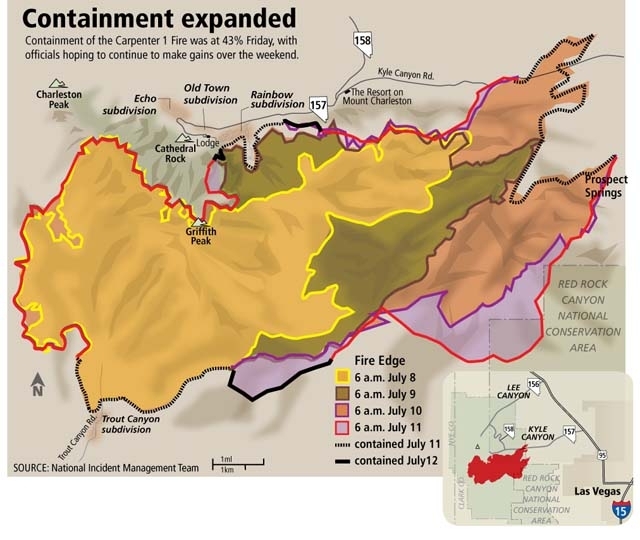 Rain gets some credit for dousing flames on Mount Charleston this week, but work in the woods long before lightning sparked the blaze might have minimized its ferocity.
In government speak that work is called "fuel treatments." For average folks, it means cutting down small trees and trimming low-hanging branches, which can otherwise serve as kindling.
Agencies such as the U.S. Forest Service and the Bureau of Land management have handled that in recent years on public property, including near residential areas in Kyle Canyon and Rainbow subdivision, where the Carpenter 1 Fire crept close.
"Without those fuel treatments we probably would have lost a good number of those homes," said Brad Washa, one of the leaders at the fire command center at Centennial High School in northwest Las Vegas.
Fire officials are confident the Rainbow community is out of immediate danger and the Clark County Fire Department structure engines have left the area. There is still no word on when Rainbow and Kyle Canyon residents will be able to return to their homes that they were told to evacuate more than a week ago.
Trout Canyon residents learned late Friday afternoon that they will be able to return to their homes sometime Sunday morning. The announcement was made by incident team officials at a 5:30 p.m. public information meeting held at a Pahrump community center.
Capt. Patrick Neville of the Metropolitan Police Department said once the evacuation order is lifted, police officers and Red Cross representatives will establish a checkpoint where Trout Canyon Road turns off of state Route 160. Only residents will be allowed to pass the checkpoint after showing identification.
"We want to provide the residents and homeowners time to assess their property needs, make repairs as they need to, and we want to create an environment where only the residents are allowed up there," Neville said.
Most in the room appeared content with the Sunday projection, but some residents were still dissatisfied.
Don Kubrinski, a Trout Canyon resident of 17 years, said there should be no delay in allowing Trout Canyon residents to return to their homes.
"…If a fire breaks out, I'm coming down the mountain," he said. "There's no reason to wait."
By Friday, the more than 40-square-mile fire had destroyed six buildings. There are about 400 homes on Mount Charleston. No one has died, and one firefighter received minor injuries.
PREVENTION THAT HELPS
Using commonly accepted thinning practices makes fighting fires safer, Washa said. Fuel makes fires burn more intensely and flames reach higher. Both are situations he wouldn't send firefighters into.
Homeowners can do their part, too. Some did, Washa said, by cleaning out gutters and disposing of leaves and pine needles, which could ignite a yard or house if floating embers land on them. Local, state and federal government work with residents, sometimes providing trash containers or hauling off flammable organic waste.
Wildfires once cleared out the undergrowth in many wooded areas, and human controls have changed that. But Mother Nature sometimes returns to her old ways as this fire has shown Southern Nevada since it started July 1.
Balancing that harsh reality with physical beautify is part of the push-and-pull of scenic living.
"The same things that make a place desirable — to be surrounded by trees, to have trees growing up through your deck, to have an open deck overhanging a canyon— are the same things that make it vulnerable," Carpenter fire public information officer Jon Kohn said.
It's something Toni Sauer, a resident of Trout Canyon for 17 years, knows all too well.
"We always do a little bit of landscaping each summer just to clean up our area," Sauer said.
But Sauer didn't think residents could have done anything to help prevent this fire from spreading.
Funding preventative versus suppression efforts is an ongoing national political debate brought under greater scrutiny following the June deaths of 19 hotshot firefighters in Arizona. This week members of the U.S. House Natural Resources Committee said more must be done to reduce the intensity and frequency of wildfires. In 2012, fighting fires cost $1.9 billion, according to the National Interagency Fire Center. The more than 67,000 blazes burned more than 9.3 million acres.
So far, battling the Carpenter 1 Fire has cost $13.16 million.
Sen. Dean Heller, R-Nev., toured the command center Friday. He complimented firefighters' patience in keeping watch on houses earlier in the effort.
Retardant has shorter trip
Since it's too late for prevention in the Spring Mountains, one way to fight the fire is retardant.
Until this week, the chemical being used here had come from outside the Las Vegas Valley.
But crews now are operating a local mobile station where they mix fire-suppressing powder with water that helicopters equipped with tanks later spray over the land.
The mobile site, at mile 12 on Kyle Canyon Road on Friday, can produce 27,000 gallons of retardant in a matter of hours. On Thursday, it's first day open, it provided the retardant for firefighters to drop 40,000 gallons in the four hours that they flew, according to Miles Hancock, who's managing the operation.
Pilots were on a 10- to 15-minute rotation picking up the necessary provisions.
Retardant, a mixture of fertilizer, water and red dye, helps keep the fire from spreading and getting too hot. Using the chemical mix lets firefighters get closer to the blaze.
"We can safely put ground crews into areas that would otherwise be unsafe for them," Hancock said.
It also has a rejuvenating bonus, thanks to the fertilizer.
"When you see an area next year, the grass is always greener," incident team information officer Madonna Lengerich said.
damp weather a help, hindrance
Rain on Thursday, including a half-inch on Kyle Canyon, helped fire crews get the fire 43 percent contained, and though the weather was less promising Friday, fire officials reported containment of the 27,971-acre blaze had climbed to 45 percent.
Teams of fire crew are starting to rehabilitate the land that was dozed in order to contain the "slopover" that crossed Kyle Canyon Road Tuesday, and they are inserting hotshot firefighters in the Red Rock Canyon National Conservation Area, where the fire has reached remote areas.
Currently, there are 1,296 people battling the 27,881-acre blaze ignited by lightning July 1.
Tony DeMasters, a deputy incident commander for the U.S. Forest Service, said he was confident in the projected July 19 deadline for full containment.
"After all of this containment, we'll go into what we call 'control,'" he said. "The fire is controlled. The likelihood of it escaping its perimeter is next to zero. It's locked in."
Contact Rochel Leah Goldblatt at rgoldblatt@reviewjournal.com or 702-383-0381. Contact Adam Kealoha Causey at acausey@reviewjournal.com or 702-383-0361. Contact Melissah Yang at myang@reviewjournal.com or 702-383-0491.
CHURCH SERVICES CONTINUE
The St. Anthony of Padua Catholic Parish will continue its regular Mass schedule this weekend.
St. Anthony's meets at Centennial High School, which has become a command center for the Carpenter 1 Fire.
Mass times are Saturday at 4 p.m. and Sunday at 8 a.m., 10 a.m. and 12 p.m. in the auditorium, as usual.