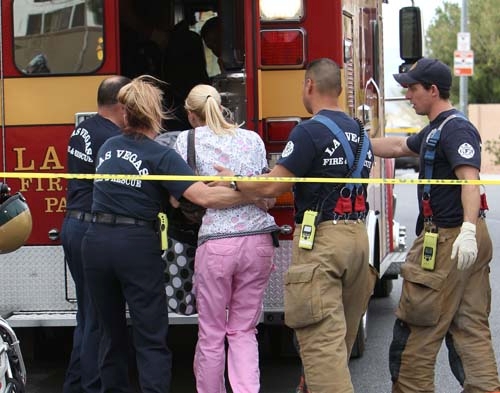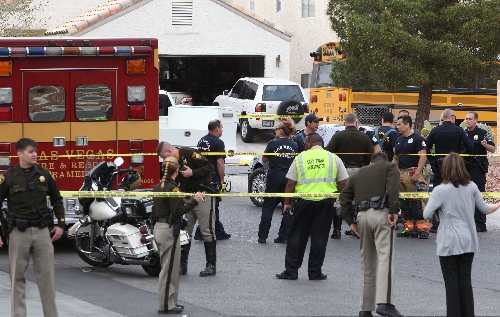 A school bus struck and killed an 11-year-old girl Friday afternoon in a northwest valley neighborhood.
The bus had just dropped off a group of elementary school children on Ann Road at Pebble Rock Drive, west of U.S. Highway 95, when it struck the girl while she was crossing the road, Las Vegas police said.
The neighborhood was full of parents and other children who witnessed the accident at about 3:30 p.m.
"I'm speechless at this point," Sgt. Richard Strader said. "It's a horrible event."
The girl was walking home from school on Pebble Rock at Fall Cliff Road, but Strader wasn't sure if she had just been dropped off by the bus. He described the incident as a "slow-speed collision."
The bus was still carrying three students when the accident happened, the Clark County School District said in a statement.
The district will send letters about the incident to parents on Monday. The district didn't identify the girl's school, but the closest campus is Allen Elementary School.
A sobbing woman arrived at the scene about an hour after the incident, crying, "My daughter!" Las Vegas firefighters quickly led her into an ambulance.
Another bus carrying students from Escobedo Middle School passed by moments after the girl was struck.
"It's horrible," said 12-year-old Alexis Vaca, an Escobedo seventh-grader who lives nearby. "It's scary because there are a lot of kids over here."
Harrison Bird, 14, said he was walking home from the bus when he saw the girl's body in the road. He believed he knew the girl, whom he described as "really nice and friendly."
"It's really sad."
A neighbor who asked not to be identified said her husband saw the body of a little blond girl in the street before officials covered it with a white tarp.
She later saw the tarp but "I couldn't imagine it was a child."
The neighbor, a mother of two young children, said buses pass through the neighborhood "very slowly" all the time.
"There are 20 kids at that bus stop every morning," she said. "Parents line up 10 cars deep to pick up their children from that bus stop. It's very busy."
The bus driver was so distraught that he didn't leave the bus until about an hour and a half after it struck the girl, the neighbor said.
"He wouldn't come out of the bus."
The driver finally stepped out and stood with his back to the body still in the road, she said.
"He was standing in front of the bus sobbing with his hands over his face," she said. "I feel so bad for this man. It's a very tight-knit community. He probably knew" the little girl.
Strader said police were still investigating, and he couldn't yet say whether the bus driver was at fault.
"I don't want to point fingers," he said. "We got a bus driver over there who's traumatized. We have a family whose family is tore up."
Police later said that several witnesses may have left the scene before officers arrived, and that detectives would like to speak to them. Anyone who saw the incident should call 311.
Strader said the girl's death was upsetting to everybody at the scene.
"We're all parents," he said. "I think we take for granted how precious and how fragile life is, how easy it is to get hurt."
Review-Journal writers Brian Haynes and Trevon Milliard contributed to this report. Contact reporter Lynnette Curtis at lcurtis@reviewjournal.com or 702-383-0285.
Man killed in crash
A 27-year-old man died Thursday night in what might have been a street racing crash, Las Vegas police said.
Three other people involved were treated at University Medical Center for minor to moderate injuries.
The man, Johnathan Douglas Johnson, died at the scene. The wreck occurred shortly before 10 p.m. on East Charleston Boulevard near Sloan Lane.
The man was driving a 1992 Honda Civic at a high speed eastbound on Charleston, and a 2000 Ford Mustang driven by a 17-year-old boy was also traveling at high speed in the same direction in a possible street race, police said.
The Mustang ran into the rear of a 2001 GMC Denali, a large SUV that had just changed lanes, police said. The collision pushed the GMC to the right and into the Honda, which was passing it at the time.
Police did not release the 17-year-old's name because he is a minor.
Driver kills pedestrian
Las Vegas police said a pedestrian was struck by a car and killed about 4:30 a.m. today.
The driver of the car pulled into a nearby gas station, then fled the scene, police said.
The male victim was pronounced dead at the scene at Tropicana Avenue and Cameron Street, near The Orleans.
Tropicana was closed while officers investigated.
LAS VEGAS REVIEW-JOURNAL