Mourners pay respects to Tashii Brown, who died in police custody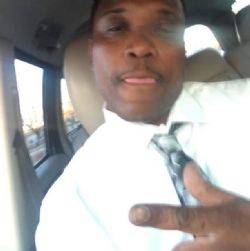 At least 100 mourners from across the country gathered together Saturday evening to remember Tashii Brown, the man who died last month in police custody.
Brown's death occurred May 14 after he was stunned seven times with a Taser and placed in an unauthorized chokehold for more than a minute by Metropolitan Police Department officer Kenneth Lopera.
Excited to celebrate Mother's Day with her son, who had moved to the Las Vegas Valley earlier this year, Trinita Farmer was instead notified that her son's life had been "needlessly taken while in police custody," Andre Lagomarsino, the family's attorney, said of Brown's death.
While reporters weren't permitted at Saturday's memorial service in Las Vegas, Lagomarsino related one of the touching moments at the service, held before a crowd of mourners at the Davis Funeral Home's Rainbow Chapel. In the emotional two-minute reading, the family member spoke the tender words Brown had written to Farmer in a Mother's Day card.
A program for Saturday's service also included his mother's remembrance of Brown's life.
"He touched the hearts of anyone that would give him five minutes of their time," she wrote.
Call for reform
Brown's death and the use of the chokehold have prompted community outrage, a Strip demonstration and an NAACP petition banning the use of neck restraints by the Metropolitan Police Department.
Lopera has been placed on paid administrative leave while Brown's death is investigated, according to Metro Undersheriff Kevin McMahill.
Led by NAACP Las Vegas president Roxann McCoy, the NAACP and the American Civil Liberties Union Las Vegas chapters have come together in a joint effort to call for reform of the department.
An internet petition created by McCoy calls on Metro to join Henderson and North Las Vegas in banning the use of neck restraints by officers. As of Saturday, the petition had racked up 291 of the needed 500 signatures.
The petition also demands complete transparency from the department during its investigation.
"The one thing that brings about unrest is no information or a lack of information and lack of knowledge," McCoy said. "We're asking officials to help us understand this because if there are things about the investigation process that I don't know, that means an average person wouldn't know."
Days after Brown's in-custody death, McMahill confirmed that the chokehold used by Lopera is not sanctioned or approved.
"When you have adrenaline flowing like that, I don't know how you ascertain the proper technique to perform the authorized form of the chokehold," McCoy said Saturday evening. "At the end of the day, you're still choking someone and you have the potential to kill."
Meanwhile, the Brown family has stayed out of the media spotlight since his death. Lagomarsino said that given the nationwide hypervigilance over tensions between black men and police, the family "is just trying to be very conscious about being portrayed as another stereotype."
McCoy said "time will tell" whether racial bias played a role in the incident.
"We don't know what his motive was or why he chose the actions he chose," she said. "We are trying to allow justice to play out."
In addition to Farmer, Brown leaves behind his daughter, Tamara Farmer-Duarte; son, Elias Duarte; brothers Thomas Farmer and Jeffrey Brown Jr.; and sisters Taiye Farmer and Jamiya Brown.
Contact Rio Lacanlale at rlacanlale@reviewjournal.com or at 702-383-0381. Follow @riolacanlale on Twitter.