Museums work to preserve artifacts from Las Vegas shooting memorials
October 19, 2017 - 5:32 pm
Updated October 19, 2017 - 5:48 pm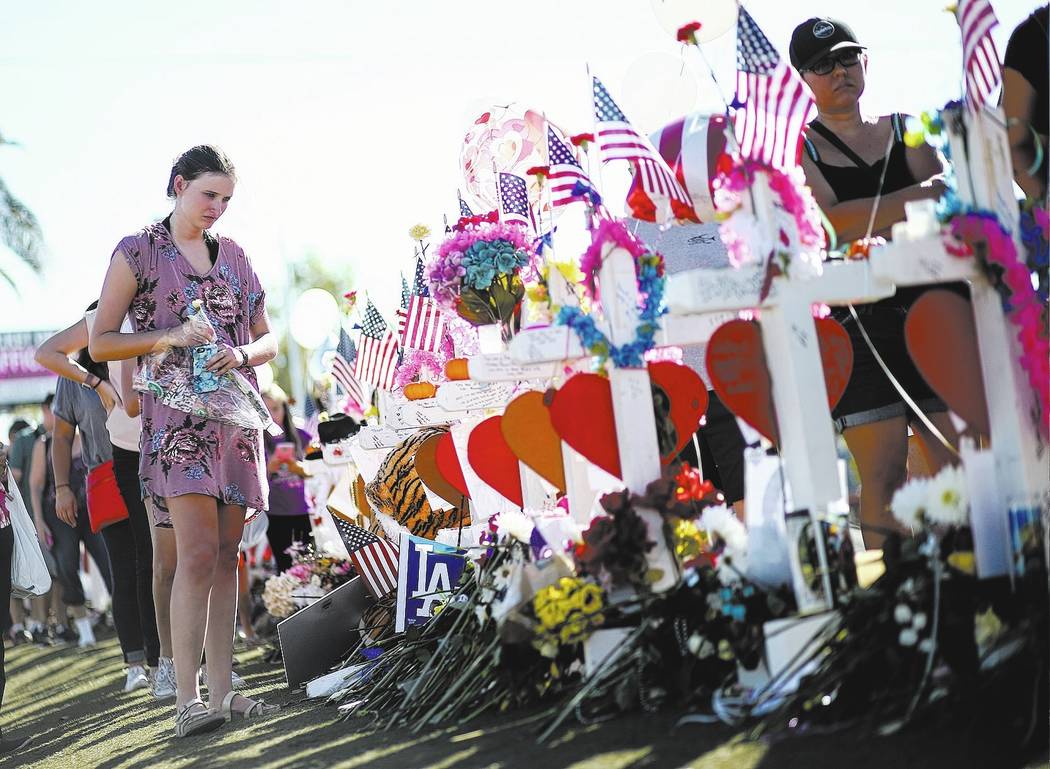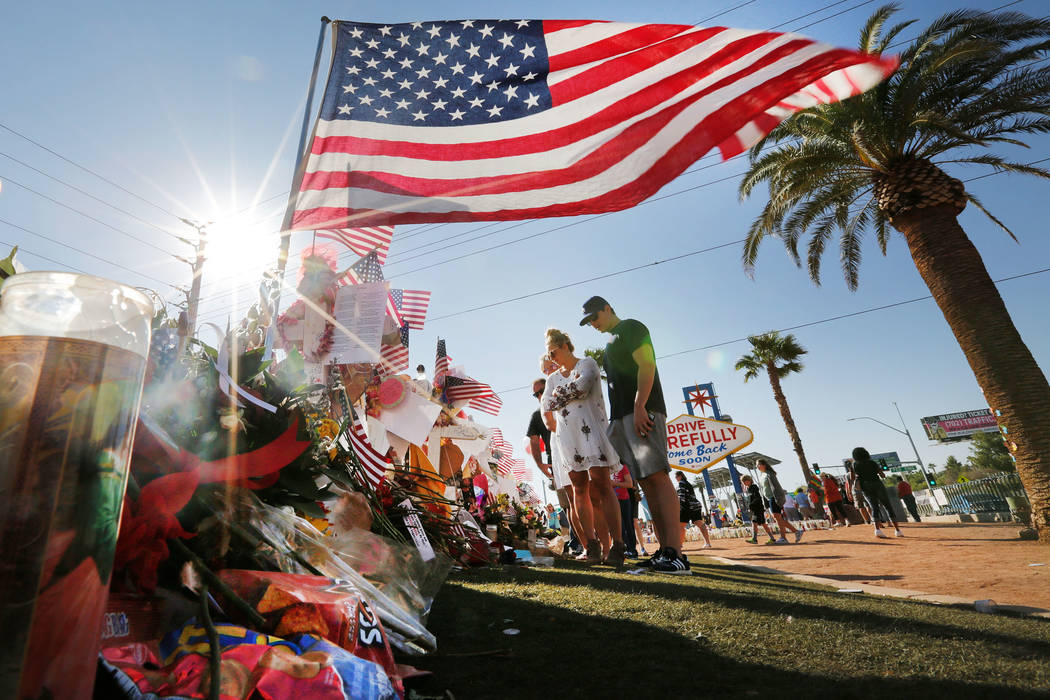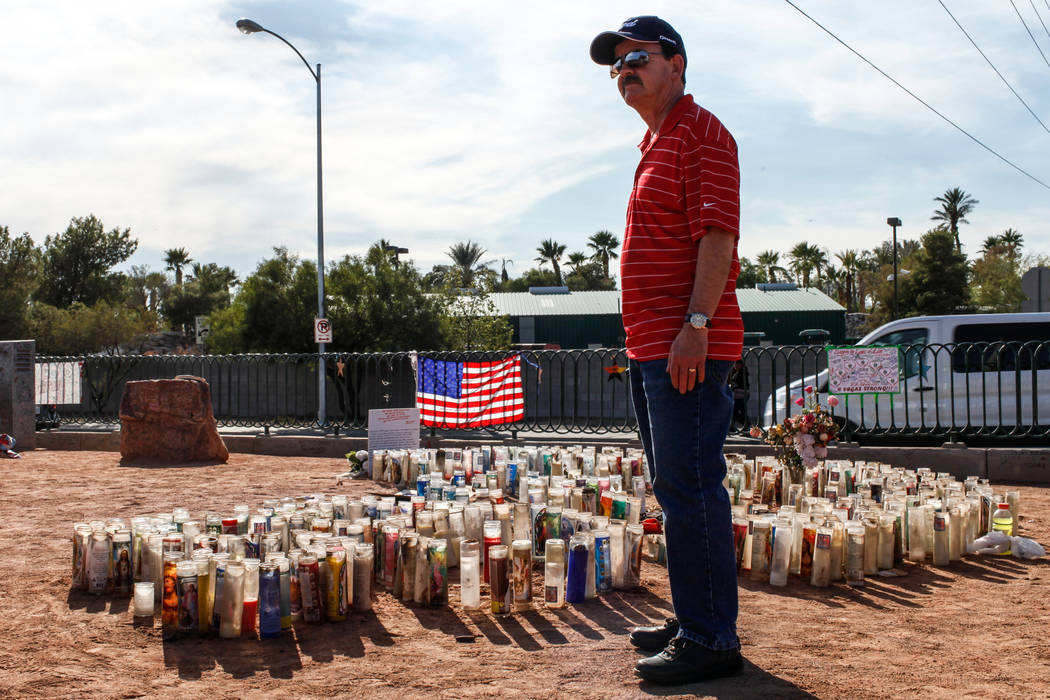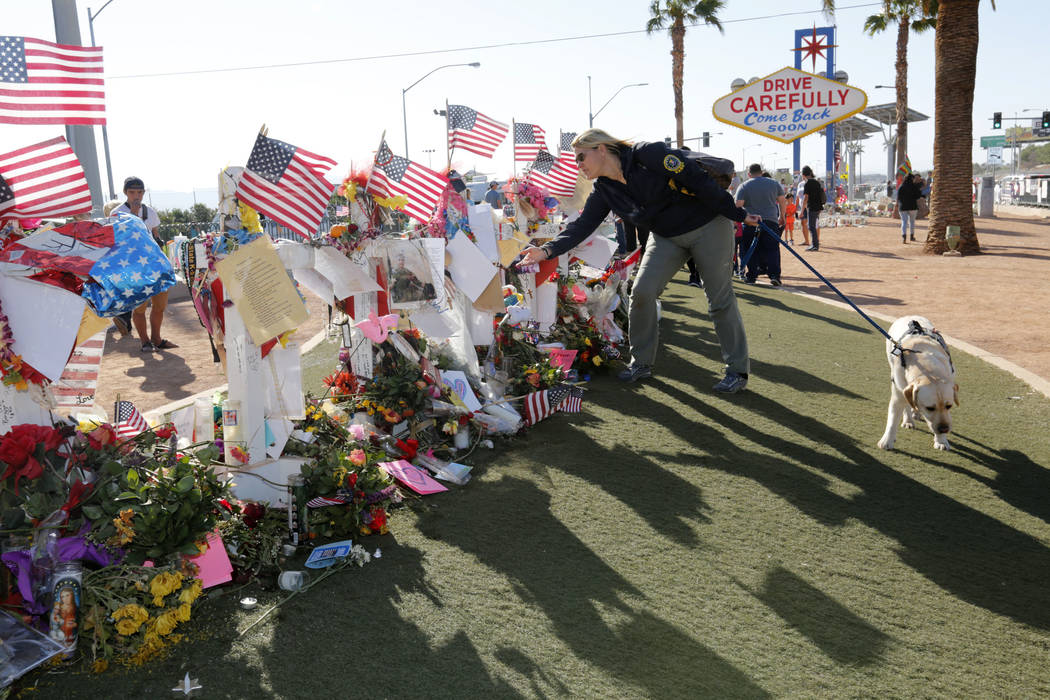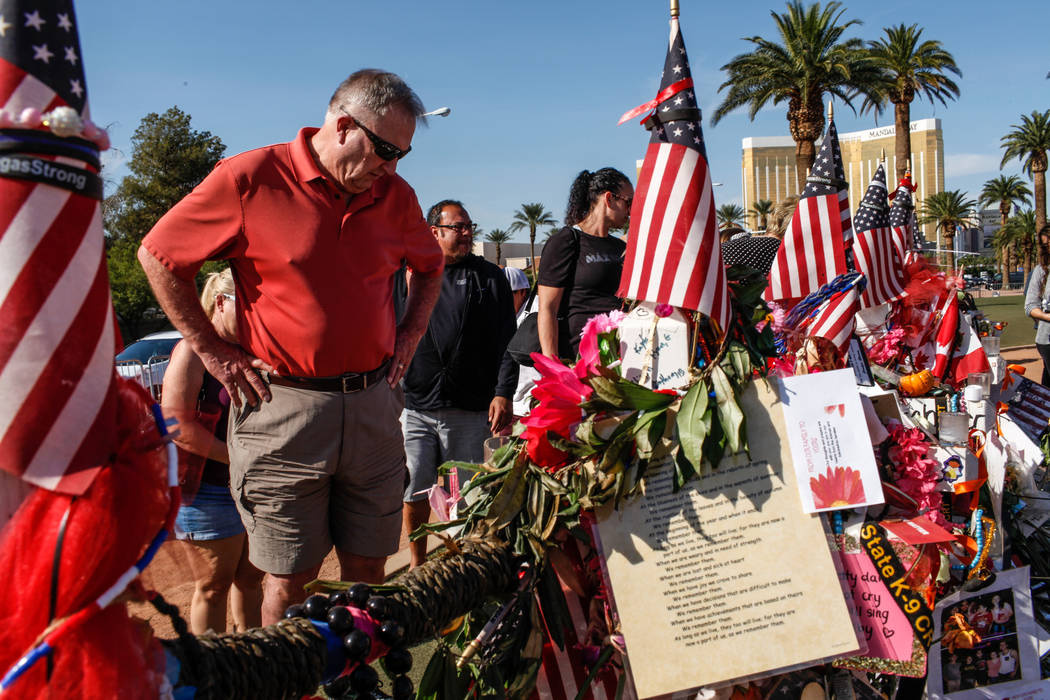 The crosses and the candles and the flowers, the rosaries and the holy cards and the T-shirts and all of the other items left along Las Vegas Boulevard after the Oct. 1 shooting are personal, solitary expressions of sadness, grief and loss for those who lost their lives or were injured.
But each object also represents a fragment of the Las Vegas Valley's collective memory that several area museums and agencies are working to preserve.
Through a collaborative effort, they've crafted a plan for collecting and saving not just such physical artifacts as those roadside memorials but also news stories, digital images, programs from post-shooting vigils, oral histories and even Twitter tweets sent during and after the shooting.
The participating agencies are UNLV Special Collections and Archives, the Nevada State Museum Las Vegas, the Clark County Museum, the Las Vegas News Bureau and the Mob Museum. While the goal of the inititative is to document the tragedy for future historians, writers and researchers, more important, representatives say, is preserving stories of how the community responded in its aftermath.
The most visible focus of the preservation project will be the memorials that mourners have placed along Las Vegas Boulevard and nearby county rights of way. Clark County spokesman Erik Pappa said some of the memorials — for example, withered flowers and objects that blew into streets or were deemed safety hazards to pedestrians or traffic — already have been removed.
Sturdier pieces such as 58 wooden crosses memorializing those killed in the Route 91 Harvest festival shooting, which were placed near the "Welcome to Fabulous Las Vegas" sign, will stay where they are for now. Pappa said the crosses — which have become a focal point of public mourning — and other memorials will remain in place until 9 a.m. on Nov. 12, when they'll be moved to the Clark County Museum.
There, they'll become part of the museum's collection and at some point may become part of an exhibit about the shooting. "I don't think any decision has been made about that yet," Pappa said.
Meanwhile, area museum administrators and historians have announced their joint effort to collect and preserve other artifacts related to the shooting and the community's response to it.
Michelle Light, director of special collections and archives at UNLV, said that by Oct. 3, representatives from the participating agencies and museums were emailing one another about developing a collaborative strategy to collect and preserve documentation and artifacts.
"We started just emailing each other, each asking what the others were doing, and we decided it would be a good idea to get everyone in a room to collaborate, so we could be more effective in doing this," Light said.
That meeting was held Oct. 11, she said, "but in the meantime, we did communicate about the effort each of us was making to collect the history."
Light said the joint strategy prevents duplication of efforts and allows each agency to "focus on our strengths."
No individual agency took the lead, she said. "I would characterize this as a collaborative effort."
The collection and preservation initiative encompasses news stories and web pages, photos and videos, oral histories and first-person testimonies from people who were there, programs from vigil and memorial services, Las Vegas News Bureau images of Vegas Strong messaging and other events and even social media posts.
"We knew we had to act very quickly," Light said. "All of this is ephemeral — capturing a lot of these internet tweets, photos, news stories and quotations from first responders."
For example, Light said UNLV Special Collections and Archives already has collected more than 7 million tweets, many of which link to other images, videos and web sites.
Dennis McBride, director of the Nevada State Museum Las Vegas, said the museum will focus on collecting memorabilia, documentation about the festival and hard-copy artifacts, including newspaper stories, event programs and tickets. "So we'll make contact with the various entities involved — MGM Resorts, producers of the festival and so on," he said.
The museums and agencies also are seeking the public's help in collecting artifacts. In that way, McBride said the initiative can help the community to grieve and heal by assuring people that their own memories and stories are valued and respected.
"Part of the way we can help you is to have a place for you to express what happened to you, by providing an oral history, by providing an artifact that was associated with (the festival)," he said.
Contact John Przybys at reviewjournal.com or 702-383-0280. Follow @JJPrzybys on Twitter.
How to participate
The public is invited to join the effort to collect and preserve documents, artifacts and stories relating to the Oct. 1 Route 91 Harvest Festival shootings and the community's response.
Special Collections and Archives at UNLV: Collecting source material from the internet. It's also seeking contributions of digital photographs, videos, memories and recollections of concertgoers and others that can help to document the event, its aftermath and the community response, including vigils and commemorations. For information and an upload link, visit library.unlv.edu/whats_new_in_special_collections.
The Oral History Research Center at UNLV: Creating an oral history project to collect and preserve first-hand accounts from first responders, witnesses and survivors. To nominate a person for interview, email oral.history@unlv.edu or call 702-895-2222.
The Nevada State Museum Las Vegas: Collecting artifacts, memorabilia and other documentation about the festival, and physical documents about the event and its aftermath. To donate materials, email Crystal Van Dee at cvandee@nevadaculture.org or call 702-822-8751.
The Clark County Museum: Collecting artifacts, memorabilia and documentation from memorials and vigils. To donate materials, email cynthia.sanford@clarkcountynv.gov.
The Mob Museum: Collecting artifacts, images, official documents and stories that about law enforcement agencies' activities during and after the shootings. To donate materials, email gschumacher@themobmuseum.org.