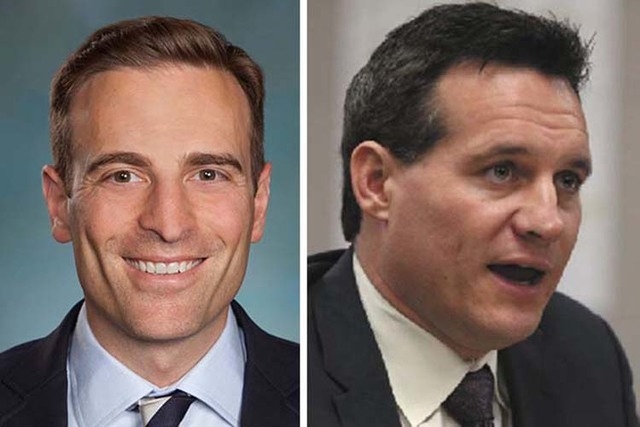 Nevadans who live overseas, including military and others, can register to vote and cast ballots — all electronically — in the 2014 election.
The unrolling of the all-electronic system, called the Effective Absentee System for Elections, or EASE, makes Nevada the first state in the U.S. to have a program that is entirely electronic from start to finish, according to the secretary of state's office.
Before the change, overseas residents needed to print out and sign an absentee ballot and then mail it or scan and email the document to elections officials.
Secretary of State Ross Miller demonstrated the system to reporters and soldiers in Las Vegas on Thursday. The program can retrieve electronic data from signature records on file with county clerks or the Nevada Department of Motor Vehicles if the voter hasn't yet registered.
"Our military members currently serving overseas are on the front lines protecting democracy, and we owe them the most accessible, convenient and secure system possible to participate in the very elections they are fighting to defend," Miller said.
The technology follows the passage of Assembly Bill 175, which the Nevada Legislature approved in 2013. The legislation allows overseas Nevadans to use a digital signature to sign applications when registering to vote.
Assemblyman Elliot Anderson, a Marine combat veteran who served in Afghanistan, praised Miller's efforts to get the system in place.
"The bill enables his office to provide an easy, secure and reliable way for military voters to vote while they defend our liberty and democracy away from home," said Anderson, D-Las Vegas.
The system also meshes with common access cards, or CACs, that members of the military use when logging into computer systems on bases. The card number is sent to election clerks with an encrypted ballot for verification and security.
The system was developed and started with a federal grant of about $382,000; no state funding was required.
About 6,500 Nevada voters overseas received ballots in the 2012 general election.
The system, online at www.nvease.gov, will be available for voters at 8 a.m. today.
Contact Ben Botkin at bbotkin@reviewjournal.com or 702-405-9781. Find him on Twitter: @BenBotkin1.