Nevadan at Work: Stylist opens salon in downtown Soho Lofts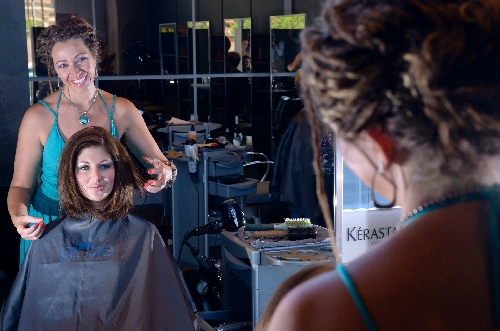 Las Vegas native Staci Linklater longed to open a high-end hair salon downtown, but the timing wasn't right in 2000, when she was ready to open Globe Salon.
So the longtime stylist found a space in a strip mall at the corner of Charleston and Decatur boulevards, opened her salon and waited to find her dream downtown location.
In 2008, Linklater and partner James P. Reza found the perfect space for Globe in a new downtown high-rise, Soho Lofts. Business was booming and a variety of downtown developments were in the works.
Globe opened in Soho in July. A few months later, the economy crashed.
Linklater stuck it out, buoyed by loyal clientele and a sense that downtown would come back to life, if a few years behind schedule.
And it has.
With downtown redevelopment well under way, Linklater appears poised to reap the rewards of her faith in the neighborhood where she lives, works and plays.
Question: Why did you decide to move Globe to Soho Lofts?
Answer: We knew we wanted to be downtown. We knew that we wanted to be in an urban location. Our business plan homework (in 2000) was to look at spots downtown. Strangely enough, one of the locations was on Fourth Street and Ogden Avenue. But it was ahead of its time. Downtown was scary then. We said, "Let's go to a central location that's close to where we ultimately want to be." Soho Lofts ended up being the perfect spot for us. It was destiny, I think, that we ended up being here.
Question: What kind of clientele does Globe attract?
Answer: We have a very wide range of clients. We have our young, hipster clients and we have our executive clients. Personally, because I've been doing hair for so long, I have the executive clients. I work very quickly and realize they don't have a lot of time to spend on themselves.
Question: Did you keep most of your clientele during the move to Soho?
Answer: We lost probably 20 percent. Not because they didn't give us a try (at Soho): they did. Some people stopped coming to us because they didn't know how to parallel park. That was a major thing for some people. They were so used to a parking lot that they didn't know how to handle parallel parking. For the last four years, we've really had to educate people on how amazing it is down here.
Question: The economy crashed shortly after you moved into your new space. How did the recession affect Globe?
Answer: That was probably the worst thing I've ever been through in my life. We went from having our biggest month ever the month before we relocated to continuing to have to build that all over again. We did take a risk moving downtown. Clients who had been clients for a long time lost their jobs, weren't able to come in as often as they used to. They would still come in, but instead of coming in every six weeks, they would come in every three months or four months. The bottom line was affected by all of that.
Question: Is there synergy now with Soho?
Answer: In the last four years, just watching the traffic on the sidewalk has been amazing. There was the occasional homeless person – now you don't see that. Now you see women walking their kids in their strollers and people walking their dogs and joggers every morning, people walking from Newport Lofts to Resnicks to buy their groceries.
Question: What kind of businesses would you like to see open downtown?
Answer: I would like to see more retail and more restaurants. Right now we're pretty good in the bar selection. We're still missing amazing retail, an amazing grocery. We would all love to have a Trader Joe's.
Question: What role do you think small businesses like Globe play in downtown redevelopment efforts?
Answer: What eventually I see happening is a major brand, the minute they see all these little places popping up down here, they're going to see the risk that we were all taking and paving the way for them. The next thing you know, there's going to be something major (that) moves in. Maybe an Urban Outfitters downtown, maybe the Trader Joe's will actually end up being down here.
Question: Where do you see downtown headed?
Answer: The recession put a huge damper on the growth of our downtown. Us being pioneers down here, I'm going to say that there's credit to be given for the people that have put their lives into what the potential of downtown will be. People like (Zappos CEO) Tony Hsieh recognize that small businesses like mine and the Cornthwaites' (who own Emergency Arts and Downtown Cocktail Room) that do something like that, that there's a reason for it. We make an absolute impact on the big picture of what downtown will be.
Contact reporter Caitlin McGarry at cmcgarry@reviewjournal.com or 702-387-5273.
VITAL STATISTICS
Name: Staci Linklater
Position: Owner, Globe Salon
Age: 39
Quote: "When you live in your own city and take advantage of the connections you have, it's a lot easier to be successful. What we've done with Globe Salon as far as the image, the marketing, the brand we've created – I can't think of a better place we could have done that, because of all the connections we have."
Family: Partner of almost 25 years, James P. Reza.
Education: Bonanza High School and cosmetology school graduate.
Work history: Hair stylist at Brand New Look from 1991-1998; Diva Studio in 1998; Dolphin Court Salon and Day Spa from 1998-2000. Opened Globe Salon on Charleston and Decatur boulevards in 2000.
Hobbies: Yoga, hiking, cooking, entertaining
Favorite book: "Are You There, God? It's Me, Margaret" by Judy Blume. "I'm just going to go ahead and say it: That impacted me for the rest of my life."
Favorite movie: "Lost in Translation"
Hometown: Las Vegas
Globe Salon is at 900 Las Vegas Blvd. South, Suite 130. It can be reached at 938-4247.