New Jersey mobster arrested in Henderson just couldn't stay low-key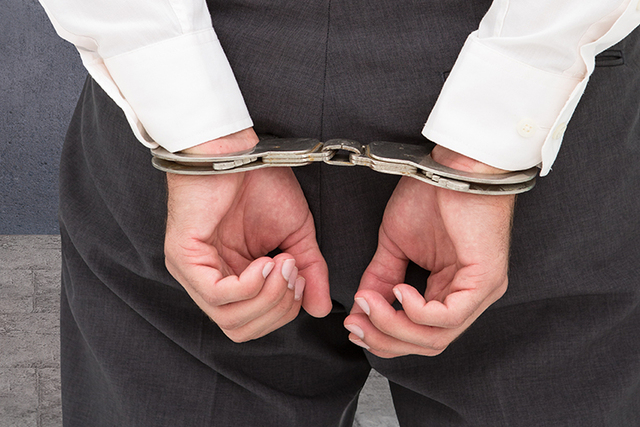 It didn't take long for Charles "Beeps" Stango to get into trouble after he was released from prison to spend his golden years in Henderson.
The New Jersey crime figure was arrested at his home Thursday in an alleged scheme to kill a rival mob figure back in the Garden State.
The 71-year-old life-long wise guy moved to Southern Nevada roughly a year ago, and was on supervised release from a long federal prison term stemming from a 2003 racketeering conviction that also involved a plot to kill a rival mobster across the Hudson, in New York, authorities said Friday.
Federal prison records show he was released in November 2012. County property records indicate Stango doesn't own the modest $180,000 two-story house north of Interstate 215 near Green Valley Parkway, but it's believed that he settled there about a year ago.
Neighbors say Stango and his wife seemed friendly enough, but they didn't know them well. Several said the couple drive notably nice cars.
A woman at the Stango residence who appeared to be in her mid-30s offered only a terse "no comment" while also talking on her cell phone.
While still under federal supervision in December, the five-time convicted felon and DeCavalcante crime family "capo, " began conspiring to kill the rival in New Jersey, Assistant U.S. Attorney Nicholas Dickinson said in court here on Thursday.
Dickinson said Stango's string of felony convictions includes a 1981 homicide in New Jersey.
Stango — whose underworld nicknames include "Charlie the Hat" and "The Mad Hatter" — told an undercover law enforcement officer that he had "planted the f—ing flag" for organized crime in Las Vegas, according to a federal complaint unsealed in New Jersey.
U.S. Magistrate Judge Nancy Koppe on Thursday ordered Stango held in federal custody and transported back to New Jersey to face felony charges in the murder conspiracy and other schemes to distribute cocaine and run a prostitution business.
Nine other people, including Stango's son, Anthony "Whitey" Stango, 33, were arrested on varying charges in New Jersey stemming from the three-year DeCavalcante investigation conducted by the FBI in Newark.
There's noting in the public record that indicates the schemes involved crimes in Nevada.
In announcing the arrests, Newark FBI Special Agent in Charge Richard Frankel said the investigation dealt a "severe blow" to one of the country's most notorious crime families.
That notoriety extends to television — the HBO series "The Sopranos" was reportedly based on the DeCavalcante family.
Federal authorities said they have secret cellphone recordings of the elder Stango in the Las Vegas area planning the mob hit with other crime family members back in New Jersey.
The mobster also talked openly about the murder scheme in face-to-face meetings here and in New Jersey with the undercover agent who had infiltrated the DeCavalcante crime family, the complaint said.
As the various schemes unfolded, FBI agents monitored discussions between the elder Stango and associates known by the underworld nicknames of "Knuckles" and "Johnny Balls."
Prosecutors allege Stango obtained permission to kill the rival from Frank "Shipe" Nigro, 72, the crime family's reputed "consigliore," who was among those arrested in New Jersey.
The plan was to pay two motorcycle gang members $25,000 each for the hit.
According to the complaint, Stango oversaw a street crew that distributes drugs and contraband cigarettes in New Jersey for the DeCavalcante organization, a wing of New York's Gambino Mafia family.
In 2002, Stango and 19 other suspected members and associates of the Decavalcante family were indicted in New York on a series of racketeering charges that included a scheme to murder a cooperating government witness, according to court documents.
Stango pleaded guilty in March 2003 to a felony charge involving the racketeering acts of conspiring to commit murder, construction industry extortion and securities fraud, the documents show.
U.S. District Judge Michael Mukasey later sentenced him to 13 years in prison plus three years of supervised release. His time behind bars was eventually shortened, though his career in crime continued.
Federal agents in February secretly recorded Stango and his son discussing a plan to set up a high-end prostitution business in Toms River, N.J., to cater to businessmen and professionals.
"You need to protect yourself with what you're going to do now," the elder Stango said. "You have to be smart, very smart. You can't just do something that everybody else is doing, OK?"
Stango told his son to establish a legal club as a front and to keep drink prices low to attract more customers and make a bigger profit on volume, the complaint said.
He also instructed his son to meet all legal requirements for the club and conduct business as low-key as possible to stay out of law enforcement's sights.
"Be like you see at the beach," Stango said. "Be a grain of sand on the whole f—ing beach. This way they look, they see the beach. They don't see Anthony."
What he didn't know was that the authorities were already looking.
Reporter Ricardo Torres contributed to this report. Contact Jeff German at jgerman@reviewjournal.com or 702-380-8135. Follow @JGermanRJ on Twitter.