NHP trooper adds godfather to his titles after helping to deliver baby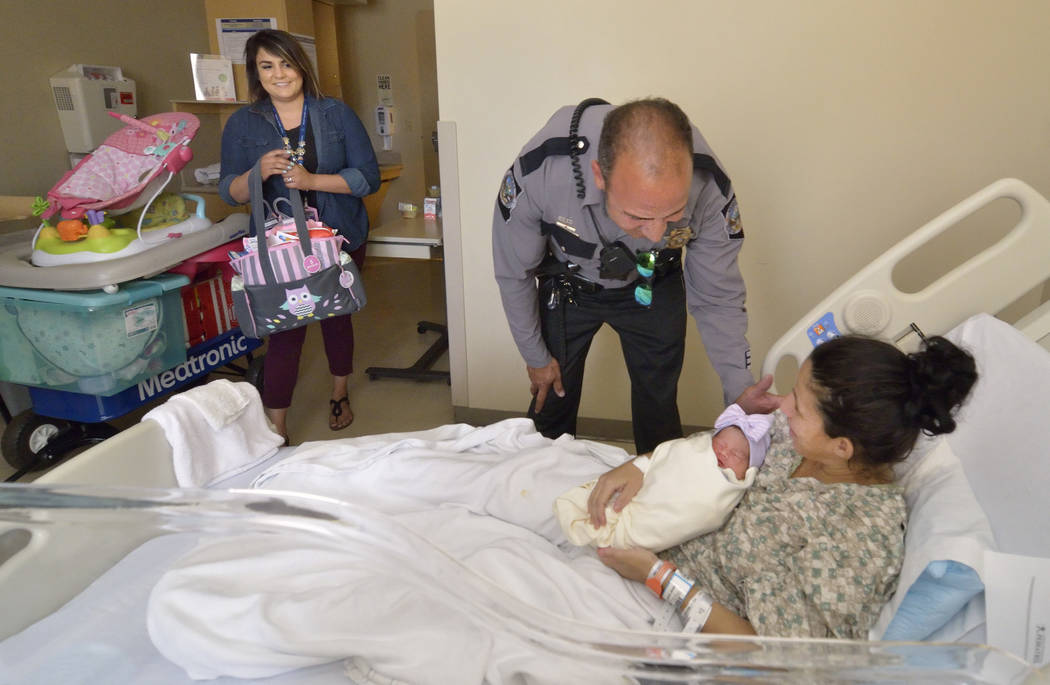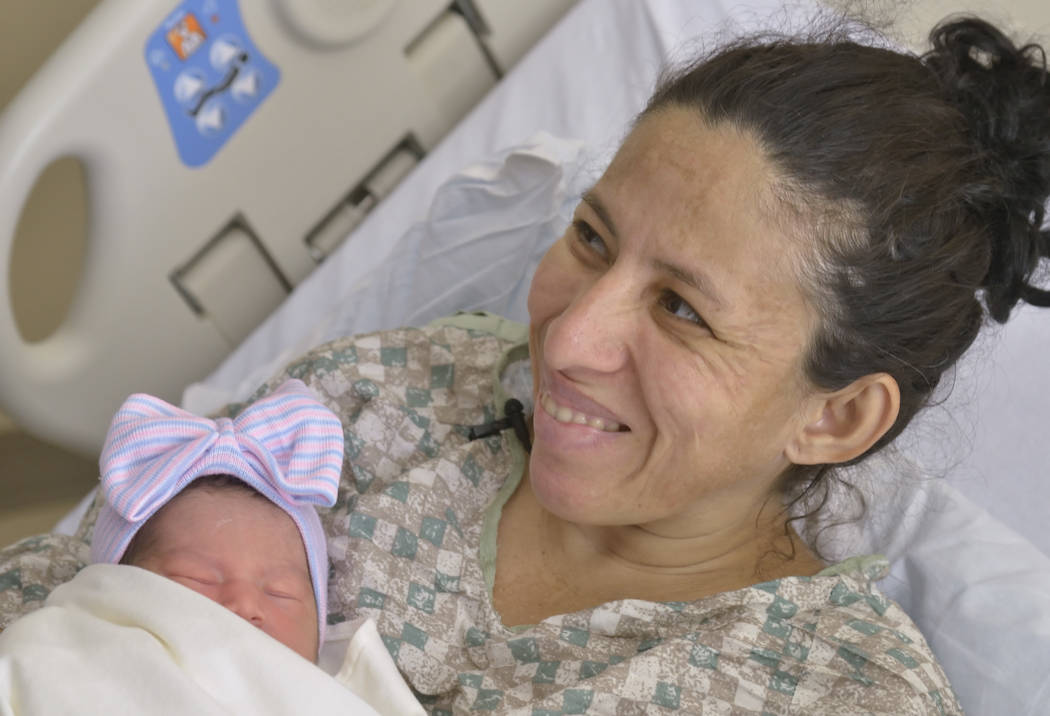 Nevada Highway Patrol trooper Joseph DellaBella has a new title to go with hero twice over — godfather.
Just four months after he and his wife rescued a family from their burning Las Vegas apartment, the 47-year-old law enforcement veteran earned his new honorific by helping deliver a baby in a hospital parking lot on Thursday.
The drama unfolded in the morning, when Brenda Velasquez-Cartagena's husband pulled up to Sunrise Hospital and Medical Center shouting for help: His wife was about to give birth and the baby wasn't waiting for doctors.
DellaBella, who just happened to be at the hospital following up on a case, went to comfort Velasquez-Cartagena. But he quickly realized that the baby, Bianca Garcia-Velasquez, had started to crown.
"I was only going to hold her hand and then Bianca decided to come out," he said.
On Friday afternoon, DellaBella returned to the hospital with baby supplies collected from his Highway Patrol colleagues. Velasquez-Cartagena, who doesn't speak English, told DellaBella through a translator that she hopes God blesses him.
Unexpected honor
"I want you to be the godfather of my baby," she said.
DellaBella leaned down to kiss her hand, telling her he was honored.
"I'm ecstatic," he said. "I'm surprised and I'm very excited to be a godfather."
DellaBella is making a habit of being Joseph on the spot.
On March 3, he and his wife, Trisa, also a Highway Patrol trooper, were off duty when they spotted a plume of smoke while driving with their kids. They followed the smoke and discovered it was coming from a unit at the Cornerstone Crossing apartments at 6666 W. Washington Ave.
"We just started pounding on doors, breaking windows, pulled the fire alarm," DellaBella said at the time.
Six adults and 12 children were displaced by the fire, but no one died or suffered serious injuries.
Both Joseph and Trisa were awarded the Nevada Department of Public Safety's life saving medal as a result of their actions.
That medal glinted on DellaBella's chest Friday as he held the baby he helped deliver.
"It just reminds me every day that when you do these kind of things and save people, it means a lot to someone out there," he said.
Saving a life
Velasquez-Cartegena, who has a 14-year-old daughter and a 6-year-old son, thought she was still at least a few days from delivery. But this baby arrived a bit early, at 37½ weeks.
After helping her give birth to Bianca around 7:35 a.m., DellaBella placed her on her mother's lap in the passenger seat of her husband's car when he saw something was wrong.
The baby's umbilical cord was wrapped around her neck and she wasn't breathing. But no doctors or nurses had yet arrived, so he used the knowledge earned from watching the births of his four children to remove the cord and open the baby's mouth.
"She was sitting there, her eyes were closed and she wasn't breathing or moving, and I just put my index finger and opened her mouth," he said. "And she started screaming."
After hospital personnel took over and rushed Velasquez-Cartegena into the facility, DellaBella stayed for a few hours to make sure that mother and child were OK before getting back to his job.
DellaBella and Velasquez-Cartegena, who moved to Las Vegas from Honduras a year ago, could only exchange a few words at their brief reunion Friday. But both said delivering the baby didn't require language.
"Everything that was going on was non-communication," DellaBella said. "I could see what needed to be done and she was trusting me and that's it."
Helping others
Bianca Garcia-Velasquez has made a full recovery from her dramatic birth and weighs 5 pounds, 14 ounces. Her mother now has diapers, clothes and a baby carrier, courtesy of the Nevada Highway Patrol.
Other than the clothes and memories, Bianca Garcia-Velasquez will have another reminder of DellaBella to carry through her life. In addition to being her godfather, his name will appear on her birth certificate as the person who delivered her.
DellaBella, who has worked for the Highway Patrol for 15 years, said he likes helping people, and was just doing his job.
"I just did what I would like to think anyone would do in that spot," he said. "At the end of this whole thing she's sitting in this hospital holding her beautiful little baby and trusting a complete stranger, so that was the heroic act."
Velasquez-Cartegena and DellaBella exchanged numbers and addresses to keep in touch. DellaBella offered to send her baby formula in the future.
DellaBella's delivery was divine intervention, Velasquez-Cartegena said in Spanish.
"I ask God to continue blessing him for having supported me," she said. "May he continue to help many more people."
Contact Katelyn Newberg at knewberg@reviewjournal.com or 702-383-0240. Follow @k_newberg on Twitter.