Nurses picket Las Vegas hospital, saying short staffing is rampant
Updated July 24, 2018 - 5:00 pm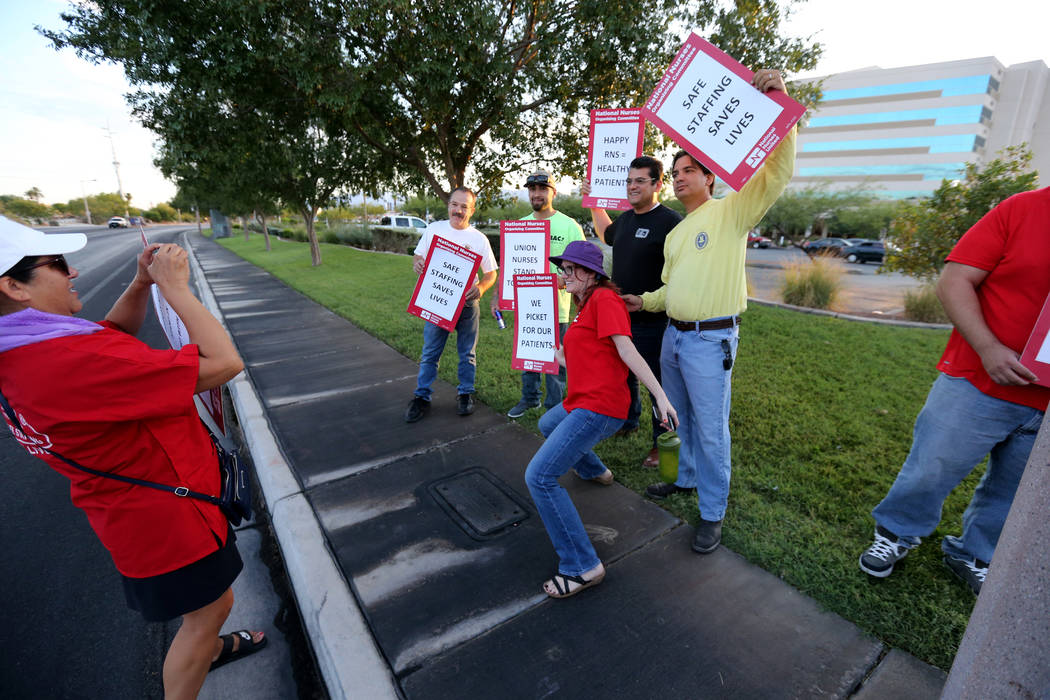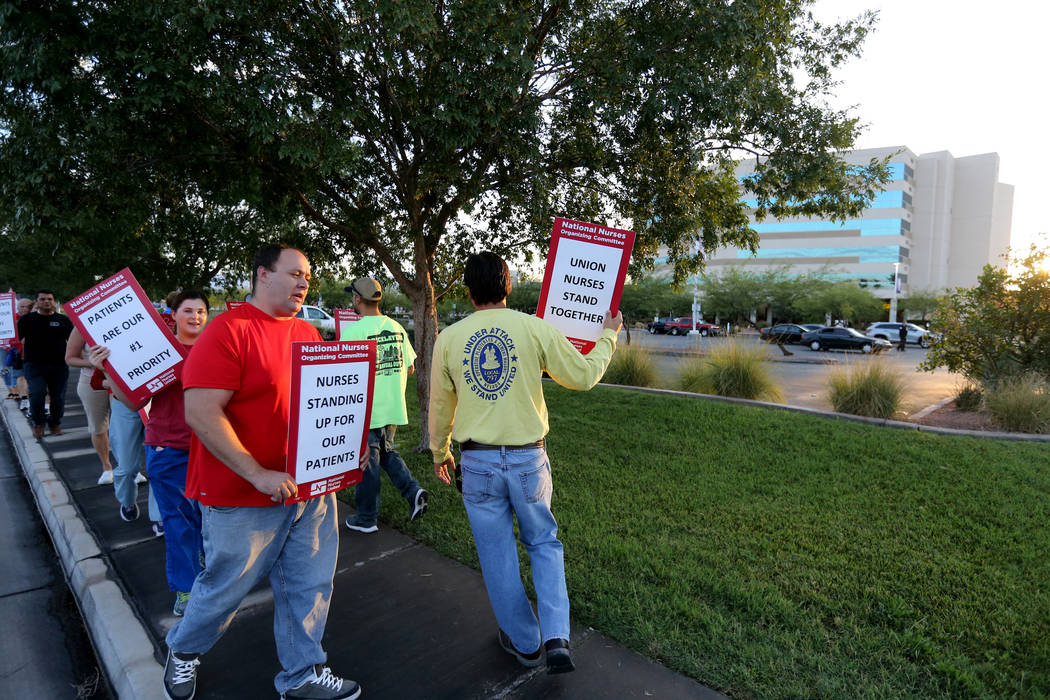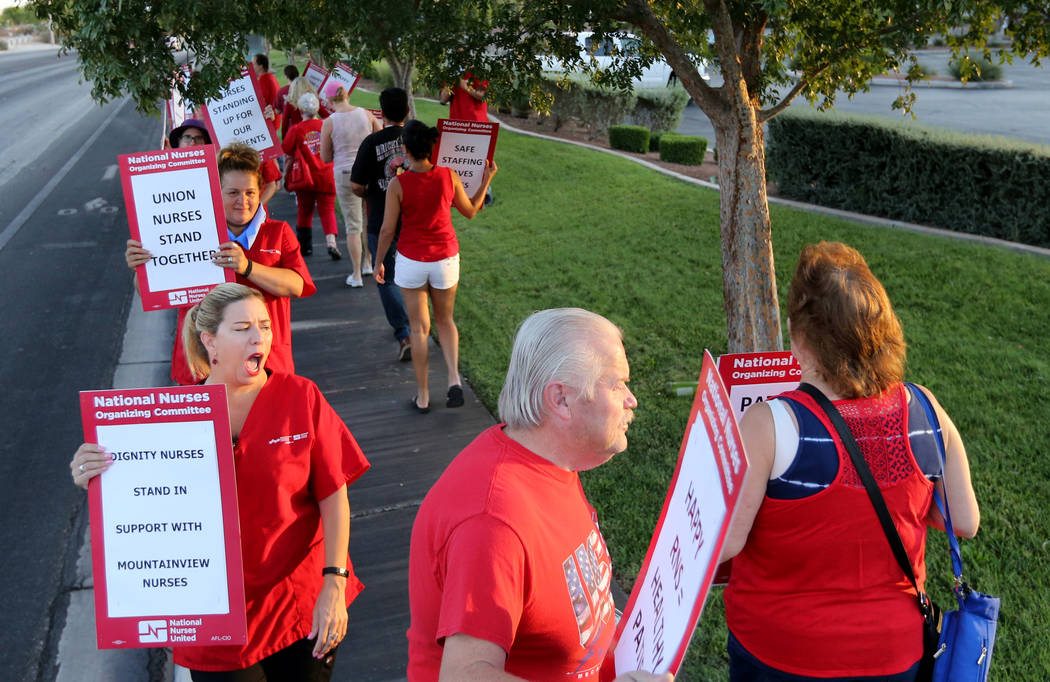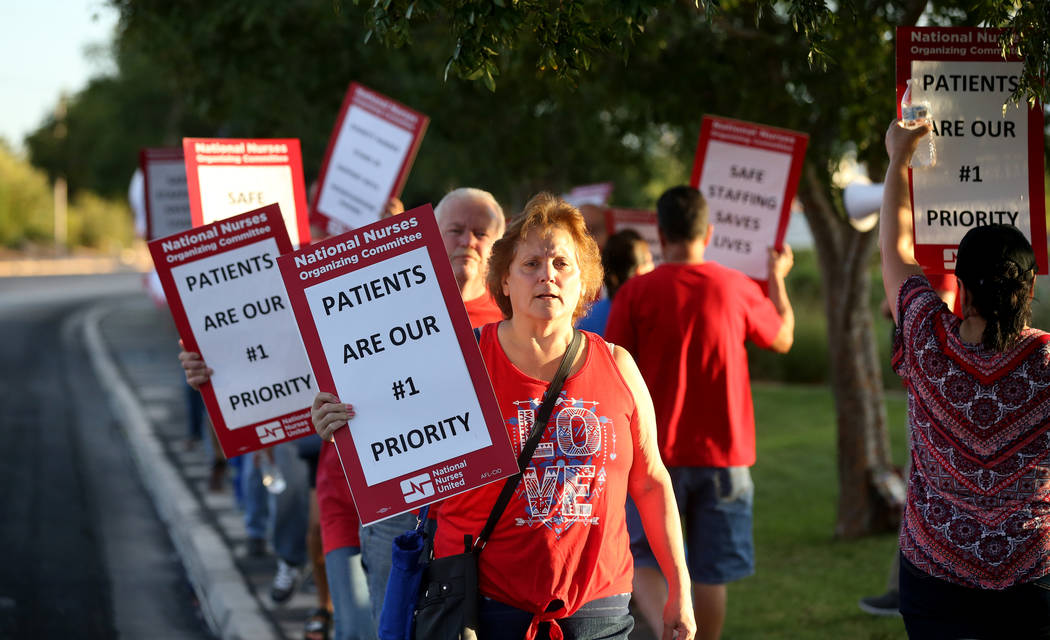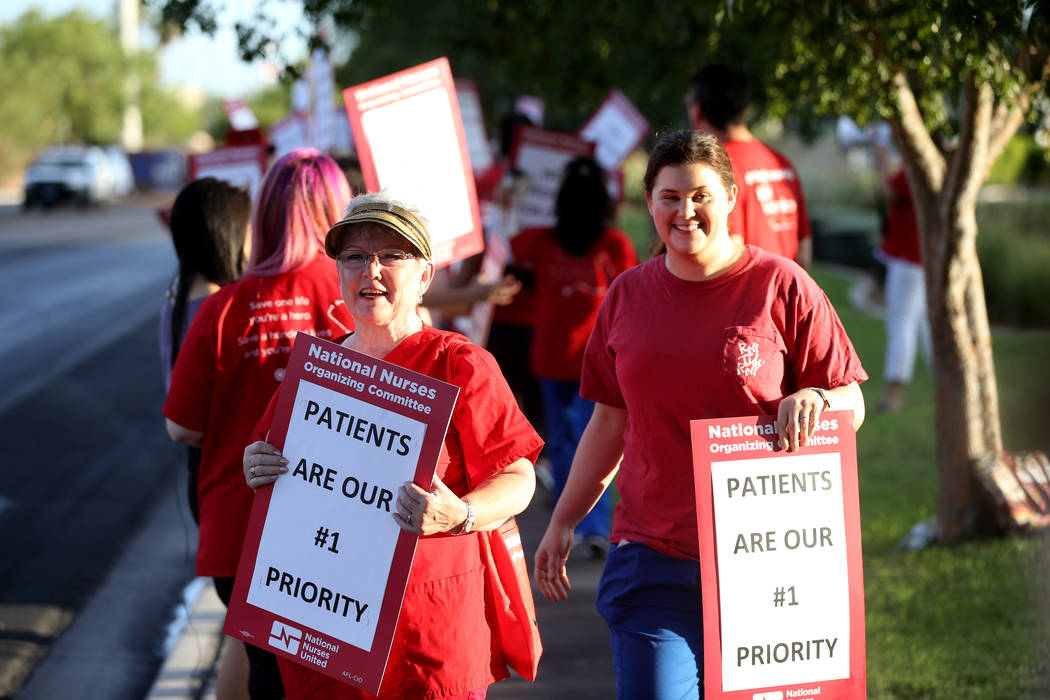 About 50 nurses whose contract with MountainView Hospital has lapsed picketed the medical center Tuesday in northwest Las Vegas, accusing the Tennessee-based corporation that owns the facility of putting patients at risk through inadequate staffing.
Led by the National Nurses Organizing Committee's Nevada chapter, part of the National Nurses United union for registered nurses, the protesters called for the hospital to address high turnover rates and persistent understaffing. Union members have been in negotiations with hospital management since April to renew their contract, which expired May 31.
"When the hospital hires and retains good quality nurses, our patients are more likely to receive the care they need in a timely manner," said Nicole Koester, a MountainView nurse for the past year who has participated in contract negotiations.
The nurses complain the hospital doesn't comply with its own nurse-to-patient ratio standards. The union said, for example, that the HCA-owned hospital failed to meet its staffing standards in the neurological intensive care unit 87 percent of the time in January.
Nevada law requires hospitals with at least 70 beds operating in counties with populations of 100,000 or more to create staffing guidelines, but doesn't set a minimum requirement.
Turnover rate cited
The union said high turnover rates among nurses at the hospital exacerbate the staffing shortage. It said hospital-provided numbers showed about 30 percent of MountainView nurses have worked there less than 18 months, while 47 percent had less than three years on the job.
"Health care is growing at a rapid pace, and the best way to foster new graduate nurses is to surround them by experienced registered nurses," Koester said.
Hospital spokeswoman Jennifer McDonnell would not confirm the union's numbers or provide a staffing breakdown, but said the hospital hasn't received complaints of staffing shortages from its accrediting agencies. She also said the hospital's turnover rate among nurses has decreased in recent years to 13 percent, which she said was below the national average.
At Tuesday's demonstration, nurse Richard Cipollino, who worked at other hospitals — including Sunrise Hospital Medical Center and University Medical Center before moving to MountainView nearly a year ago — said he did not see such staffing shortages elsewhere.
"If it was your mom and the nurse was overworked and stressed out, would you be comfortable?" Cipollino asked. "We want to give the best care we can, but we need the tools to do it. I can't fix my motorcycle if I only have a screwdriver."
Miranda Cowan, a MountainView nurse for the past year and a half, said short staffing in medical-surgical and neurosurgical intensive care units forced her to once leave a patient in pain for another who fell out of bed.
'A great hospital'
Christine Devereaux-Garth, who has been with HCA — the nation's largest for-profit hospital chain — since 1972 and at MountainView since 1996, said the staff shortage detracts from an otherwise positive workplace.
"This is really a great hospital, or I wouldn't be here for 46 years," she said. "(But) there's a struggle in the whole country as far as getting nurses to work, and you know, with illnesses and with people having vacations … they have a hard time sometimes getting extra nurses to get in. We just want them to listen to us and realize that we're trying to help them. We want to help the hospital stay great, and we want whatever's best for our patients."
McDonnell said the hospital has created a residency program and a program for new graduates "to meet that critical nursing shortage."
"We know the way to have predictably reliable nurse staffing for Nevada is to grow our own," she wrote in an emailed statement.
Nurses involved in contract negotiations were scheduled to meet with hospital management Tuesday to continue the talks.
Contact Jessie Bekker at jbekker@reviewjournal.com or 702-380-4563. Follow @jessiebekks on Twitter.