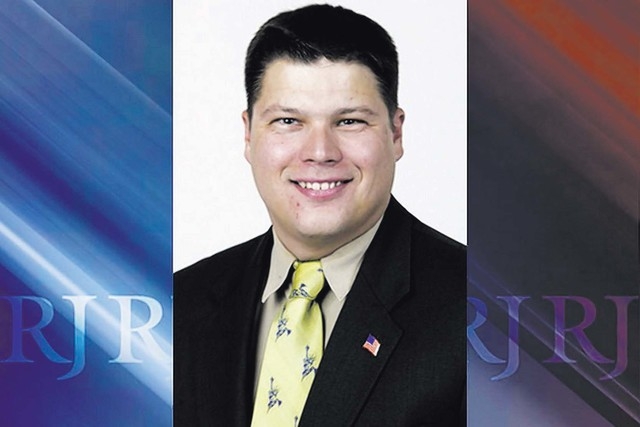 On the eve of Election Day and in the midst of trial, a Clark County juror said she spotted defendant Raymond James "Jim" Duensing's name on a sample ballot.
The juror told District Judge Michelle Leavitt on Monday that she had yet to vote and did not notice Duensing's party affiliation, adding that it wouldn't affect her ability to make a fair decision.
He's on the Libertarian ticket in hopes of becoming Clark County's top prosecutor and the lone opponent to incumbent District Attorney Steve Wolfson, who runs the same office that is prosecuting the criminal case against Duensing.
Defense attorney Tom Pitaro wanted to poll all the jurors about whether they recognized the defendant's name, since early voting closed Friday. But District Judge Michelle Leavitt found that unnecessary, as jurors were asked at the start of trial whether they knew anyone involved in the case.
The Pahrump lawyer faces three felonies stemming from a northwest valley roadside confrontation on Oct. 29, 2009.
Those charges are resisting a police officer, carrying a concealed weapon, and unlawful possession of a firearm. Authorities also said they found traces of marijuana in his system.
Duensing suffered three gunshot wounds after he became unruly during a traffic stop, reached for handgun and turned toward a Metro officer, prosecutors said.
Pitaro argued that the officer who shot Duensing, David Gilbert, could not have seen Duensing's gun because it was tucked in a buttoned-up cargo pocket. A knife in his right hip pocket was not found by police until after he was shot.
Before each break in the trial, the judge tells jurors not to read any media reports of the case, which is standard procedure. They are instructed to inform the court if they happen upon something.
Outside the jury's presence, Leavitt told attorneys in the case that she had yet to vote but noted that Duensing's party affiliation was listed on the sample ballot, which she carries to her polling place.
"I like the excitement of voting on Election Day," the judge said.
Pitaro and fellow defense attorney Michael Miceli said they cast their ballots more than a week ago. They declined to reveal whether they voted for their client. Prosecutors did not say whether they had voted.
Duensing's long-shot candidacy for Clark County district attorney could come up during the trial if he takes the witness stand. But that may not be until the election is over, as the trial is expected to run at least through Wednesday.
Duensing, who has vowed to stop prosecuting nonviolent crimes, including traffic tickets, if elected, has raised $385 and spent $100 on his bid to become district attorney, according to campaign finance records with the Nevada Secretary of State's office. He also ran three times unsuccessfully for Congress on the Libertarian ticket against Democratic Rep. Shelley Berkley
By comparison, in 2013 and 2014, Wolfson, who was appointed to the job in 2012, collected more than $700,000 in campaign contributions.
Contact reporter David Ferrara at dferrara@reviewjournal.com or 702-380-1039. Find him on Twitter: @randompoker.