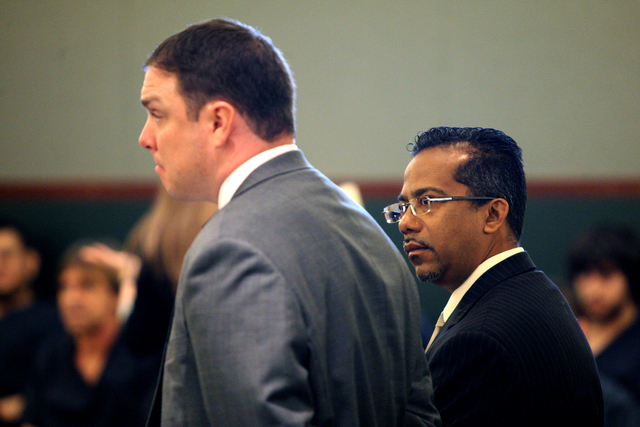 Former Democratic Assemblyman Steven Brooks was handed another term of probation on a felony gun charge Tuesday.
District Judge David Barker said the count of possession of a firearm by a prohibited person, in which Brooks admitted to being addicted to marijuana while carrying a .357 Magnum revolver, could be reduced to a misdemeanor should Brooks complete three years of probation.
Barker suspended a prison term of one to three years, but said that if the ousted legislator violated any terms of probation he would have to serve that time behind bars in addition to another one- to three-year prison term suspended in a separate case.
Last month, Brooks received a similar sentence on a charge of resisting a public officer with use of a firearm.
Barker ordered Brooks to forfeit the revolver, undergo a mental health evaluation, abide by a strict curfew set by probation officers, maintain sobriety and complete at least 16 hours of community service each month he is not working full-time.
His lawyer, Adam Gill, said Brooks performs community service for his church and is going through stress impulse and anger management classes.
Brooks, who appeared in court with family, declined to comment after the sentencing.
In August, after nearly a year-and-a-half behind bars, Brooks pleaded guilty in a deal that comprised charges filed by the Clark County District Attorney's Office and the Nevada Attorney General's Office.
In March 2013, Brooks became the first lawmaker expelled from the Nevada Legislature. Brooks had threatened to kill Assembly­woman Marilyn Kirkpatrick, D-North Las Vegas, because he was reportedly upset about being passed over for the chairmanship of the Ways and Means Committee.
In January 2013, Brooks had to under­go a mental health evaluation after he was arrested in another incident for carrying a sword during a dispute at his grandmother's house.
He was arrested after police said he fled the scene of a disagreement with a tow truck driver in Barstow, Calif., throwing metal objects out the window of his SUV as police chased him.
Contact reporter David Ferrara at dferrara@reviewjournal.com or 702-380-1039. Find him on Twitter: @randompoker