Professor offers insights into politeness in presidential debates
September 22, 2016 - 7:17 pm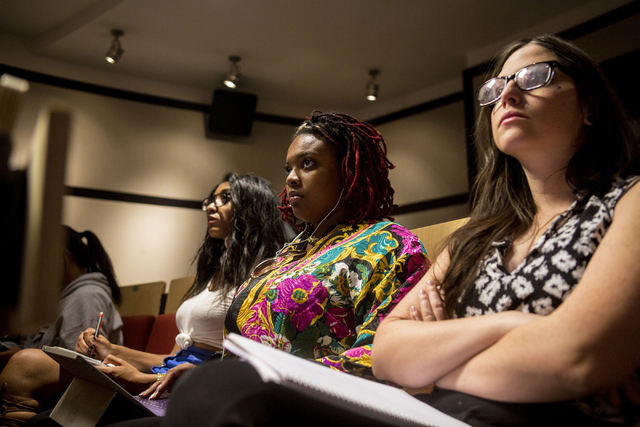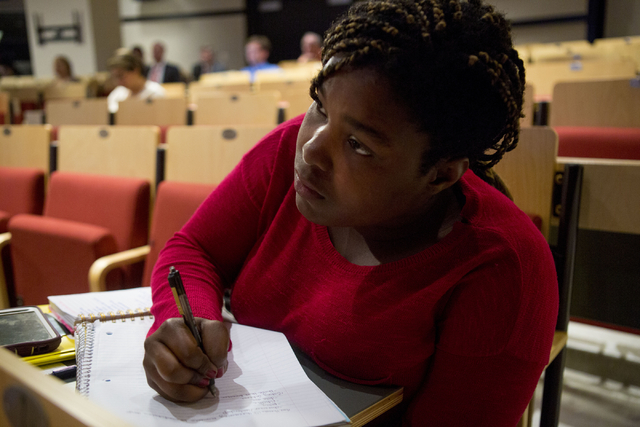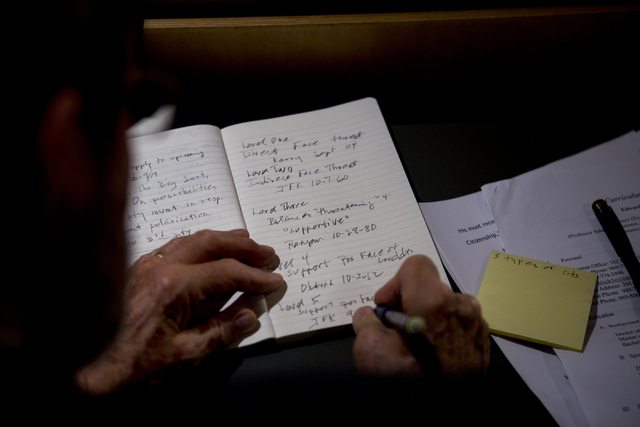 Edward Hinck takes a measured, polite tone about what voters can expect when they watch the presidential debates between Hillary Clinton and Donald Trump. Hinck is an academic, not a pundit who blabs about Trump's latest headline-generating statements.
Hinck has studied politeness in presidential debates, scouring transcripts of presidential and vice presidential debates dating back to 1960, when John F. Kennedy debated Richard Nixon before winning the election.
A professor at Central Michigan University's College of Communication & Fine Arts, he spoke on the topic Thursday at UNLV as part of the university's Presidential Debate Lecture Series. The presidential candidates will face off at UNLV in Las Vegas on Oct. 19, the final presidential debate.
He's not predicting what voters can expect in the history-making debate between the first female presidential nominee of a major political party and a real estate mogul who calls her "crooked Hillary" and sent supporters a survey asking if he should use that name on the debate stage.
"Anything's possible," Hinck said in an interview.
The Trump voters see in rallies may be different than the Trump who debates Clinton face-to-face.
"We do know the general election debates have a much more complex audience," Hinck said. "You've got undecided voters. You've got independent voters, and you've got the moderates in the party who might not have made a decision yet."
In his research, he's identified five levels of comments candidates have made, calling the most aggressive one a "direct face threat." An example he gave was when Democratic candidate John Kerry in 2004 debated incumbent President George W. Bush, saying Bush made a "colossal error in judgment" by going to war in Iraq.
In the most mild level, candidates compliment their opponents when framing issues. That happened in 1960, when Kennedy called Nixon an "effective leader of his party" while adding the question is which point of view and party should lead voters.
Trump's past strategies of "ridicule or insult," while they've worked early in the campaign, are "not necessarily a strategy he can use and get away with in the general election debate," he said in an interview.
"If he uses it selectively, he might get away with it but if he opens that door maybe Hillary's team has got some sort of response planned," he said.
Clinton, on the other hand, has the question from some voters about her likability, so if Trump challenges her and she feels pushed, her response could confirm those perceptions. Yet if she doesn't respond to Trump's challenges, there's also the risk of looking weak.
He adds this qualifier: "I have no way of knowing and the dynamics might change. It might start out really friendly and then get to be aggressive."
Contact Ben Botkin at bbotkin@reviewjournal.com or 702-387-2904. Find @BenBotkin1 on Twitter.