Race for 4th Congressional District seat promises to be hard-fought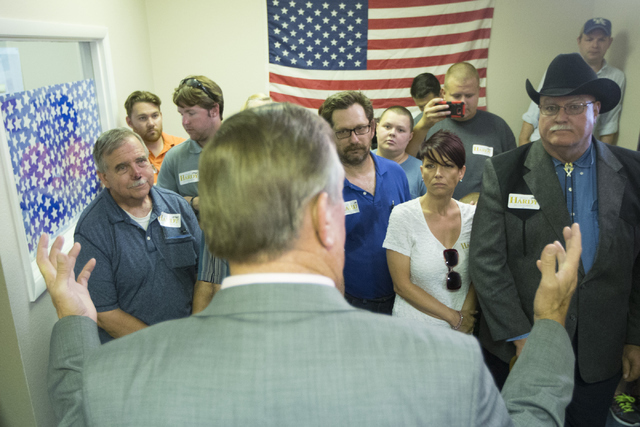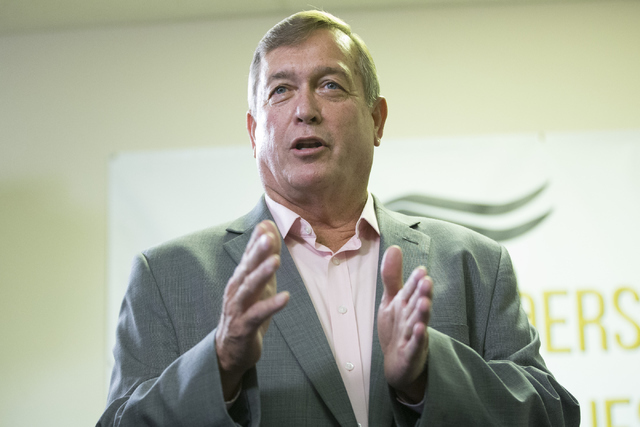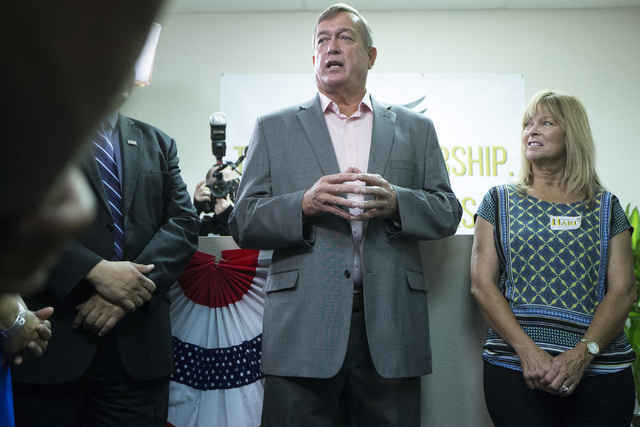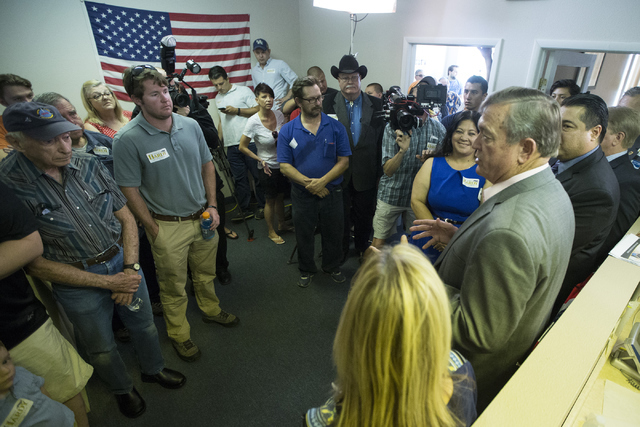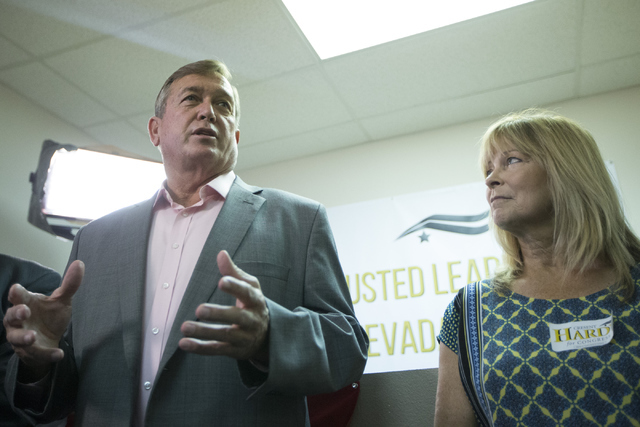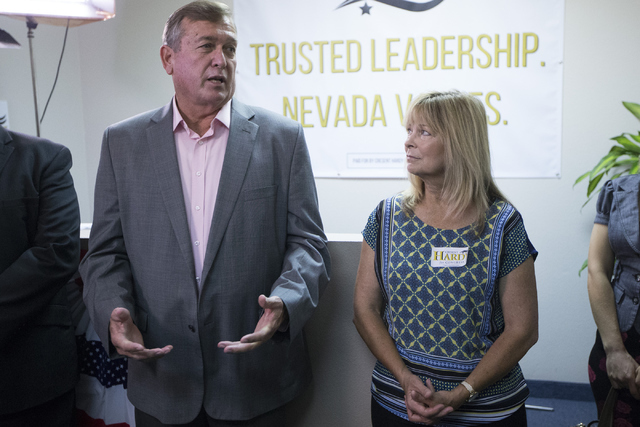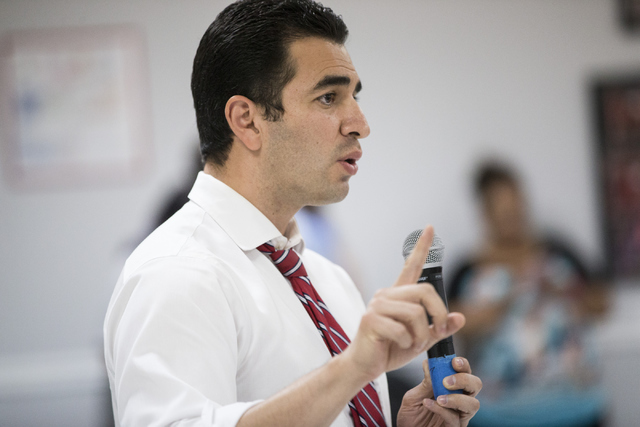 U.S. Rep. Cresent Hardy called Ruben Kihuen after the June 14 primary results came in to congratulate him on getting the Democratic nomination to run against him in the November election.
Kihuen, a state senator, asked the Republican congressman during the conversation for a date to debate. The request was an early indicator of what both men already knew: The race for 4th Congressional District seat will be competitive and nothing is taken for granted.
Hardy was elected to the seat in 2014, ousting Democratic incumbent Steven Horsford in the red wave that also propelled GOP candidates to power in both chambers of the statehouse. In an interview with the Review-Journal, Hardy said he's prepared for scrutiny as he runs to keep his seat in the district, which includes North Las Vegas and six rural Nevada counties.
"This time, the only thing that's different is I'm the incumbent and with that comes a closely scrutinized record," Hardy said.
Hardy won in 2014 with 48.53 percent of the vote to Horsford's 45.76 percent. In the district, Democrats have the voter registration advantage: 42.8 percent are Democrats and 36.6 percent are Republicans, according to Nevada Secretary of State figures. The rest of registered voters in the district are unaffiliated with a party or belong to third parties.
"I wasn't supposed to win in the first place, according to everybody," Hardy said of the 2014 race. "Republicans can get elected in this district and have done so."
Two years later, Hardy, who ran a construction company for decades, is pointing to his congressional record. It includes working on the passed highway bill and putting language in it for the planned Interstate 11 extension between Las Vegas and Reno and supporting protections to rangeland and natural resources in a way that also allows ranching.
"I think what really sets me apart is I ran on creating jobs and helping strengthen our economy and strengthening our infrastructure and helping veterans. And I accomplished that," Hardy said.
Voters should expect his approach in a second term to be similar to his first term, he said.
"I hope people do scrutinize my record," Hardy said. "It's one I can be proud of."
Of Kihuen, Hardy said, "I don't know that he's got any real accomplishments. He's a career politician."
Hardy said he is confident people will "understand who's the best qualified."
Being in office is challenging, but rewarding, Hardy said.
"It's tough to leave your family and fly almost 5,000 miles every weekend to and from your home, but it's a privilege to serve," he said.
Asked about the sit-in protest on the House floor that Democratic members had last week in an attempt to get support for gun control legislation, Hardy said it's "disruptive." Hardy said members of Congress were sent to Washington, D.C. to work, not play politics. The sit-in also drew criticism from other Republicans, including House Speaker Paul Ryan, who has called it a publicity stunt.
In an interview, Kihuen said the district of working class residents needs new leadership that will give them a voice.
"First and foremost I'm looking forward to debating Cresent Hardy on all the issues from gun violence prevention to raising the minimum wage," said Kihuen, who works outside of politics in the public relations field.
Kihuen is running with powerful Democratic allies. He has the backing of Senate Minority Leader Harry Reid, D-Nev., and the Culinary Union.
"I challenged him to a debate over the phone last week; he refused to give me a date," Kihuen said Thursday. "And so I hope this is not the beginning of avoiding discussing important issues."
Kihuen said Hardy's call to congratulate on the primary win was gracious, though the two don't have a debate date yet.
"He said, well I don't handle those things, my campaign does," Kihuen said, recalling the conversation. "So again that's the lack of leadership. That is your campaign. You can open up your calender right there on your phone and pick a date and say, 'We're going to debate this date.' He refused to."
In an email, Hardy campaign manager Ross Hemminger said: "We look forward to negotiating debates with career politician Ruben Kihuen. Cresent Hardy's record of standing up for the people of the 4th district versus career politician Ruben Kihuen's record as a do-nothing state legislator is a debate we look forward to having."
Kihuen said he's proud of his record in the state Legislature, saying he's backed legislative efforts to increase the minimum wage and promote equal pay for women who do equal work. In the 2015 session, Kihuen secured passage of the Silver State Opportunity Plan, a program that gives grants to low-income students for college.
"We're going to continue our ground operation," Kihuen said. "We're going to continue drawing a stark contrast between Cresent and myself, and I'm looking forward to debating him."
Even though there's a Democratic voter registration edge, Kihuen said, "We understand this is going to be a competitive seat. As we saw in 2014, nobody can take the seat for granted."
Contact Ben Botkin at bbotkin@reviewjournal.com or 702-387-2904. Find him on Twitter: @BenBotkin1