Report shows Las Vegas housing market finally stable
December 7, 2015 - 7:21 am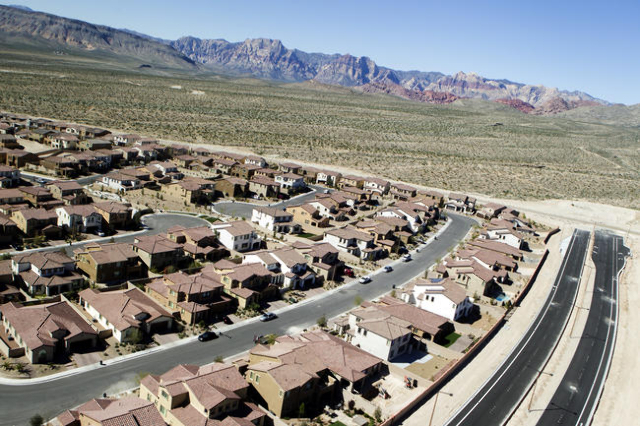 After years of nauseating ups and downs, the Las Vegas housing market is perfectly normal at last.
A Friday report from the Greater Las Vegas Association of Realtors showed the city further shaking off its decade-long roller-coaster ride, with resale prices holding steady for the fourth straight month and almost exactly pacing the national median.
The median price of existing single-family homes sold in November through the association's Multiple Listing Service was $220,000, unchanged since August, although up 8.9 percent from $202,000 in November 2014.
That local median essentially matched a national median of $219,600.
Keith Lynam, a longtime local Realtor and president of the association, said he couldn't remember the last time the market's median price stalled for so long.
"Local home prices have been so steady this year that we're starting to run out of synonyms for stable," he said.
An even market might be welcome to locals, who watched the median cost of an existing single-family home soar to $315,000 in 2006, only to plunge to $118,000 in 2012.
Lynam said prices and sales usually dip going into the holidays and through the winter, but he said this season may buck the trend.
Prices held up even as sales slipped a bit. Local Realtors sold 2,476 existing single-family homes, condominiums and town houses. That was down from 2,483 closings in November 2014.
Condo and town house closings were up 11.3 percent year over year, to 503 units. The median price of $116,000 was down 2.5 percent month to month but up 4.1 percent compared with November 2014.
Distressed sales also continued to lose market share. In November, 7.1 percent of local sales were short sales, in which the lender lets the homeowner sell the property for less than what's owed on the mortgage. That share was down from 9.6 percent a year earlier. Bank-owned sales made up 6.7 percent of the market, compared with 8.7 percent a year ago.
Cash buyers, who are often investors, purchased 33.2 percent of local homes in November, down from a February 2013 high of 59.5 percent.
Contact Jennifer Robison at jrobison@reviewjournal.com. Find her on Twitter: @_JRobison.