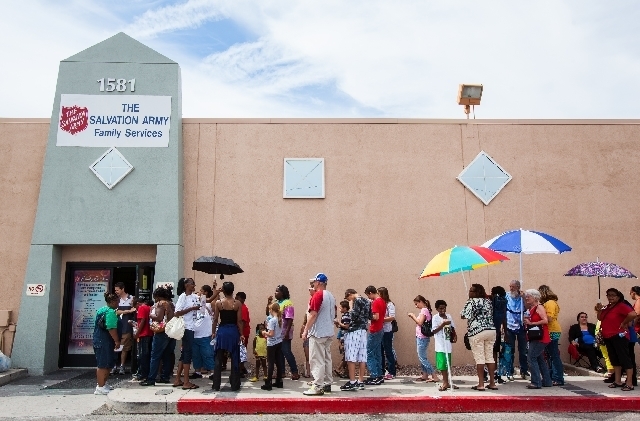 Every year, the list gets bigger.
Backpacks and reams of paper and glue sticks and scissors and colored pencils and crayons and Ziplocks and paper towels and folders and erasers and tissues and a three-ring binder to the exact specifications required.
This is an inconvenience for many people, the dreaded back-to-school supplies list. It's stuff that gets added on while shopping for new clothes and getting the youngsters a new haircut every August. Forty bucks, fifty bucks. So you skip going out to eat once or twice.
Except it doesn't work like that for a lot of people.
A whole lot of people.
"I can't keep up," said James Shaver, whose daughter Shelbie Rae is about to start the fifth grade.
Shaver was one of many hundreds of people who showed up Monday at the Salvation Army's family services site near downtown Las Vegas.
The organization is giving away backpacks and school supplies every day this week.
"It's an opportunity to get things I can't afford to buy," said Keisha Harris, who has three kids, two of them in school.
"It's a blessing," Harris told Bernadette Basilio, who runs the family services center.
Basilio said the Salvation Army has been giving away the supplies every school year for years now. The most they ever needed in recent years was 1,000 backpacks and sets of supplies. They got 1,300 this year, just in case.
That might not be enough.
Harris was the first in a line that stretched from the front door, through the parking lot, out onto Main Street, across the driveway of the place next door and up the hill.
In addition to the supplies, parents could sign up for services from several nonprofits, and they could get the required immunizations for their children from the Southern Nevada Health District.
Poor Shelbie Rae Shaver, 10, needed a shot. She squinted and she winced and, after it was over, she moved her arm around to make the pain go away.
"You'll just want to make sure she's moving her arm around a lot today, OK?" one of the workers told her dad.
Harris, the woman with the three kids, didn't need to get anybody immunized. But she did need supplies for both of her older kids.
She said there's no way she would be able to buy the supplies. She doesn't have the money.
"I'd feel horrible," said her daughter, Serenity, who will turn 10 next month. "I'd feel bad asking my friends for stuff."
Serenity got a pink backpack full of paper and glue sticks and everything a little fifth-grader will need.
Her brother, Sincere, who is 7, got a Spider-Man backpack.
The little one, Ant'juan, 3, who will be in preschool, didn't get his own stuff, but he didn't know that.
"Mine!" he said, waving the kiddie scissors in the air.
His mom gently took them away, put them back in the Spider-Man backpack and said they would work it out once they got home. There's still almost a week until school starts.
Contact reporter Richard Lake at rlake@reviewjournal.com or 702-383-0307.