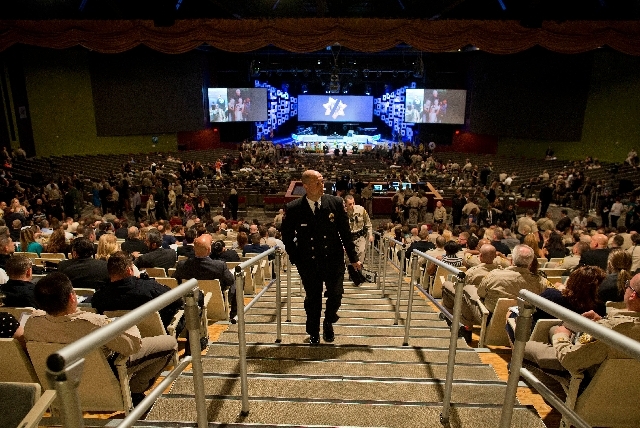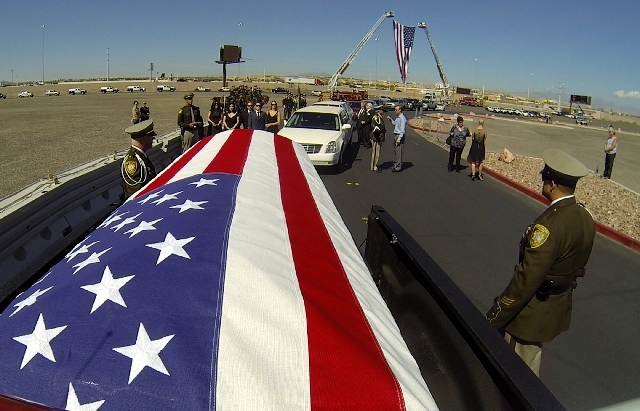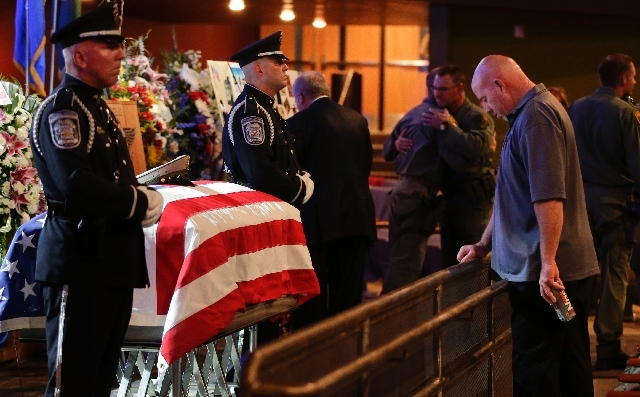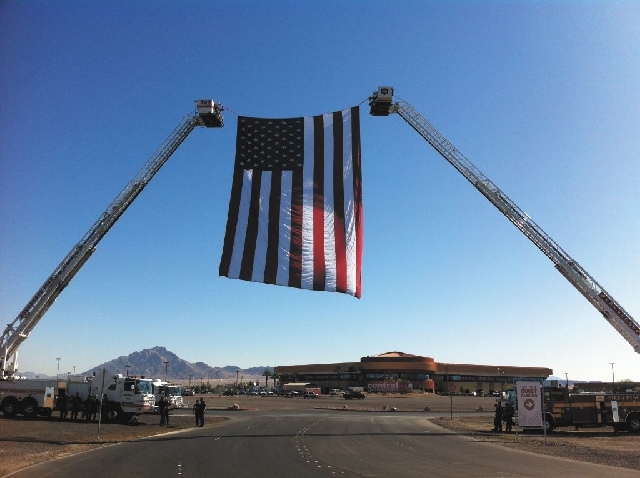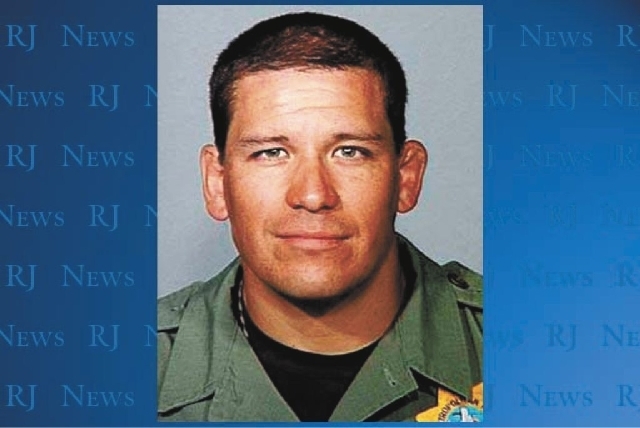 With a catch in her voice and tears in her eyes, Jennifer VanBuskirk stood in front of about 2,000 people Monday afternoon to say goodbye to her brother.
"My heart is forever broken," she said. "My brother was one of my very best friends. … He was a loving husband, loyal friend, wonderful uncle and my protector."
David VanBuskirk, 36, a Las Vegas police Search and Rescue officer, died last week during a late-night helicopter rescue of a hiker stranded near Mary Jane Falls on Mount Charleston.
The officer fell while being hoisted to the helicopter. An investigation into his death remains ongoing.
"He wasn't just my protector, he protected all of those around him," Jennifer VanBuskirk said. "Ultimately, it cost him his life."
Uniforms speckled the auditorium in Central Christian Church as men and women united in grief and love for a man they called friend and brother.
"He was a good man and he cared about each and every one of us," said Sgt. Gavin Vesp, David VanBuskirk's supervisor and friend.
Vesp recalled being hoisted to the area where VanBuskirk fell. Officers covered their friend's body to protect it from the rotor wash of the helicopter.
"As I got over there, I knew that there was nothing more that we could do for David in this life," Vesp said. "I remember touching his face. I remember helping him close his eyes for the last time. And I want everyone to know that David was at peace, and being on that mountain with him that night was the greatest honor of my life."
VanBuskirk, who was born and raised in Las Vegas, left behind a wife and an extended family. He had no children.
Clark County Sheriff Doug Gillespie told the crowd that VanBuskirk was charismatic, dedicated, intelligent and courageous.
"A life is often measured by the good will we leave behind," he said. "By that measure, David was exceptional."
VanBuskirk scored 100 percent on the written exam for his sergeant's test and was poised to leave Search and Rescue, where he had spent six years. Although he loved his job, he was intent on taking a bigger role and sharing his knowledge with younger officers, Gillespie said.
Sniffles were heard around the room as "Little Black Submarines" by The Black Keys played. Later, a video tribute showed a joyful VanBuskirk laughing and as he worked alongside his Search and Rescue colleagues.
As the service for VanBuskirk ended and his family left the church, chants of "6482" rang through the room as people recited his badge number.
"My job now is to raise my boys to be exactly like him," his sister said of VanBuskirk's two nephews.
The officer's body was escorted to the Henderson church from the downtown Palm Mortuary by a police motorcade, which took a detour on the closed-down Strip.
After the service, 56 motorcycle officers led the police truck carrying the American flag-draped casket into Palm Mortuary at 7600 Eastern Ave. for burial.
Few words could be heard as family, friends and fellow officers listened to a prayer, followed by a 21-gun salute.
Hundreds struggled to hold back tears behind sunglasses as bagpipers played "Amazing Grace" in the distance.
Gillespie approached the casket, removed his sunglasses, knelt down before VanBuskirk's wife and presented her with the flag that had draped her husband's casket.
The silence of the warm summer afternoon was broken as the officer's final radio traffic was played:
"Attention all officers. Attention all officers. Officer David VanBuskirk. P-Number 6482. May he rest in peace. Secure. Final."
Every officer — including some from North Las Vegas, Henderson, Boulder City, the Nevada Highway Patrol, the Washoe County Sheriff's Department and the Bureau of Land Management — walked by the casket, each giving VanBuskirk a final salute.
Three Search and Rescue officers, some of the first to salute VanBuskirk's casket, embraced in a tearful hug.
Contact Rochel Leah Goldblatt at rgoldblatt@ reviewjournal.com or 702-383-0381. Contact reporter Colton Lochhead at clochhead@reviewjournal.com or 702-383-0264.