Shovels in the ground, confetti in the air as MGM/AEG arena construction begins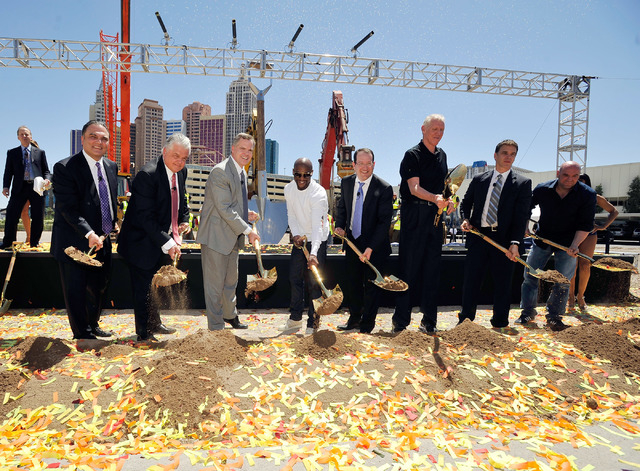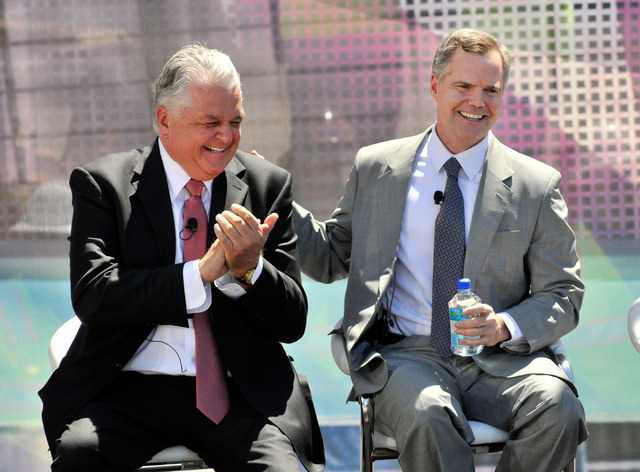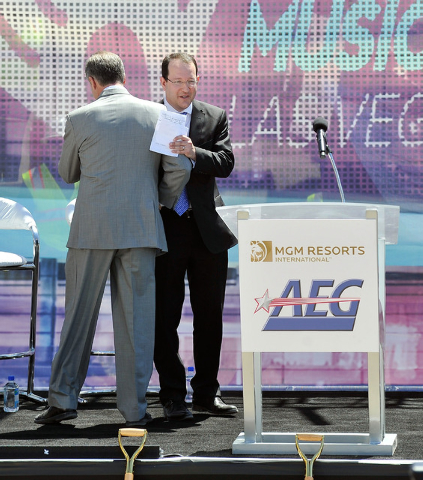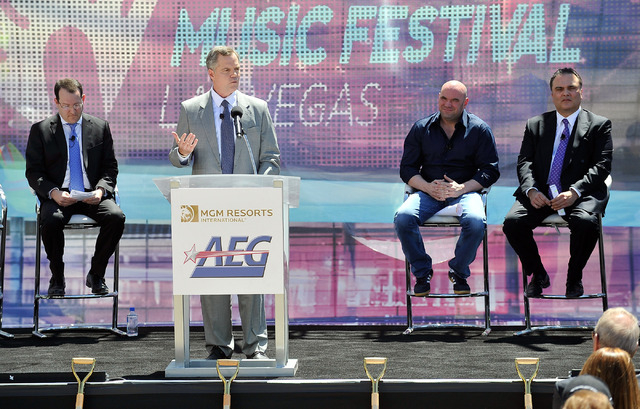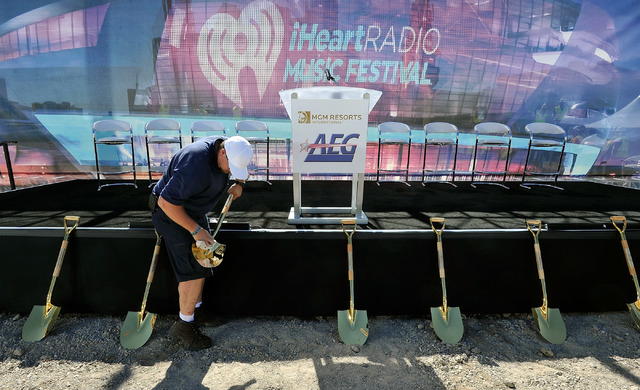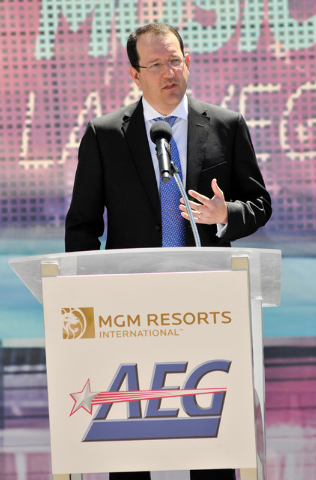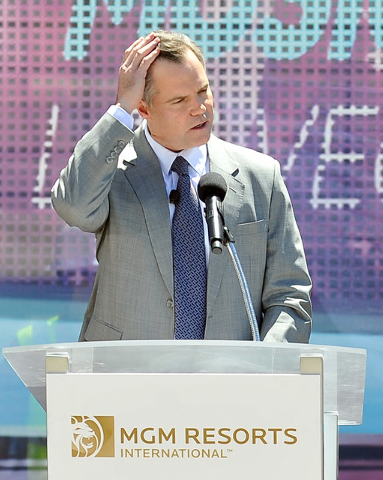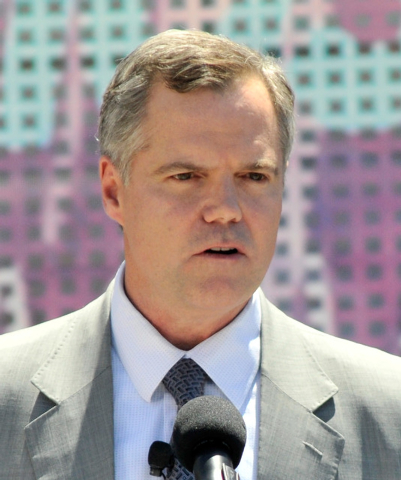 In the end, the Great Las Vegas Arena Race was won neither by the city of Las Vegas nor some deep-pocket Strip billionaire nor some fast-talking Texan.
The first shovel in the ground for Las Vegas' first major new arena in 30 years came Thursday during a milestone ground-breaking ceremony courtesy of the company with the most Strip properties — MGM Resorts International, and one of the world's powerhouse arena and entertainment companies, AEG.
On a pleasant, sunny spring morning, MGM Resorts and AEG officially launched the $375 million construction project with shovels hitting earth in a parking lot behind the Monte Carlo at 11:50 a.m. and confetti flying a few seconds later.
The 20,000-seat MGM/AEG arena plans to open in spring 2016 without a National Basketball Association or National Hockey League tenant. That's fine with MGM and AEG officials, who have crafted a business plan to tap a steady stream of mixed martial arts and boxing, concerts, award shows, college basketball and hockey tournaments and other sports. They anticipate about 100-150 events per year. The Las Vegas-based Ultimate Fighting Championship, the MMA fight event, promotion and media company, plans five or six annual fight shows at the new arena.
MGM Resorts Chief Executive Jim Murren and AEG Chief Executive Dan Beckerman welcomed the ground-breaking crowd, sitting in white wooden chairs near the Monte Carlo parking garage, next-door to MGM office buildings to be demolished to make way for the arena. Sports broadcaster Jim Gray served as host, and the list of speakers included UFC President Dana White, former NBA star Bill Walton and a "special guest" — Las Vegas boxing superstar Floyd Mayweather, who has said he would like to own NBA's Los Angeles Clippers.
"It's a big day for Las Vegas. It's a big day for Nevada. It's a big day for entertainment," Murren said. "We need to create the experience tourists are so yearning for. They want to be wowed."
FINANCING FINALIZED
Before the groundbreaking, Beckerman told the Review-Journal that financing was finalized with Bank of America. AEG has never announced an arena project and not built it.
"It's a milestone for us. We've been working on this vision for over a decade," Beckerman said before the ceremony.
Here's the way the MGM-AEG deal works: each party brought $75 million in cash to the table, for a total of $150 million in equity. That means MGM and AEG will pay off $225 million in debt, with Bank of America serving as the lead lender.
The project increased to $375 million from the original $350 million price because MGM and AEG agreed to add upscale seating areas and a nightclub, Murren said.
The arena project is significant for two reasons. First, it's not a private-public sports venue predicated on hosting a major-league sports franchise, which is a common model around the country. Second, in a metro area of 2 million residents that markets itself as the world's entertainment playground for adults, the arena will vault to the top of Las Vegas entertainment venues in terms of amenities, seating options and opulence. Las Vegas' current inventory of sports venues — 38,000-seat Sam Boyd Stadium, 18,500-seat Thomas & Mack Center and 9,300-seat Cashman Field — are functional sports buildings built lack the major revenue-generating bells and whistles of newer venues.
Every major touring concert and act is expected to make a stop at the new MGM/AEG arena, Beckerman said.
"This is a major, major project for our company," Beckerman said. "Las Vegas is a must-play market."
The MGM-AEG arena will be built with a wide array of money-making food and beverage features and high-end seating options, ranging from spacious clubs and 50 luxury suites to more than 25 luxury loge boxes and multiple outdoor balconies. It will also be built to NBA and NHL specifications, which is expected to fuel efforts to bring major-league basketball or hockey to Las Vegas. The NBA already holds its popular summer league in Las Vegas, while the NHL holds its player awards show here.
And with the NBA's efforts to force Clippers owner Donald Sterling to sell his team following a controversy over racist comments, expect headlines about a new owner moving the franchise to a dazzling new arena in Las Vegas.
"Clearly, Las Vegas is a great market and we think it can support an anchor tenant," Beckerman said. "If the (NBA or NHL) leagues approve a team for Las Vegas, we would be open to that."
Murren noted after the ceremony that MGM "will make money without any resident sports team."
UFC EVENTS PLANNED
The arena will host UFC events — and UFC's colorful White couldn't wait to inaugurate the arena.
"Nobody is more pumped about this than me and my team," White said.
Moving UFC fights to the new 20,000-seat arena means UFC will be able to sell 4,000 more tickets than at its MGM Grand venue. With an average ticket of $225, UFC stands to make about $900,000 more per event.
"I'm sorry to hear that," White joked.
Beckerman also said talks are underway for a naming rights deal for the arena and AEG has already started suite sales.
The MGM-AEG arena will be shoehorned into a 16-acre site behind the New York-New York parking garage and near the Monte Carlo parking garage, close to Frank Sinatra Drive on the west side of the property. A plaza and outdoor retail center will link it with the Strip.
MGM expects about 54 percent of arena patrons will be tourists. Parking will be provided in the CityCenter employee garage, New York-New York garage, surface parking at the Excalibur and a small surface lot south of the venue.
Politically, MGM and AEG avoided the headaches of lobbying local government for financial support. Neither company is asking for public dollars for the venue, which was designed by Populous, a widely known sports architectural firm in Kansas City. Denver-based ICON Group is project manager.
NO FINANCING FOR DOWNTOWN PLAN
Thursday's groundbreaking likely signals the death knell of Las Vegas Mayor Carolyn Goodman's plan for a downtown arena at Symphony Park. The city is working with The Cordish Cos. to develop a $390 million arena, but the financing has not come together and Cordish has said its project requires a sports team tenant.
Former UNLV basketball player and Las Vegas businessman Jackie Robinson has also proposed a $1.3 billion, privately-funded 22,000-seat arena and resort on the Strip. Robinson said he is pursuing financing for the project, which he wants to build between the SLS Las Vegas hotel-casino and the halted Fontainebleau. He wants to open the arena in December 2016.
Texas developer Chris Milam also proposed several unsuccessful arena projects, the last one in the city of Henderson. Milam was sued by Henderson officials, accused of using the arena proposal as a ruse to buy Bureau of Land Management property at a discounted price and then flip it to home builders. As part of the lawsuit settlement with Henderson, Milam agreed to never again do business in the city.
Clark County Commissioner Steve Sisolakon Thursday said that arena proposals have come and gone, but this one has legs.
"This one is real," he said.
Contact reporter Alan Snel at asnel@reviewjournal.com or 702-387-5273. Follow @BicycleManSnel on Twitter.