Sloan Canyon visitor station reopens after vandalism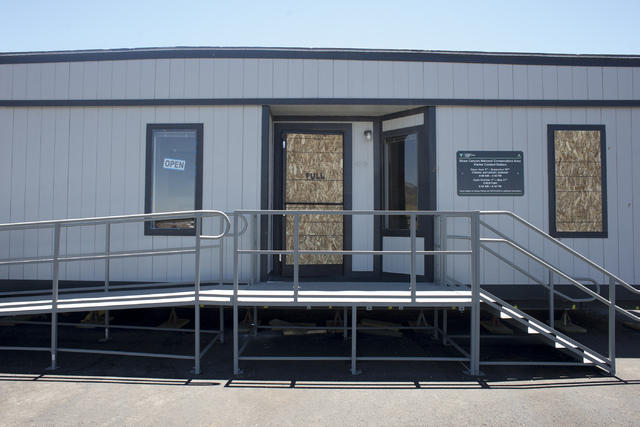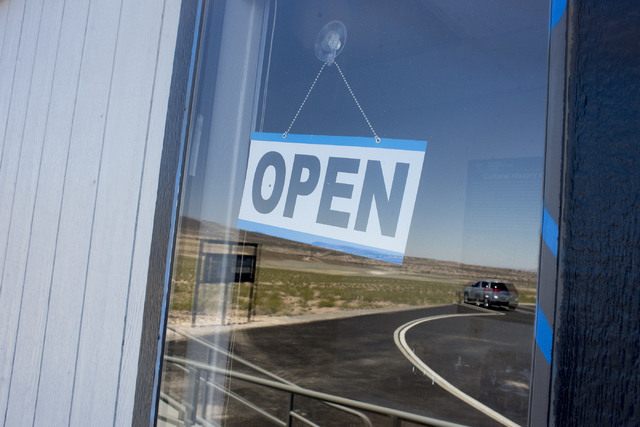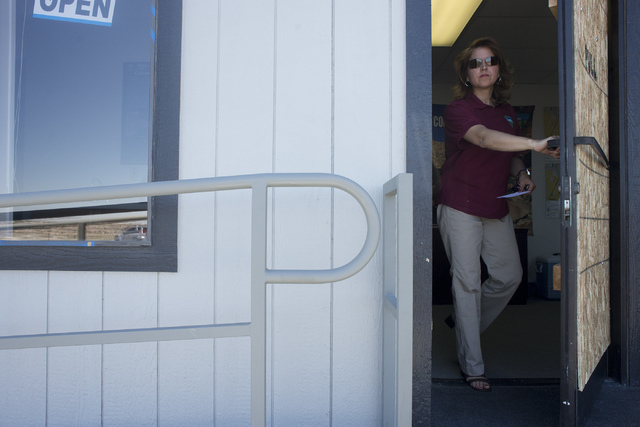 Advocates for Sloan Canyon waited years to get a paved access road, restrooms and other visitor amenities at the National Conservation Area on Henderson's southwestern edge.
Vandals waited less a month to go to work on the place.
Some time Monday night, someone tipped over a portable restroom and smashed the glass door and one of the windows at Sloan Canyon's new visitor contact station, which opened to the public May 20 at the end of a new paved road built to provide entry to the 48,438-acre conservation area.
The outside walls of the building were dented in several places by large rocks the culprits left scattered in the parking lot.
Other than the broken glass, no damage was found inside the structure. Whoever broke the window and door apparently did not enter the small trailer.
"Nothing was stolen as far as we can tell," said Gina Mele, lead park ranger for Sloan Canyon National Conservation Area.
"Unless they took a brochure," added Mark Sanchez, an outdoor recreation planner for the Bureau of Land Management, which administers the conservation area.
Mele, who discovered the damage Tuesday morning, said it was disappointing but wouldn't interrupt normal operations at the contact station. The facility opened as scheduled Friday morning with plywood covering the window and door.
"We will not let this incident ruin the enjoyment by others of this area," she said.
None of the site's ancient rock art or other cultural resources were targeted.
BLM Law Enforcement is investigating the vandalism, and anyone with information can contact the agency at 1-800-521-6501. Tipsters can remain anonymous.
Congress designated Sloan Canyon as a national conservation area in 2002 and seeded it with $63 million from the sale of federal land in southern Henderson, but little was done with the land until recently.
BLM officials have said they waited all this time to build the first paved access road other ammenities because they wanted Henderson to develop closer to the edge of the conservation area first.
Eventually, the BLM plans to build permanent facilities to replace the portable bathrooms and trailer at the site.
The contact station is staffed by BLM employees and volunteers from the nonprofit Friends of Sloan Canyon. It will be open from 8 a.m. to 4:30 p.m. Fridays, Saturdays and Sundays through the summer and daily starting Oct. 1.
Mary Kaplan serves as board secretary for Friends of Sloan Canyon and a volunteer greeter and trail monitor at the contact station.
"It breaks my heart to see vandalism like this — nonsense vandalism," she said Friday as she manned the front desk. "It's very sad because we worked so hard — everyone has — to make something we can all be proud of."
Review-Journal writer Max Michor contributed to this report.
Contact Henry Brean at hbrean@reviewjournal.com or 702-383-0350. Follow @RefriedBrean on Twitter.