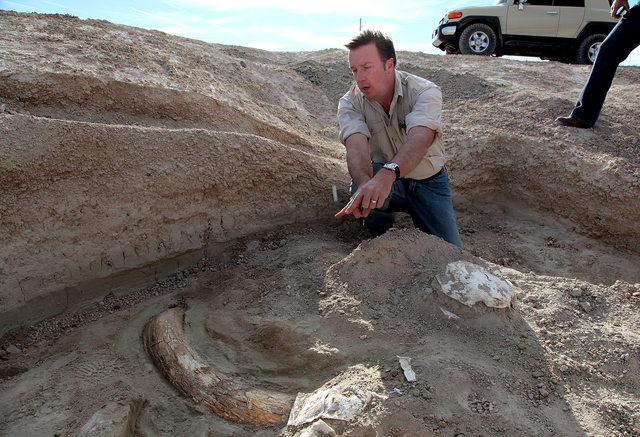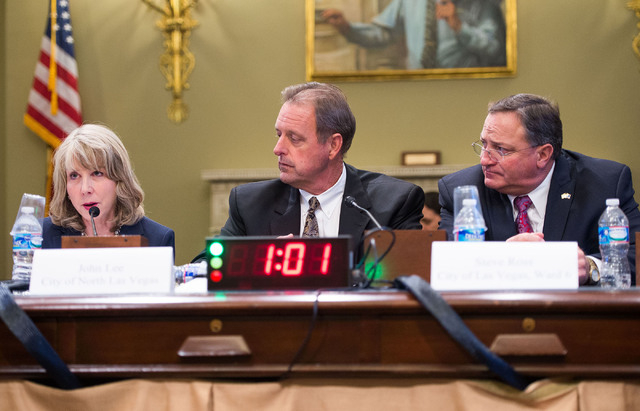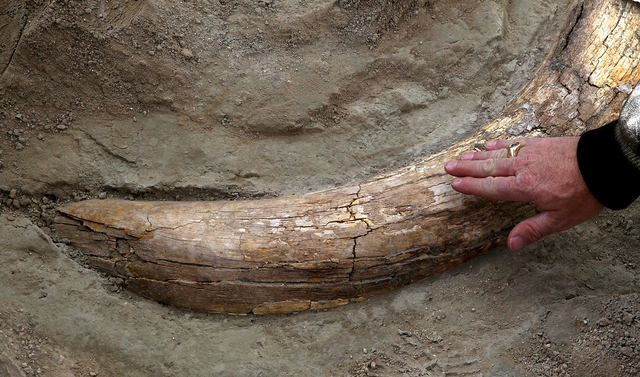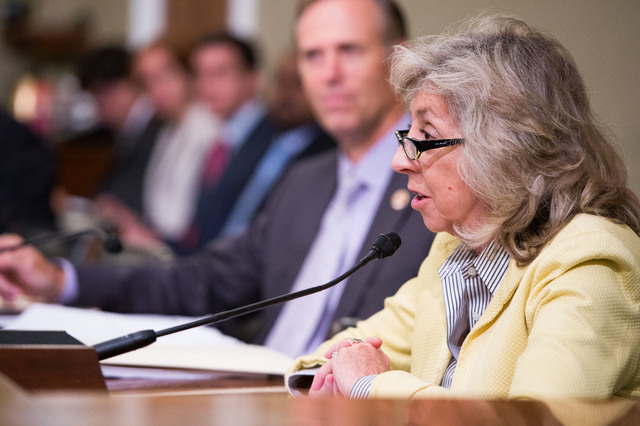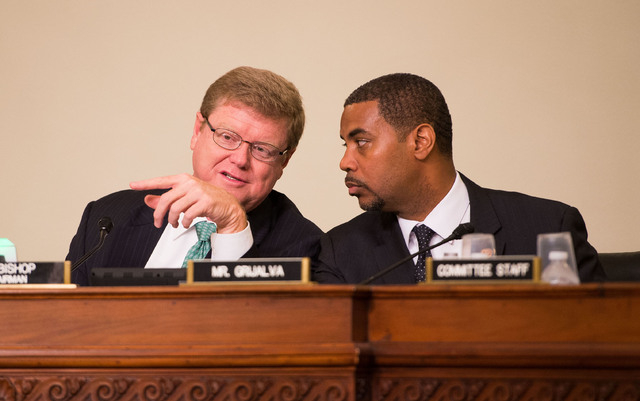 WASHINGTON — Sensing economic promise in a trove of prehistoric artifacts, Southern Nevada leaders asked Congress Thursday to grant special status to rich fossil grounds on the northern edge of the Las Vegas Valley.
A Tule Springs Fossil Bed National Monument would stamp an imprimatur on 22,650 acres of federal land in the Upper Las Vegas Wash. Paleontologists regard the land as a treasure for what remains of Ice Age mammoths, giant sloths, lions, camels and other creatures that roamed between 10,000 and 250,000 years ago when the now-desert was green with vegetation.
Local officials see it as an attraction for archaeologists and eco-tourists from around the world, and perhaps enough to draw more visitors to Las Vegas from the Grand Canyon and national parks in Utah.
The proposed Tule Springs monument is the centerpiece of broader legislation that would reorder thousands of acres of federal land throughout the valley and provide "a gigantic step in the right direction toward the region's economic recovery," North Las Vegas Mayor John Lee told a House subcommittee.
Lee was flanked by Las Vegas City Councilman Steve Ross and Kristin McMillan, chief executive of the Las Vegas Metro Chamber of Commerce. They told the House public lands subcommittee that the legislation enjoys wide support in Southern Nevada following long negotiations with the Air Force and NVEnergy over their interests in preserving flight and utility corridors.
All four U.S. House members from Nevada also showed up to endorse the bill, the most sweeping public lands legislation for Southern Nevada in a decade.
Tule Springs "is indeed unique and definitely has a place as a new park in the national park system," said Democratic Rep. Steven Horsford, the main bill sponsor. "The economic benefit is clear. Tule Springs will increase tourism by attracting more travelers to Southern Nevada and by increasing their stay in our region."
A 2012 survey by the U.S. Travel Association found that almost half the international visitors to Las Vegas also chose to visit the Grand Canyon, Death Valley or the Utah national parks at Zion or Bryce Canyon, McMillan told lawmakers. A natural attraction will give them another reason to spend more time in Nevada, she said.
"This is going to add to the mix of opportunities to diversify within the tourism sector and really points out the popularity of eco-tourism is on the rise," she said.
Conversely, Democratic Rep. Dina Titus said it might persuade visitors to the fossil beds to spend an extra night or two on the Strip. The national monument — the first one for Nevada — would border Las Vegas, North Las Vegas, the Las Vegas Paiute Indian Reservation and the Desert National Wildlife Refuge.
Other segments of the legislation also contain promise for development, officials said. For instance, it conveys 660 acres of federal land to Las Vegas and 645 acres to North Las Vegas.
With Las Vegas bordered on all sides by federally-owned land, efforts to open up that land "are critical to allowing our communities to expand and grow," Republican Rep. Joe Heck said.
Besides creating a national monument, the bill would expand the Red Rock Canyon National Conservation Area by 1,540 acres, expand the Metropolitan Police Department shooting range, and convey 1,886 acres to the University of Nevada, Las Vegas for a new campus in North Las Vegas.
The bill also would release 9,700 acres of BLM land on Sunrise Mountain from wilderness study status, allowing it to be opened to various uses. It also would expand Nellis Air Force Base by 1,120 acres,
While some congressional hearings were postponed because of the government shutdown, the House public lands subcommittee went ahead with this one that gathered testimony on 11 bills and drew witnesses from New York, Kentucky, Connecticut and Montana in addition to Nevada.
However, no Interior Department representatives were present to give their views, which will be added later in writing.
In Senate testimony this summer, Interior said it approved most of the Tule Springs bill. Citing ongoing studies of naturally occurring arsenic in the area, it expressed reservation over one provision that would deliver 1,211 acres between Nellis Air Force Base and Apex to Clark County to create an off-road vehicle park.
But Horsford said Thursday that obstacle to the Nellis Dunes provision was removed when local officials appealed to Interior Secretary Sally Jewell during her visit to Las Vegas in July.
It remained unclear when or whether the bill would advance further this year with Congress all but consumed with pressing fiscal and budget issues. Horsford and Republican Rep. Mark Amodei, who both sit on the natural resources committee, said they were hopeful the panel would put it to a vote, but added they could not make any promises.
"I am very idealistic," Horsford said. "I believe bills like this that have complete support should be able to move forward."
Contact Stephens Washington Bureau Chief Steve Tetreault at 202-783-1760 or STetreault@stephensmedia.com. Follow @STetreaultDC on Twitter.