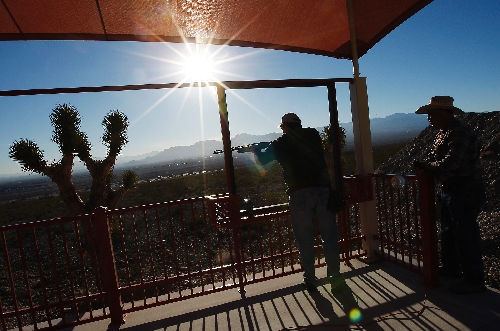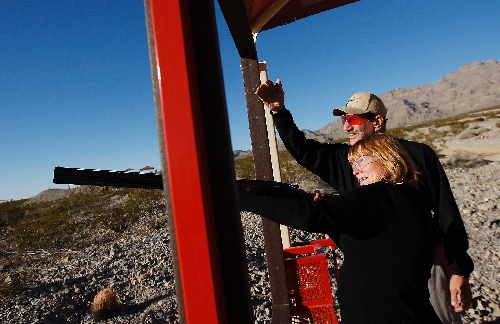 The string of parked golf carts seems ordinary from a distance.
But while they resemble their counterparts on the fairways, the carts at the Clark County Shooting Complex are loaded for another purpose.
Gun racks and shotguns take the place of clubs and putters. And it's not golf balls or tees clacking around in the boxes you hear, it's ammunition.
The Clark County Shooting Complex opened its sporting clays course Thursday, featuring both a facility and sporting opportunity unlike any other in the Las Vegas Valley.
Meant to mimic a hunting environment, shooting clays differs from other gun sports in one major way: The target never moves the same way twice. Across the desert terrain, with a panoramic view of the Strip, shooters aim to hit more than 90 types of targets angled, thrown and launched in different ways.
And like the animals each target is meant to mirror, the clays react differently to their environments: some skipping off rocks like a rabbit and others catching the wind and fluttering down like a bird.
"The variety of the sport has a whole new group of people coming in," said Steve Carmichael, project manager of the course. "This is totally different from everything else. And the sport stays different. It's nearly unheard of to get a perfect score. If you break half on clays, it's a good day. But it's not competitive, it's fun."
With 30 different stations, each featuring three different shots in varying conditions, it's nearly impossible for a shooter to get the same shot twice.
And that's the point.
"This isn't your typical shooting range," said Neil Johnson, an avid shooter and owner of Gauge Shooting Academy. "This is a lot more fun than poking holes in cardboard or paper. These targets are moving."
Despite the fact that it might seem difficult to shoot a moving target, clay courses typically attract shooters of all skill levels. But shooting clays is more than just practice for the annual hunt. It also offers a social aspect that other gun sports lack.
Modeled after a golf course, a shooting clay course is set up in stations that shooters make their way to one-by-one in a motorized cart. As shooters talk and keep score, they can buy beverages and snacks from waitresses who drive around on carts. The course is an opportunity for teaching friends different styles of shooting and is often a popular family event.
"We just recently had a family call and bring their 8- and 9-year-old girls out to shoot," said Johnson. "They were so small that one of our trainers had to get on his knees to help the girls hold and shoot the guns. But once they hit the targets we placed out for them, they were jumping up and down and screaming because they were so excited."
Like most activities, the interest starts with the competitors, but moves on to friends, family members and co-workers once word gets around, Carmichael said.
The course plans to host about four national tournaments a year, will be available for corporate events and offers training to beginners and pros alike.
The sporting clays course will be open Wednesday through Sunday from 7 a.m. to dark. Expenses include $32 to shoot 100 targets, $50 to rent a cart for the day and $20 to rent a shotgun for the day.
Contact reporter Tara Verderosa at tverderosa@review
journal.com or 702-383-0264.