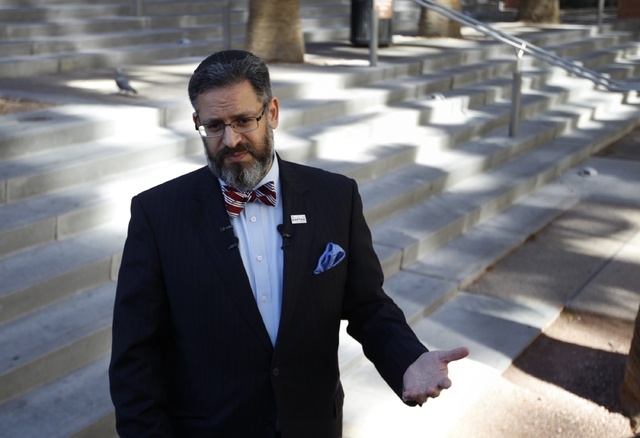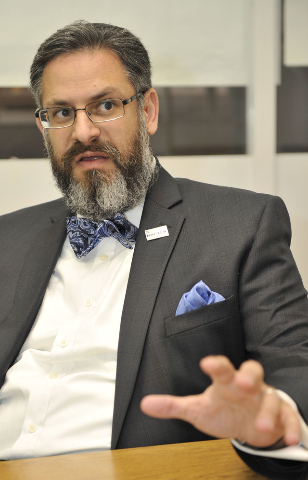 A State Bar of Nevada disciplinary panel recommended a six-month suspension Friday for lawyer Jacob Hafter over derogatory public comments he made about a district judge in 2014.
The recommendation, which followed a contentious two-day hearing, will be forwarded to the Nevada Supreme Court.
Assistant Bar Counsel Janeen Isaacson, who prosecuted the case, had sought a one-year suspension, calling Hafter a "danger to the profession" and someone who blamed everyone but himself for his troubles.
"He has no respect for the truth, the profession or the public," Isaacson said.
Hafter, an orthodox Jew, rushed out of the hearing about 6 p.m. to make it home for the Jewish Sabbath immediately after the panel informed him of its unanimous decision. He told the three panel members before they began 20 minutes of deliberation that he had to be home by sundown.
Throughout the hearing, the outspoken Hafter was combative and critical of the disciplinary process that led the State Bar to file a two-count complaint against him in April over his inflammatory 2014 comments about then-District Judge Valorie Vega.
Hafter, who represented himself on Friday, even once asserted his Fifth Amendment right against self-incrimination.
He accused Isaacson of having a "vendetta" against him and the disciplinary panel's chairman, Paul "Luke" Puschnig, of having his mind made up before all of the evidence was heard. Puschnig denied the allegation and said he viewed it as a personal insult.
At one point, Hafter said he no longer was accepting new clients and wanted to get out of the field of litigation in Nevada.
"If the bar continually wants to go after me because I exercised my First Amendment rights, whether they be religious practices or free speech, I don't really want to be part of such an organization," he told the Las Vegas Review-Journal during a break in the proceeding. "It makes me sick to be a member of a profession that has such little regard for its members' constitutional rights."
The bar complaint alleged that Hafter publicly chastised Vega in 2014 for denying a motion to alter a two-week civil trial schedule to accommodate a Jewish holiday. At the time, Vega was presiding over the medical malpractice case that Hafter was defending, and Hafter was running for another seat on the District Court bench.
Hafter accused Vega on his Facebook page of religious discrimination and suggested she was "anti-Semitic or racist." The Review-Journal quoted him as saying, "Either she's anti-Semitic or she's biased against me. In either case, she shouldn't be the judge in this case."
The complaint also accused Hafter of fraudulent conduct and making misrepresentations in Nevada legal proceedings to evade a $137,000 judgment against his law firm in Arizona.
Puschnig said late Friday the disciplinary panel found that Hafter had violated six of the nine rules of professional conduct alleged in the complaint and that his actions had a harmful impact on the legal community and the court system.
The panel also recommended that Hafter pay the cost of the proceedings, and Puschnig suggested that Hafter needed to deal with anger management issues.
Hafter denied wrongdoing throughout the hearing and argued that the bar's case was prompted by opposing lawyers engaged in active litigation with him.
"I have learned that when you are a strong adversary who litigates in this system, your opponents will employ any and every resource available to try to take you down — even filing bar complaints," he said in his closing argument.
"While I enjoy the fight, I am sick and tired of having my reputation and profession jeopardized because the attorney sitting across from me can't win by litigating within the rules."
Contact Jeff German at jgerman@reviewjournal.com or 702-380-8135. Follow @JGermanRJ on Twitter.