Survey finds surprising gaps in social services in Las Vegas
December 16, 2012 - 1:59 am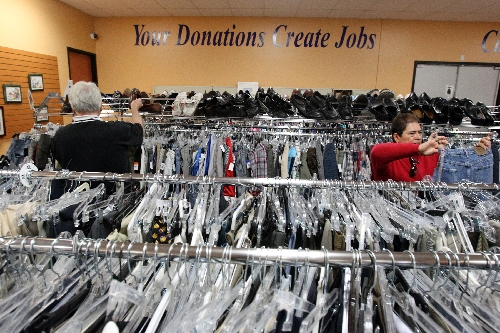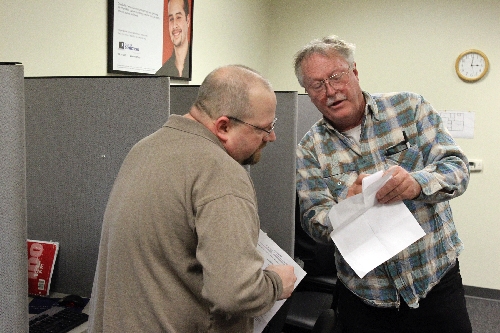 Cherlynn Brown rifles through a few bags of bread and boxed goods at Catholic Charities.
It was either put food on the table or pay for her son's high school cap and gown. There wasn't enough money this month for both.
So the 32-year-old single mother decided to pay for the graduation gear.
"You can't just say you don't need that stuff," Brown said. "I have to sacrifice – not putting some extras on the table, so I can make sure he's able to be there."
As a result, she enrolled for the first time in a monthly food assistance program, getting about $25 worth of groceries to feed her two teenage sons.
Food and utility costs are increasing while pay raises at her job as a private company dispatcher are nonexistent, she added.
"Yeah, it hurts," Brown said. "But it's better than nothing. It helps."
Many local families struggle with these types of decisions – prioritizing and making sacrifices, getting by on less. A report recently released by the United Way of Southern Nevada and Applied Analysis provides a snapshot of community need for social services and gaps in providing those services. The goal is to channel money and resources to where they help the most.
According to a survey done for the community assessment report, the valley's four critical areas are employment, public safety, health care and education.
In the past decade, Southern Nevadans' concerns about health care and education have shifted. Once, we worried about a lack of health insurance coverage for children; now over-reliance on emergency room visits for primary care is an issue. And where teacher pay and rapid classroom growth were top issues, we're as likely to express concern about poor reading and math skills, according to two similar reports commissioned by United Way in 2003 and 2007.
This year, more than 400 people were surveyed at bus stops and services that provide help for the needy, by phone and on the Internet. They were separated into the general and at-risk populations, those who live at or below the poverty line. Philanthropists also were surveyed.
In an interview shortly before his death, Monsignor Patrick Leary, executive director of Catholic Charities, said the assessment shows evolving needs for social services valleywide.
"If somebody was homeless, it was just a matter of stabilizing their condition and sending them out to get a job," he said. "That disappeared on us overnight, really. That required us to take a harder look at how we provide social services throughout this valley."
Jeremy Aguero, principal analyst at Applied Analysis, which compiled data for the United Way report, said problem-solving happens when service providers, philanthropists and the at-risk population – people living at or near the poverty level – discuss how to channel resources for the greatest impact.
"If we don't have the people who provide the services behind it, and if it's not something the community views as a community need … then what the hell are we doing?" Aguero said.
Services often are delivered in a "shotgun approach," with providers addressing problems that are not priorities to the community, or addressing none at all, he added.
About 230,000 of Clark County's more than 1.9 million residents are living near the poverty level, according to 2010 census figures. The national poverty line for a family of four is $23,050.
Aguero said one in five, 20 percent, is living at or near poverty.
And the demographics are changing. Services geared to 55-year-old single, unemployed men with substance abuse issues are now needed by families with children or 20-year-olds returning from war.
"You began to deal with people who used to be middle class, who never came to a place like this before for services," Leary said. "And there's a higher degree of bitterness and frustration and anger. We really had to address how we delivered services."
That includes better communication to eliminate duplication and expanding technology to ease access to resources.
EDUCATION
Brown, the single mother, said her main concern is ensuring her children graduate from high school.
"You're not able to make as much money without an education," she said. "That's my biggest focus right now. So they can succeed, stand on their own two feet, and they're able to provide if they decide to have their own families. So the struggle won't be as hard."
The report shows 51 percent worry about high school graduation rates and the quality of education.
According to the U.S. Department of Education, Nevada has the lowest graduation rate in the country at 62 percent. The national average is 80 percent.
Most of the respondents said they were concerned about reading and math proficiency, and highlighted the need for parental involvement.
Brown said she is heavily involved in her sons' schools.
"I don't send my sons to school for teachers to baby-sit them," she said. "It's up to you whether you succeed or fail."
Las Vegas Mayor Carolyn Goodman, who helped coordinate local nonprofit groups to identify gaps in social services, called education "the great equalizer."
"We do not demand of our schools what we should be demanding," Goodman said. "It is reading, math skills, history – you have to learn the basics before you can be creative."
Goodman said parents need to be held accountable.
"It doesn't take a village to raise a child; it's about parenting and not giving that responsibility to everybody else," Goodman said.
Aguero, the analyst, said education and employment are closely related concerns.
"People were telling us, 'I don't have a job because I'm not employable.' " Aguero said.
EMPLOYMENT
Bobby Bartlett, 61, a former hotel manager, has worked at casinos in Las Vegas and elsewhere. Now, he's looking for a job through a Catholic Charities work program. Bartlett said he "got caught up in the economy," and now lives at a shelter.
"I don't have an addiction. I don't have a police record," Bartlett said. "I'm just down on my luck. I'm 61, I don't have a job, and I don't have any family. I have to go where I have to go to keep from sleeping on a piece of concrete. It's a shame."
He said it's important to improve community services.
"When you ignore someone who is trying to pick themselves back up, that's like putting a nail in the coffin," Bartlett said. "They'll sit back and say, 'You know what? I've tried, now I'm really giving up.' So then you'll see them sit on the sidewalk in the same place every day of their lives, not trying to help themselves at all."
According to the Nevada Department of Employment, Training and Rehabilitation, unemployment in October dropped to a seasonally adjusted 11.5 percent, the lowest in 3½ years. Las Vegas unemployment leads the state, at 11.1 percent, not seasonally adjusted.
Both rates have fallen since last year, but availability of jobs is only part of the picture.
Bartlett said his greatest challenge is learning new skills.
"I've been in the hotel service for 40 years. I don't know too much of anything else," he said. "It's pretty obvious at 61 years old I'm not going to be digging ditches either. I have to retrain myself or change my way of thinking, change how I make my resume, to sell myself differently than I used to because things are more complicated than they ever were."
Steve Chartrand, Goodwill of Southern Nevada president and CEO, said the nonprofit organization offers training and job placement through its Career Connections program. The group is working with Nevada Women's Philanthropy to provide jobs for more than 400 veterans and their families.
"We are a competitive employer, and we know what employers are looking for," Chartrand said. "For us, it's all about building relationships with employers, understanding what their needs are and building relationships for job seekers. We act as a broker … to find the right matches."
Jeffrey Hatfield, 60, sat in the Career Connections office, frustrated that his email wouldn't work. Out of work since losing a part-time job as a manual machinist 15 months ago, he has been searching the Internet for three weeks, struggling with a lack of computer skills.
"I want to go to work doing anything, but opportunities are hard to get," Hatfield said. "I'm deficit-spending to survive. When your life savings is going out the window, you'll do anything."
He applied for food stamps this month, a first for the Vietnam-era veteran. He said he needs to learn new work skills.
"Now there are all these computer programming skills I don't have," Hatfield said. "I need the income."
Cass Palmer, president and CEO of United Way, said the data support Bartlett's and Hatfield's training issues.
"What we really found was the 40-year-old construction guy that doesn't have the skill set to go to a different entity," Palmer said. "So they're stuck."
Palmer said that means community colleges need more resources to retrain people like Bartlett for new careers.
TRANSPORTATION
Angel Canche, 44, participates in the Catholic Charities work program. After seven months of unemployment, he recently picked up janitorial work for an advertising company.
While transportation did not rank in the Top 4 issues in the United Way report, Canche said access to public transit is as important as education and employment.
"Most of us don't have anything, so to get a bus pass is difficult for us," Canche said. "Also, to move from one place to another, it takes forever. If people miss a connection, you've got another hour to wait. It'll drive you nuts. It's not easy. To get to these places, the whole day is gone, pretty much."
Aguero and Leary both expressed surprise that transportation issues were not ranked higher.
"Oddly enough, we thought transportation would be a huge issue, and we found out it was not," Leary said. "We're starting to chew on that a bit now. Is it because they have no jobs, therefore they have no place to go? Or is it a different issue? That was a surprise."
HEALTH CARE
When Bartlett was laid off from his job as a hotel casino manager, he lost health insurance – a priority for an aging man.
"Right now, the only place I can go is the emergency room," Bartlett said. "I've seen people who have had something happen to their health, and it's been disastrous to them. It's just ruined them. They can't get medical care that they should be getting."
He has gone to the county-owned University Medical Center because he cannot afford his own doctor.
"I've seen how they treat me without insurance," Bartlett said. "If you don't have health insurance, you're not going to get quality medical care. That's no secret to anybody."
Nor does Canche, the janitor, have health insurance or a doctor. If he gets sick, he would "probably go to the emergency room."
A majority of those surveyed for the United Way report and who lack access to health care said they would seek help at an emergency room or UMC. That adds to the stress on local social services providers.
ER treatment is the most expensive primary care, and Southern Nevada's only public hospital has lost more than $70 million in each of the past three years in caring for people who can't pay or who rely on Medicaid.
Clark County Commissioner Chris Giunchigliani, who also helped coordinate local nonprofit groups to identify community needs, said that number is "proof of what we need to do with health care overall."
"We need to be educating people that if you've got a cold, you don't go to the emergency room," Giunchigliani said. "But more importantly, people who are uninsured or underinsured, how do you deal with that part? That's why we should be expanding Medicaid, no matter what, until you change the culture and the mindset."
Vincent Collier, 36 and living at the Catholic Charities shelter after serving time in jail for larceny, is concerned about access to mental health care.
"I really believe there needs to be a roaming van of mental care," Collier said. "Some of these people really need help. There are some people who really have some issues, who have been pushed to the side."
Leary agreed.
"In mental health care, we're woefully lacking," he said.
The Salvation Army recently closed three mental health programs to cope with millions of dollars in debt. The cost-cutting displaced about 75 homeless and mentally ill clients.
PUBLIC SAFETY
Public safety and crime-related concerns identified in the survey included substance abuse, child abuse or neglect, gangs and home invasions.
Police behavior also ranked in the Top 10 public safety concerns.
Giunchigliani said the ongoing debate over officer-involved shootings and coroner's inquests may have pushed police behavior to the forefront. She said she wants people to trust officers.
"Everybody wants to paint them all with a broad brush, and it's not fair," she said.
Brown, the single mother, said she is confident in law enforcement.
"I believe they do the best they can with what they have," she said. "They're people, too."
Yet 30 percent to 40 percent of United Way survey respondents said Southern Nevada "was not a safe place to live."
Aguero said he was amazed by those figures.
"I just couldn't ever imagine that percentage of the population, both at-risk and not, would say that they don't live in a safe neighborhood," Aguero said. "I knew we had challenges with crime rates and those types of things, but that really surprised me, how high it was."
Despite that statistic, more than 80 percent of both the at-risk and general populations reported they were not the victim of a crime in the past year.
And 80 percent of community leaders and philanthropists said Nevada is generally a safe place.
According to Las Vegas police, violent crimes, including homicide, sexual assault, robbery and battery, have declined 3.45 percent from Dec. 1, 2011 to Dec. 1, 2012.
Overall crime in the past five years is down 20 percent.
Murders are down 43 percent; rape is down 10 percent; aggravated assaults are down 5 percent; robberies are down 26 percent; and auto theft has fallen 61 percent.
"The statistics do not support anything other than the conclusion that crime within our valley is dropping," said police spokesman Bill Cassell. "Does that necessarily equate to a feeling of safety? Not necessarily. The feeling of safety is a perception."
Automobile deaths are up 47 percent in that same five-year period, he added.
"That is absolutely unacceptable," Cassell said. "Every law enforcement jurisdiction in Southern Nevada is working to identify the problem to bring those numbers down. But that's something the public has direct control over. It's their decision to obey traffic laws. When they're pedestrians they can look before they step into the street, and a majority are pedestrian error."
Cassell did not address police behavior because the report didn't define it.
"It's too generic to even respond to," Cassell said.
As for concerns about drugs, Cassell said police are busting more grow houses and news coverage is raising awareness about the problem.
"All of these things they're concerned about, we're concerned about," he said.
Brown, the single mother, said she feels safe in her North Las Vegas home.
"But … outside of my community, it's a whole 'nother level," she said. "There's a lot of crime. Police are around all the time. At the corner store, people are begging for change. I'll go a longer way and go to a different store. A couple of people have been killed up the street. It's a big concern for me, and my boy is trying to do something with himself."
In February, the Lincy Institute will suggest ways to fill gaps in those services. Then, the United Way and a coalition of nonprofit groups will develop a plan to disburse funds to have the most impact on the issues deemed most important by the community.
Snapshot of Clark County Needs