Things to do for Valentine's Day in Las Vegas
Updated February 1, 2023 - 12:49 pm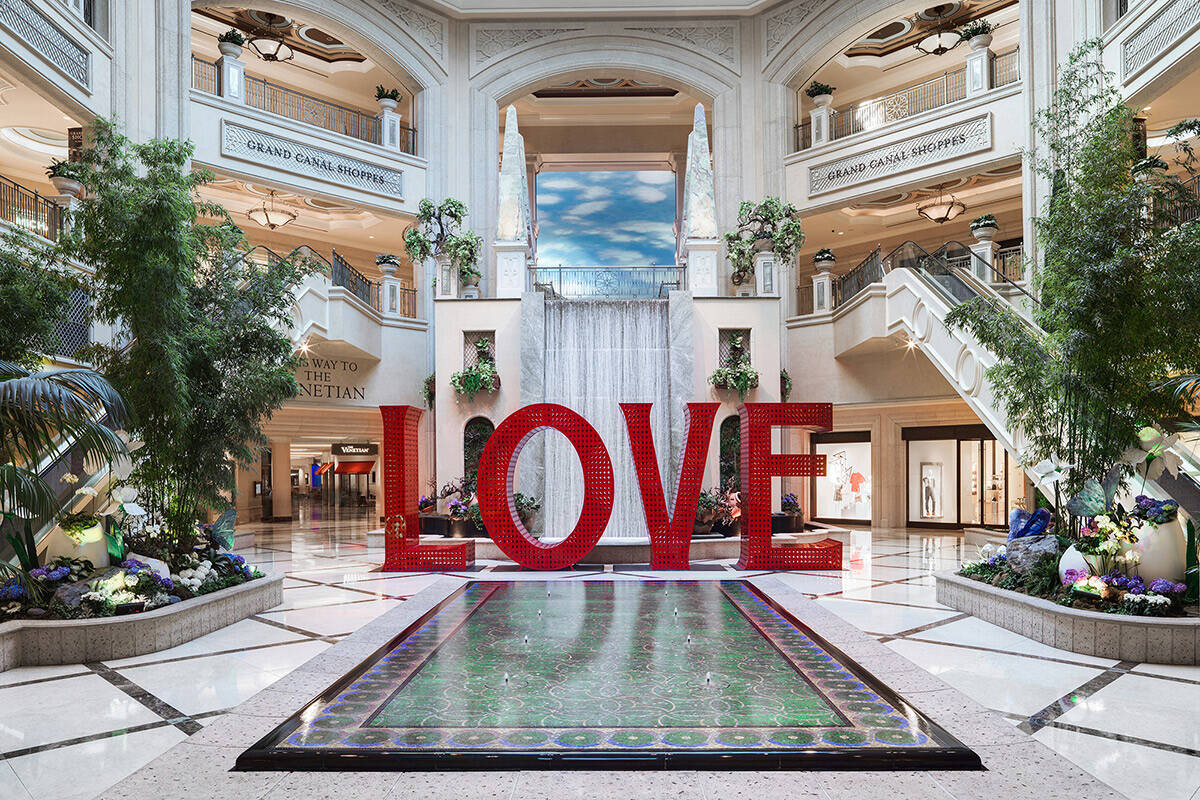 From special wedding packages to Valentine's Day-themed axe throwing, Las Vegas has a variety of Valentine's Day activities.
Cloud9 immersive indoor picnic at Area 15
Address: 3215 S. Rancho Drive
Date: Feb. 13
Area 15, known for its out-of-this-world immersive experiences, invites guests to celebrate their Valentine's Day inside The Portal — an entertainment space built to show floor-to-ceiling, 360-degree immersive displays.
Visitors will be transported into a "whimsical, neon-lit wonderland" with the displays (although exact details of the display are a surprise).
Guests will enjoy a picnic basket filled with treats, champagne and a four-course dinner at a table for two at this Valentine's Day-themed event. Attendees can also make glow art paintings to take home.
To book a reservation, visit area15.com/events/cloud9.
Free entry at The Mob Museum
Address: 300 Stewart Ave.
Hours: 9 a.m to 9 p.m. daily
The Mob Museum's birthday falls on Valentine's Day, and offers free admission for all to celebrate.
The Underground Speakeasy & Distillery, located beneath the museum, will be open on Valentine's day from noon to 10 p.m. It's the Bee's Knees (which is also the name of one of their popular Prohibition-era cocktails).
Ethel M Chocolates' "Lights of Love" Cactus Garden Display
Address: 2 Cactus Garden Drive, Henderson
Dates: Feb. 3 through Valentine's Day
Hours: Cactus Garden hours are 5 to 10 p.m. nightly, store hours at 10 a.m. to 10 p.m.
If you want to warm up a prickly Valentine's Day date, try visiting the "Lights of Love" Cactus Garden display featuring half a million rosey-colored lights.
On Valentine's Day, Ethel M Chocolates is hosting chocolate tastings for two with wine for those over 21. The tastings will feature the factory's White Chocolate Truffle, Pecan Caramel Rapture, Peanut Butter Heart and Lemon Satin Crème Heart chocolates.
Love Art Installation at the Venetian
Address: 3355 S. Las Vegas Blvd. (inside the Venetian Resort)
Located in the Venetian's Waterfall Atrium, this installation featuring 12-foot tall, 36-feet wide red letters spelling out "LOVE" makes for a great photo opportunity for those visiting the hotel-casino with loved ones.
The installation is part of mixed media artist Laura Kimpton's Monumental Word Series.
"Las Vegas is the city where people pursue their dreams, and this sculpture will act as a touchstone for this pursuit." Kimpton said in a news release.
Dueling Axes Valentine's Day
Address: 3215 S. Ranch Drive, Suite 160 (inside Area 15)
Date: Valentine's Day only
Enjoy a bottle of champagne and some axe throwing with a special Valentine's Day date at Dueling Axes.
Guests can also enjoy the full-service bar and order their favorite cocktail or order one of Dueling Axes' special Valentine's Day cocktails like the Stupid Cupid Cocktail or the Shoot Your Shot.
Reservations can be made for up to 6 people per party (best for triple Valentine's Day dates).
To book a reservation, go to duelingaxeslasvegas.com/valentines-day.
Shrink yourself into a figurine with Shrunk 3D
Couples can get a custom-made, 3D-printed figurine of themselves with Shrunk3D, a mobile 3D photo booth.
The booth takes 190 images of the couple, and converts them into 3D. The custom 3D replica will be mailed directly to you within several weeks.
For the month of February, couples will recieve a free box of chocolates.
Shrunk3D's booth can be rended for a an individual scan, group scan, or for several hours at a private event.
For more information and prices, visit shrunk3dlasvegas.com.
Valentine's Day wedding packages
As the self-proclaimed Wedding Capital of the World, Las Vegas has several deals for couples interested in tying the knot or just renewing vows on Valentine's Day.
Pop-up marriage license office at Harry Reid International
Address: 5757 Wayne Newton Blvd.
Hours: 8 a.m. to 4 p.m. daily
Dates: Feb. 2-14
For the fifth year, the airport will have a temporary marriage license office near the Terminal 1 baggage claim near Carousel 5.
The office will only issue marriage licenses and vow renewal certificates. Marriage licenses are $102.
Couples are encouraged to fill out a marriage license pre-application found at weddings.vegas. Couples will then be issued a reference number to show the deputy clerk at any Marriage License Bureau branch. Couples must have proper identification.
"Las Vegas is the Wedding Capital of the World and this February will be especially busy as couples enjoy Valentine's Day weddings," Clark County Clerk Lynn Marie Goya said in a news release. "Couples love the convenience of the Pop-Up Marriage License Bureau as it gives them even more time to enjoy the variety of experiences we offer in Las Vegas."
The Little Vegas Chapel
Address: 1330 S. 3rd St.
Hours: 9 a.m. to 8:30 p.m.
Dates: Feb. 6-12, and 14
Phone: (702) 385-5683 to book a reservation
The Little Vegas Chapel is offering a special discount on vow renewal ceremonies to celebrate Valentine's Day and National Wedding Month.
Vow renewal ceremonies will be 10 percent off from Feb. 6 through the 12.
For weddings, the chapel is offering a $214 Cupid's Arrow Package on Valentine's Day only that includes a five-minute ceremony in the Ever After Mini Chapel, a pink three rose bouquet and boutonniere, fuzzy dice, an officiated license or ceremony certificate, digital video recording, wedding coordinator and a maximum of four guests.
The minister's cash fee, which starts at $40, is not included.
The Hitchin' Post Wedding Chapel
Address: 2880 S. Las Vegas Blvd. (inside Circus Circus Hotel and Casino)
Hours: 10 a.m. to 6 p.m.
Date: Valentine's Day only
Hitchin' Post offers two discount packages available on Valentine's Day — including one with a little Elvis flair.
The "Forever Valentine" package is $214 (with a $60 officiant fee) that includes a bouquet of three red roses, professional photos, a live video webcast with 24 hour replay, 10 digital photo downloads and traditional music (or any music you choose).
The "Love Me Tender" package includes everything featured in the "Forever Valentine" package, but with an Elvis bonus. Couples can have an Elvis officiate and a private performance of three Elvis songs with this package for $254 (with a $100 officiant fee).
All couples must obtain a Nevada State marriage license before being legally married at the chapel.
For details, visit hitchinpostweddingchapel.com/vday23/.
Las Vegas Strip Weddings
Phone: (702) 278-6286
Date: Valentine's Day only
This family-owned wedding company specializing in outdoor weddings has three wedding packages for Valentine's Day elopers.
The $899 "Endless Love" package features a limousine, ceremony at the Las Vegas Sign or other public Strip location, officiant, 11-rose bouquet, boutonniere, keepsake and photographer.
The "Forever Yours" package at $699 includes a ceremony at the Las Vegas Sign or other public spot along with an officiant, nine-rose bouquet, boutonniere, keepsake and photographer.
For budget-savvy couples, the $599 "Just the Two of Us" package includes a ceremony at the Las Vegas Sign with an officiant, six-rose bouquet, keepsake and photographer.
"Hugs & Nugs" Wedding Package at Planet 13 Mega Dispensary
Address: 2548 W. Desert Inn Road Suite 100
Hours: Dispensary is open 24 hours, seven days a week
Dates: Feb. 1-28
Phone: (310) 722-7864 for reservations
Your heart won't be the only thing set ablaze with this Valentine's package.
The $2,023 wedding package, available throughout the month of February, includes a dozen green roses, 6" green wedding cake, $200 food and beverage credit, cannabis leaf bouquet and boutonniere, a 20 percent off voucher for Planet 13 dispensary and a romantic sunset helicopter ride of the Strip.
For other cannabis-themed wedding packages, visit lasvegascannabisweddings.com.